17th October 2007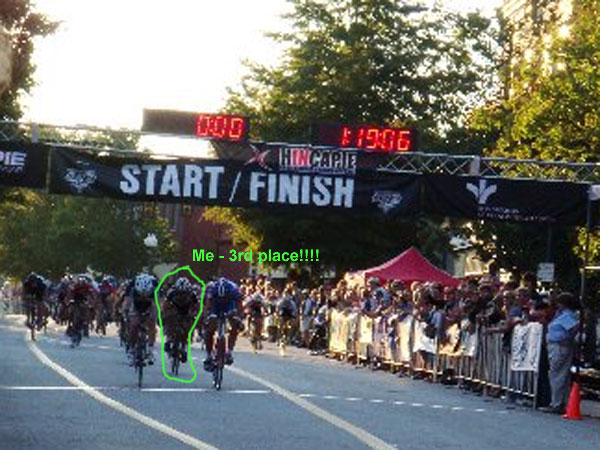 I can't believe it … after a long hard season, I finally made it onto the podium at a major race on Saturday!
I am hoping to post the podium picture from Saturday's race sometime in the next day or two. Still ecstatic, and almost in shock over Saturday's 3rd place finish, I managed to do one better in Sunday's race with a second place finish. Here's the race report I sent out to the team:
Hey Team,

Thought I'd pass along my race report from Sunday and updated info about
Saturday's race…

First, from Saturday — the official results are posted and only 34
people finished the race with 74 starters! Sunday's race was similar —
52 starters and only 30 finishers. Here is a link to the results pages:
http://www.teamhincapie.com/results3.php

The race on Sunday was fast from the gun. There were a few small solo
attacks in the first few laps, but after Saturday's race saw every
single break reeled in — I didn't think an early break would stick. I
kept my eye on Robert Sweeting (AEG) and anybody from the Hincapie team.
I chased across to a break with Sweeting in it about 15 laps into the
race. There were maybe four or five riders in that break and we started
to work together with a SMALL gap of maybe 5 seconds. A couple laps
later we were caught. A counter attack went. Fortunately, this one
didn't have the firepower in it to stay away as it sure looked
dangerous. We caught the counterattacking group after a lap.

By this point the pace had been really high for several laps so I knew
that if somebody could hit it hard on the hill, then the pack would
probably not put up an immediate chase. Sure enough, there was an attack
the next time around on the hill. I anticipated it and was able to hop
right on. Sweeting, Geri Mewett (Hincapie-Bianci), Andrew Talansky, Andy
Baker, and eventual winner David LeDuc (Mercy Cycling Team) were all in
the six-man break — we immediately started rolling through and FLEW
through the corners. Our gap was never more than 30 seconds. I tried to
drive the break to make sure that we stayed away — but I ended up
gapping people on the hill and two of the corners. I eased up a bit
after several frustrating laps of this and saved some energy for the
finish.

All-in-all we did work extremely well together in the break until 5 laps
to go. Then people started to attack … Sweeting reeled in some of
these attacks, but usually there was at least two people responding to
each attack. LeDuc rolled off the front with a little more than one lap
to go. It wasn't an attack, but rather an acceleration RIGHT after I had
pulled so I didn't want to chase him down. The hesitation was enough to
let him get a gap he could hold to the line. On the last lap after LeDuc
had the gap, the pace stayed fast on the hills on the backside of the
course and I attacked on the outside coming into the last corner. Andy
Baker attacked on the inside at the same time. Coming out of the corner,
I had a clear shot at the line so I decided to go for it and fortunately
was able to hold everyone off to the line but LeDuc had enough of a gap
that I couldn't quite catch him before the line. I am so happy with the
race and excited to carry the momentum from the race into next year.
What a weekend for Tria — Two firsts (Philip and Jonathan), two second
place finishes (Kevin and me), and one third place finish (Me) all in
one weekend! Sweet!!!

Article from the Greenville News Sunday edition:
"Sweeting tops field at Classic"
http://greenvilleonline.com/apps/pbcs.dll/article?AID=/20071014/SPORTS/710140328/1004/NEWS01

Flickr photo from Saturday's race:
http://www.flickr.com/photo_zoom.gne?id=1578424271&context=photostream&s

Here's a good one of John Atkins (Myogenesis) in the early break leaning
into the downhill first corner in Saturday's race:
http://www.flickr.com/photo_zoom.gne?id=1566608500&size=l

This would be a great weekend for more people to put on their calendar
next year. The drive really isn't that bad — 5 hours. There is a huge
downtown festival going on at the same time so there is lots to do …
AND if you can take Monday off from work we can do this ride together as
a team: 92 miles, 9280 feet of climbing!!!! I did this ride yesterday
to wrap up the season. Sassafras Mountain is an epic climb. To give you
an idea of how steep portions of it are — I hit 54.8 mph on the way
back down with at least two squeezes of the brakes. There are also some
great switchback descents on the way back that are banked perfectly and
so much fun to ride — you have to ride it to believe it.

http://www.toonesalive.com/cycling/maps/Richland-Sassafras.pdf
We'll post more pictures from our trip later this evening or tomorrow.