31st May 2007
We had a fun extended Memorial Day weekend up in Tennessee with four days of racing. Check out my full race report below as well as some cool pictures from the race thanks to Kristine's friend, Cheryl, from Murfreesboro.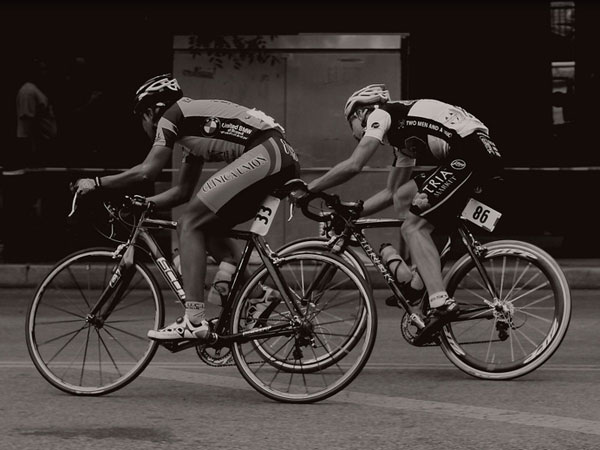 In a promising two-man breakaway that led to a half-lap advantage on the field before getting caught.
Photo Credit: Cheryl Womack
Race Report – Edgar Soto Memorial Stage Race, May 25-28, 2007, Nashville Tennessee
May 25 Time Trial: 53rd out of 96 finishers
6.9 miles of fun is how I would describe this course. Hilly, fast, twisty roads, awesome! I borrowed Richard McBee's TT bike which was perfect for this course with the compact gearing. The organizers decided to start us at 20 second intervals because of the huge racer turnout, but the guy who was supposed to start 20 seconds in front of me didn't show up so I only had a "40 second man" to try to catch. I felt good and strong with a high heart rate and not terrible burning in my legs through the first 2 miles of the rolling uphill climb. I caught my 40 second man at the turnaround, but then didn't put much time into him after that. I felt like I may have eased up once I passed him. Also shortly after the turnaround, the guy who started 20 seconds behind me caught and passed me. I was able to keep him just a few seconds in front of me on the hills, but as soon as the course started to head back downhill to the finish, he pulled away and finished 20-30 seconds in front of me.
May 26 Circuit Race: 17th out of 83 finishers (2nd in field sprint)
This 11 mile circuit was extremely hilly with very little flat sections. We did 6 laps making for a somewhat grueling 66 miles in VERY HOT weather. None of the climbs were that steep or long, but the varied terrain led to a very weird race where an 8 man breakaway ended up putting 4 minutes into the field. The 8 man break was formed by a couple riders attacking here and a couple more attacking there and next thing you know there are 8 men up the road. I was off the front of the field when Dirk Pohlman (Team Krystal) came flying by to bridge up to the break. I knew that he would make it, but I didn't have the legs to go with him as I had just put in a hard effort to try to bridge to one of the Healthnet riders who had attacked. In retrospect, I should have waited for a strong rider like Dirk to try to make the bridge but I just felt like the race was slipping away. So I was very disappointed to miss the break, but I rode hard and fought for good position at the front at the end and took 2nd in the field sprint.
May 27 Criterium: 18th out of 80 finishers
Challenging 1k course with a hill after the start/finish area. We raced for 70 minutes, which worked out to about 60 laps I believe. I had a fairly good starting position and fought to stay at the front the whole race. I was in a very early breakaway with Trent Wilson (Jittery Joe's) that got caught after half a lap. Then I was in another more promising break of about 6 or 7 riders that got caught after maybe a lap. Somewhere in between the winning two-man break of Karl Menzies (Healthnet) and Cesar Grajales (Jittery Joe's) got away. I'm not sure how I missed it but I was either too tired or too far back to try to go with them. About 20 laps into the race, I was bumped hard by somebody on the hill and that knocked me off course taking my rear wheel directly into the front wheel of John Murphy who was at the time wearing the yellow jersey as GC leader. He went down breaking a spoke in my rear wheel. Somehow I stayed upright and pulled into the pit on the next lap. Maybe 10 laps later I attacked hard with Oscar Henao (Clinica Union) and we immediately got a great gap on the field. We worked well together with me pulling the entire front side of the course up the hill and him pulling across the top and backside of the course which was all downhill. We had a half-lap advantage on the field (about 30 seconds) when he attacked me to go for the sprint points. I couldn't respond and he didn't wait up for me after taking the points. I sat up and waited for the field to catch me not sure what I would still have left in my legs. Oscar, to his credit, made it about 10 more laps on his own before getting caught with about 10 laps to go. I can't help but wonder if we could have stayed away working together. Jittery Joe's and Healthnet had strong trains at the front of the race pulling back Oscar and I fought to try to take position immediately behind their train. I was disappointed with the sprint finish even though I did manage to place in the top 20.
May 28 Road Race: 17th out of 63 finishers
Hilly 75 mile loop followed by an additional shorter 35 mile loop taking us up the finishing 3.5 mile climb twice. This race felt like a stage of the Tour de France. First, a small breakaway got away just a couple miles from the start and stayed away for 100 miles before the last survivor of the break, Matt Winstead (Juris/morepartnerincome.com) got caught. Second, the climb on the course broke the race into smaller groups the first time up and then splintered the peloton the second time up. Lastly, the second time up the climb I was shelled from the front group and then had to work my way back onto the group before getting shelled a second time for good. How many times have you seen that with the long mountain climbs where some rider gets shelled, works his way back up to the group, then another attack goes and the rider is shelled again. Also, in the main part of the course, there were several short, steep hills were the group would bunch up and you felt like you were riding in a wall-to-wall group of riders like you see on some of the postcards. The breakaway didn't have any pro-team representation so they stayed at the front almost the entire race setting the pace to ever-so-slowly reel in the breakaway. How crazy that they could time their work to bring the last survivor of the break back with only a few miles left in the race. The course had some crazy 50+ mph descents with switchbacks, hairpin turns, gravel, and all kinds of things to make the entire day feel like an epic. It was awesome!!! I fought again to stay near the front of the pack and never moved farther back than about 30th position. I did have to spend some time in the wind to stay near the front and I wonder if I spent too much energy doing that. The first time up the 3.5 mile climb I was surprised that it wasn't too steep and I was able to stay with the front group of about 15-20 riders. The second time up the climb, however, I started just a few positions farther back and the two riders right in front of me got gapped off shortly after the climb started. I had to chase around to bridge the small gap to the front group of about 10 riders. I rode at the back of the front group for the next half mile before the first attack came from that group. I was shelled by that attack, but managed to bridge back up to the group on a flatter section of the climb. I was praying that nobody would attack for at least another half mile, but it was not to be. When the next attack came from Cesar Grajales (Jittery Joe's), I was shelled right off the back. At this point I was somewhat demotivated with 3k left to go on the climb and terrible burning in my legs so I cracked and was passed by Dirk, Bain Foote (Herring Gas) and a couple other riders. I tried to ease up and settle into a rhythm when a group of 3 caught up to me. I was able to pick up my pace and stay with that small group the rest of the way to the top for a 17th place finish. With the peloton completely splintered and coming in one or two riders at a time, my finish was enough to move me up to 17th overall in the GC and 5th place in the Cat 2 bonus competition.
That's all from the Pro-1-2 field!
Brian Toone
Here are some more pictures all from Sunday's criterium.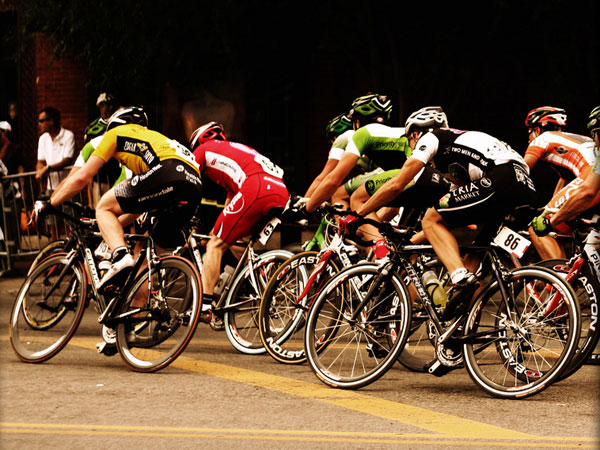 On the wheel of the current yellow jersey holder, John Murphy (Healthnet)
Photo Credit: Cheryl Womack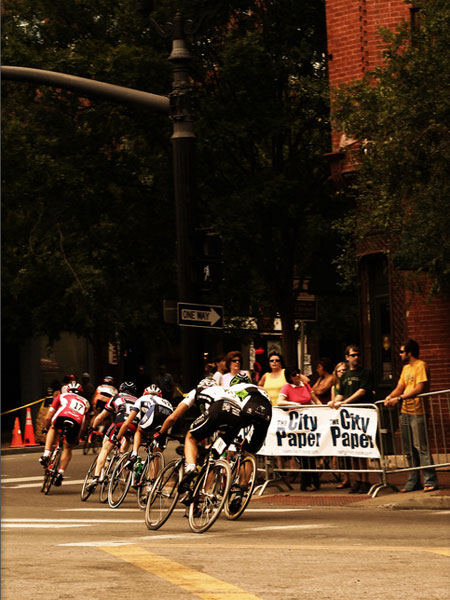 In an early unsuccessful breakaway.
Photo Credit: Cheryl Womack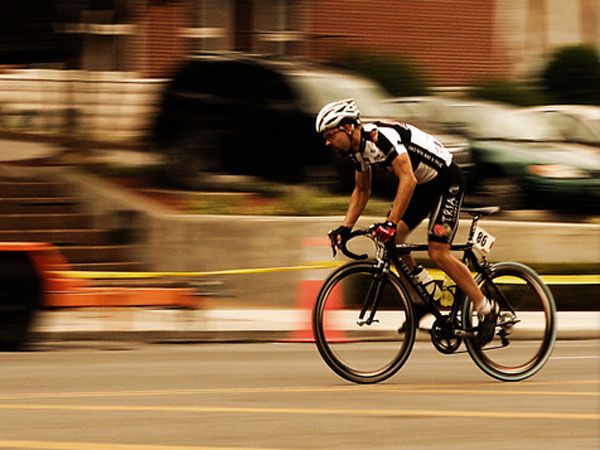 Off the front.
Photo Credit: Cheryl Womack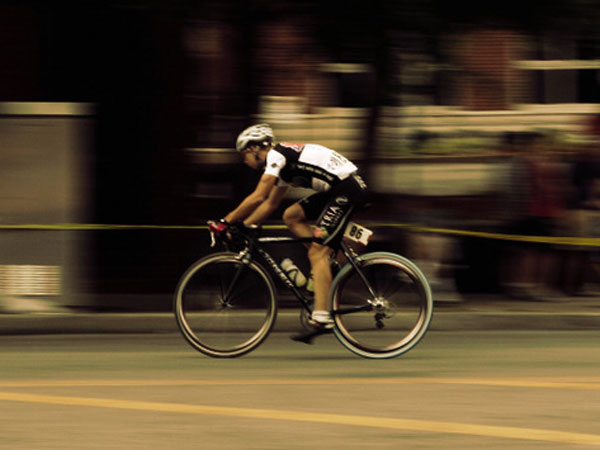 Off the front, again.
Photo Credit: Cheryl Womack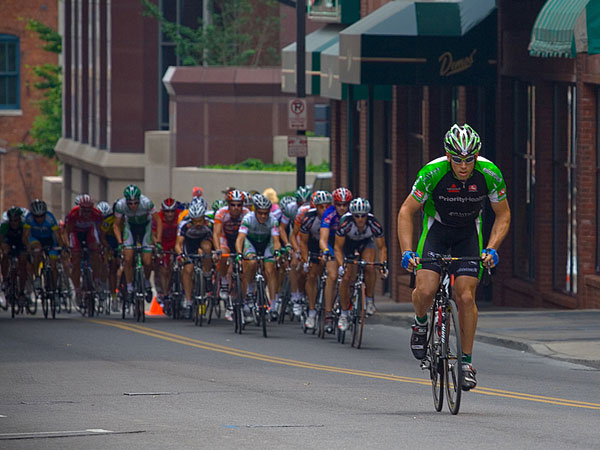 Climbing the hill at the front with the pros.
Photo Credit: Bob-e, http://photography-on-the.net/forum/showthread.php?t=326454
Posted in Uncategorized | 2 Comments »