16th May 2007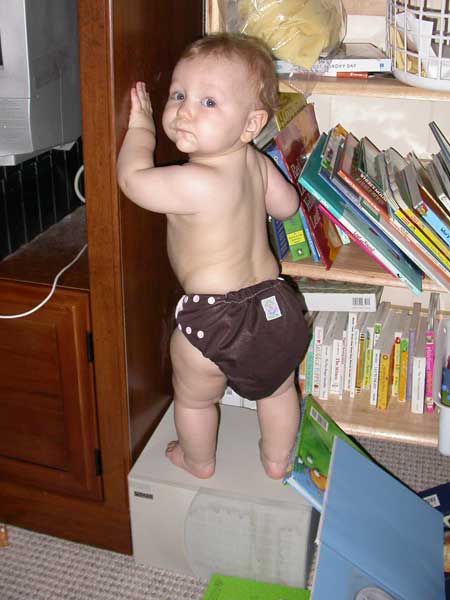 Josiah has progressed from walking to climbing quite rapidly.
Just another day in the life.  I really want to crawl in bed, but this is my pre-bedtime therapy:)  Thanks to all who commented on my sweet Mother's Day video of Josiah walking.  I'm still beaming over my handsome little guy tettering around, and he's still trying to walk all over.  Analise is feeling a little snubbed, and as we were ooh'ing and ahh'ing over Josiah walking, she said, "Look at me walking!"  We gave her a good clap.  Now she's started showing off by running… circles around him as he's trying to walk.  Poor boy.  It's hard enough to get those little feet off the ground, let alone keep your balance while your sister is singing circles around you like a whirling dervish.
We just wrapped up another night of home church.  The evening came together pretty well, all things considered.  Josiah spiked a fever over 103 around noon, and I couldn't get in to see the doctor until 4:30.  Tylenol only kept it down to 101.5 during his nap, and I frantically got the house in order, made a Darn Good Chocolate Cake and some Hot Spinach Artichoke Dip.  I had to pick up our babysitter, who took care of Analise while Josiah and I headed to the doctor.
His fever was 102.5 when we got there, and they gave him some tylenol and started the tests.  No definitive answer yet, but his throat is raging red (but the strep test was negative) and his blood count indicated a bacterial infection.  Hopefully, hopefully it's not a urinary tract infection, because with his urinary reflux, it can cause damage to his kidneys.  The urine test was inconclusive, and we'll wait for more results tomorrow.  In the meantime, he got a shot of antibiotics, and I hope I can keep his fever down tonight.  He was such a good boy during the long, painful doctor's visit.  We got home just in time to welcome all our guests for dinner.  And Josiah took a few steps for everyone before he headed to bed.
The exciting news of the week is that my computer is back from Dell.  Amazing!  The DHL guy picked it up on Friday at 6pm, and it was back here before 11am on Tuesday!  That's awesome service.  The screen is better than new, we installed Windows Vista, which is very fun to be using, and the computer is running like new.  I think we just gained another couple years with this computer.
'Night, all!