29th June 2010
Happy anniversary Kristine – thank you for an amazing seven years!
We just got back from a 4,000 mile road trip that passed through 11 states, included 8 bike races, and included 90+ hours in the car. The trip culminated with us driving through "Billboard Alley" in north Alabama at exactly midnight when the date rolled over to June 28, 2010 – our 7 year wedding anniversary. You've got to go back 8 years and 3 months to Easter of 2002 when I proposed to Kristine to see where it all began… That trip was so big I've got to use two maps! The first shows an overview, and the second shows the details of the road trip portion – a mere 2,787 miles.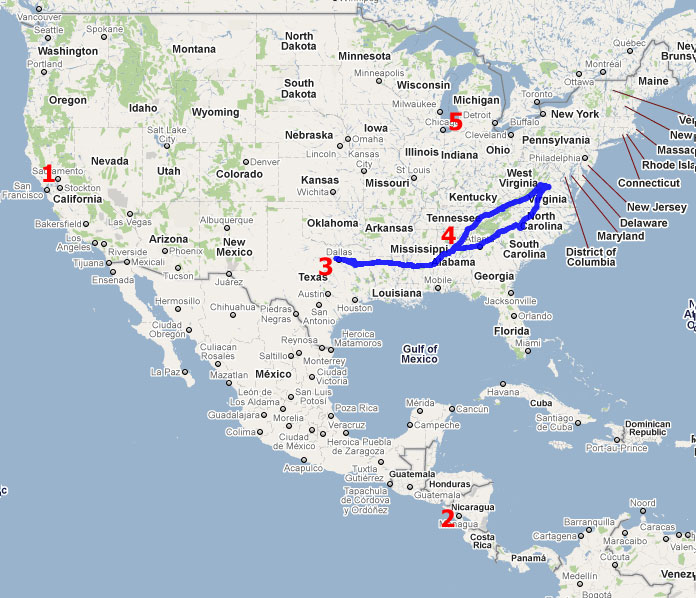 I took vacation over spring break while in grad school at UC Davis in the spring of 2002.
Kristine took vacation from her missionary work in Nicaragua with Mercy Ships.
We both flew to and met at the Dallas Fort Worth airport, and picked up a rental car to begin…
…our 2,787 mile road trip to introduce Kristine to my family and get engaged.
We returned to Dallas and then flew to Chicago for me to spend Easter with Kristine's family.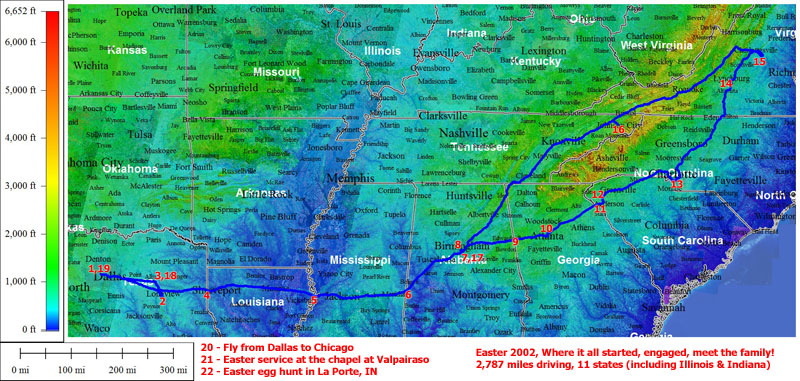 Meeting in the DFW airport in Dallas, TX and renting a car together.
Going to a movie with Mercy Ships friends in Tyler, TX.
Spending the night with friends from Mercy Ships
Driving on I-20 to Birmingham, entering Louisiana
Driving on I-20 to Birmingham, entering Mississippi
Driving on I-20 to Birmingham, entering Alabama
Kristine meeting my parents for the first time, going to church together before driving to Clemson, SC
Exploring Birmingham, rocks on top of Shades Mountain
Driving on I-20, entering Georgia
Stopping for lunch in Buckhead north of Atlanta, GA at the Cheesecake Factory
Driving on I-85, entering South Carolina
Clemson, SC – quick botanical gardens visit, proposing to Kristine beside Lake Hartwell, going to church together afterwards
Driving on I-85, entering North Carolina, spending the night with my college friends Darol and Donna
Driving on US-29, entering Virginia, and passing through Lynchburg, VA where I cooped for a couple semesters
Lake Monticello near Charlottesville, VA where Kristine got to meet my grandmother
Driving back to Birmingham on I-81, entering Tennessee, stopping near Johnson City to phone Nicaragua to relay engagement
Spending another night with my family in Birmingham
Spending another night in Texas with friends from Mercy Ships
Returning the rental car at DFW before flying to Chicago
Flying from Dallas to Chicago
Easter service at the chapel at Valpairaso University
Easter egg hunt with Kristine's family in La Porte, IN to finish our engagement trip spanning 12 states and two countries
And here are photos that correspond to each of the numbered items. Hover over each photo in the gallery to read a caption about the picture. Read the photos from left to right, top to bottom. There may be more than one photo for each numbered item in the list above.

Posted in Adventure, Travel | No Comments »