27th December 2010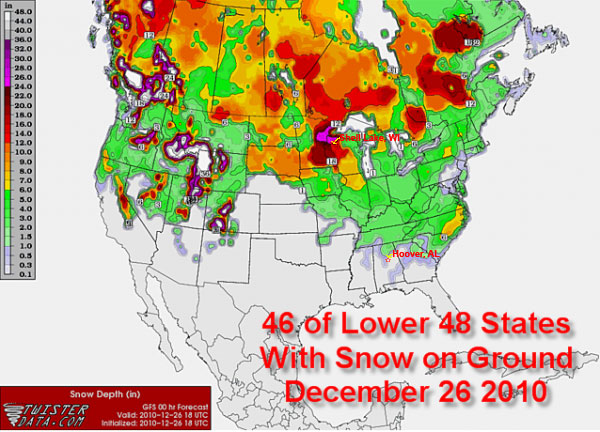 From a snowy white Christmas in Alabama all the way to a winter wonderland in Shell Lake, Wisconsin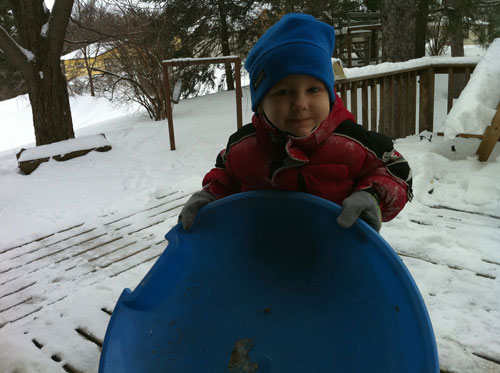 Josiah holds up his sled on the back porch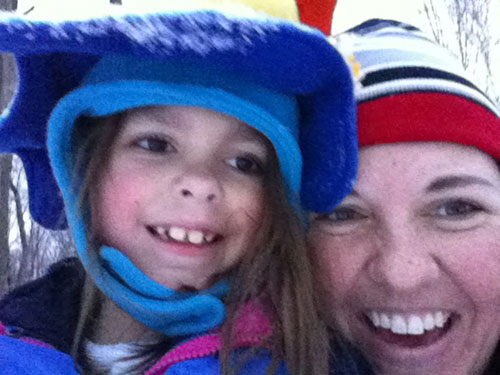 Analise and Kristine take a self-portrait while skiing
We are having a blast up here in Wisconsin. It was a long drive, but the kids have already gone sledding and skiing! See the pictures and video above.
We made it out of Alabama just in time – staying to have a nice relaxing white snowy Christmas morning with family followed by a drive up to Nashville to hang out with our cousins before finishing the rest of the drive up to Wisconsin to spend a week with Kristine's parents in Shell Lake, Wisconsin. We heard that the roads in Alabama Saturday night and Sunday were treacherous. The roads must have literally been freezing behind us as we headed north.
As soon as we left our house and climbed up to the top of Vestavia Hills, there was quite a bit of snow coming down, much more than we had expected. There was maybe a half inch to an inch accumulating on the grass and even a little bit on the roads (Vestavia Drive / Shades Crest Rd). The snow died down a bit as we headed north on I-65, but the snow that had fallen earlier was amazing (see the picture and video below).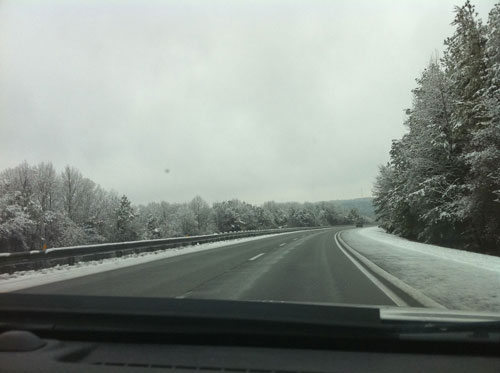 Wisconsin or Alabama? Actually, it's Alabama on I-65 just north of Cullman!
We had a great time visiting our cousins in Franklin, TN just outside of Nashville. The kids were happy to play inside with all their new toys while we chatted over some yummy snack foods. Kristine and I tried Boiled Custard for the first time, and it was delicious!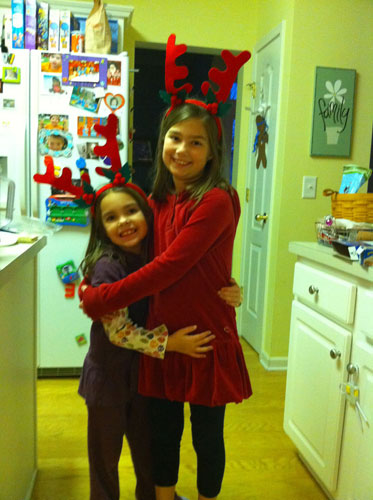 Analise and Lily put on a fashion show for us. This was the Christmas line-up.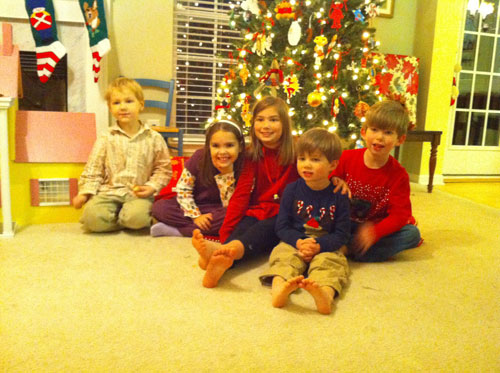 All the kids in front of the Christmas tree (Left to Right: Josiah, Analise, Lily, Levi, and Luke)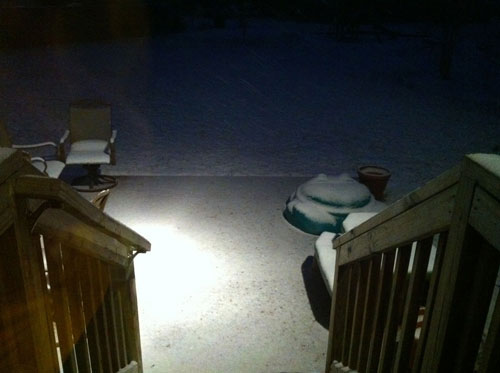 It snowed the entire time we were in Franklin, and this is the view outside our cousin's back porch.
It snowed the entire time we were in Nahville, and the roads were very slick. We saw several accidents on I-65 including one car that swerved from the southbound lanes all the way across the median and then across the northbound lanes immediately in front of us finally coming to a rest just off the shoulder of the road pointing in our direction. I can't imagine how scary that must have been for them.
As soon as we crossed into Kentucky, the slick roads simply became a little less slick because of all the salt on the roads. Then by the time we made it to Indiana, everything was dry and we were able to make up time all the way to Chicago. Josiah woke up as we made it into town, so he got to see several trains, several subways "L trains" and the tall skyscrapers including the Sears Tower. Once we made it through downtown and out towards the O'Hare airport, we got caught up in quite a Lake Effect snowstorm. This is us driving on I-90 near the O'Hare airport and Elk Grove Village.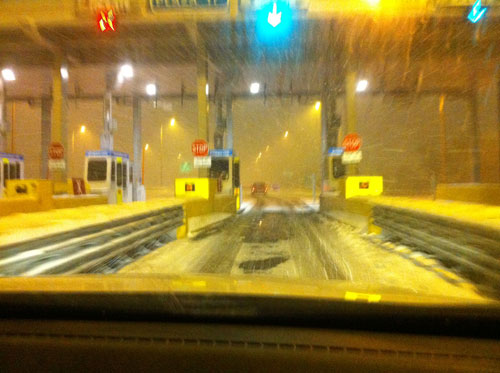 Lake Effect snow in Chicago – approaching the tollbooth
As soon as we made it out of the snowstorm, it was pretty uneventful all the way to the Wisconsin Dells which we made it to by 5:45AM. We slept for a few minutes in the parking lot outside McDonalds and then went in at 6AM for a breakfast.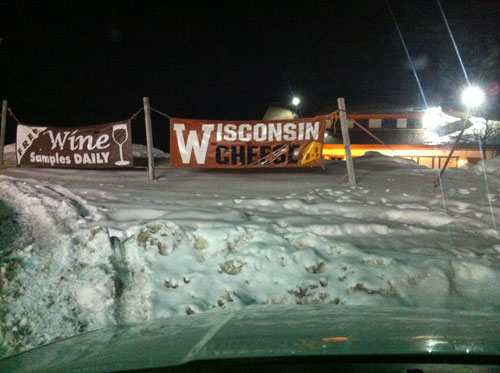 Wisconsin cheese – mmmm, mmmm good!
As the sun rose and we left for the final 3 hour stretch, we were greeted with snow everywhere AND cold, cold, cold temps. Check out the temperature sequence on our car thermometer as we went descending down into one of the lower valleys.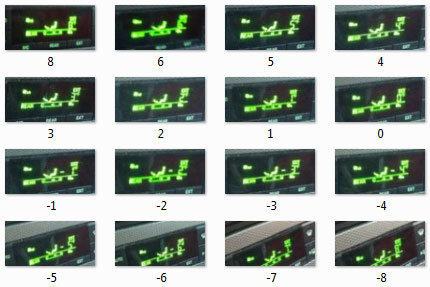 Finally, it wouldn't have been a 20 hour drive w/o capping it off with a 60 mile bike ride. Read all about it on my cycling blog soon.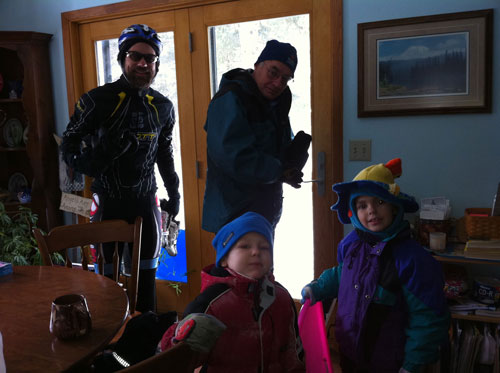 Heading out to go biking (me) and sledding (Papa Dale and the kids)

Opening presents at Grandma Sandy and Papa Dale's house!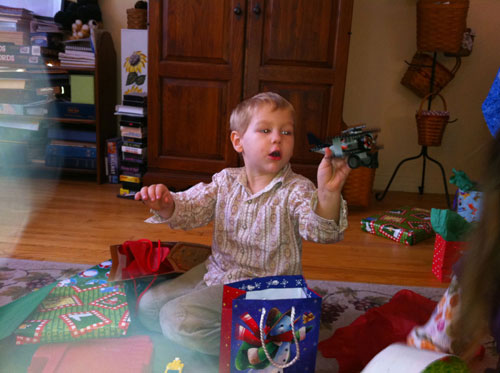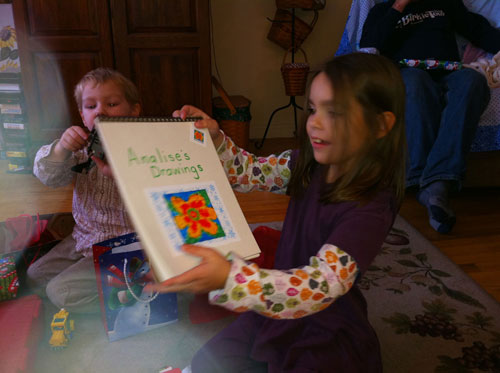 Posted in Adventure, News, Travel | No Comments »