25th December 2008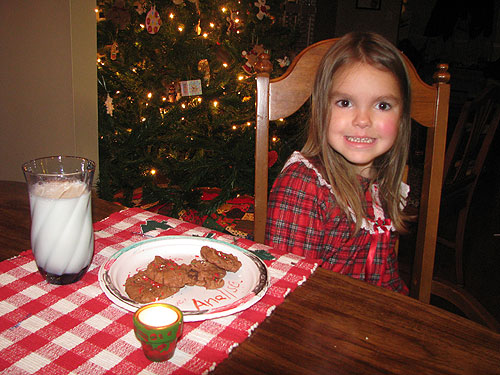 What a difference a year makes!  Last year, we were writing Santa a letter asking him to please just leave the gifts on the porch because Analise was scared of him coming in.  This year, Analise was more than happy to decorate a plate and pick out cookies for him.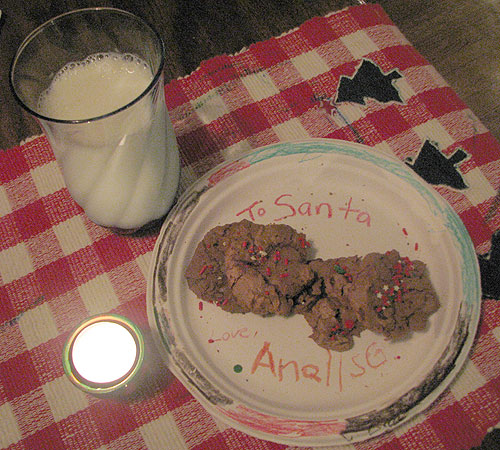 I've had several posts written in my head, and I'd been wanting to post some things all day, but now that I'm all Santa-ed out, I just want to share a glimpse of our Christmas Eve.
One of Josiah's favorite gifts, his Thomas plate and bowl
Analise and her Ariel paint-by-number
Her favorite gift, a princess wedding gown and crown-veil (from Josiah)
My little sweeties looked so good!
My new favorite photo
Christmas Eve 2008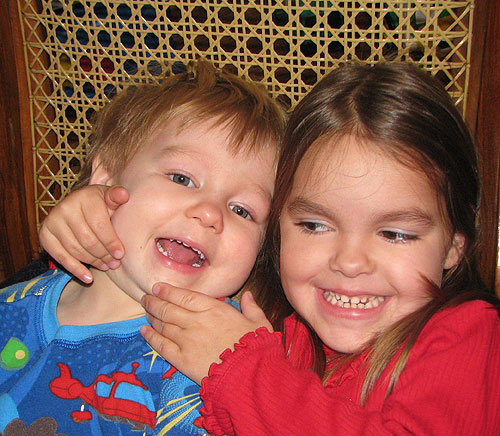 A few Christmas memories… Again, Santa came by the house on a fire truck.  Very exciting.  And loud.  Analise was hesitant with the sirens so she stayed on the porch, but Josiah and I went out and waved at him up close.   At church, Josiah blew my candle out, and asked the usher, "I need anover one."  He proceeded to blow it out 3 more times during 'O Come all Ye Faithful' while Brian tried to keep Analise from tipping her hair into the flame.  The service ended with the kids worship team leading the singing of 'Joy to the World' and both kids wanted to go up front and dance.  They were so cute.  And both of them were singing 'Joy to the World' all evening, even Josiah with the 2 lines he (sort-of) knew, and he mumbled through humming the rest of the song.
It's been a bit of a disjointed Christmas for me.  I've been really busy getting us prepared for our trip to Nicaragua.  I have had lots of Tastefully Simple business going on.  I feel like I wasn't ready after all the traveling of Thanksgiving, and I've been coughing and kind of sick all month.  We haven't done all the traditions I would have liked, but I remind myself the kids don't know all the things I think we *have* to do.  They love everything we do.  We made cookies, wrapped presents, shopped for others, listened to Christmas music, looked at lights, went on a hayride an live nativity, saw Santa at the airport, had a birthday party for Jesus.  And this post on one of my blogs says exactly how I feel.  But tonight is the Holy Night.  Our Savior has come… and we can celebrate him all year long.   Glory to God for that!