27th December 2005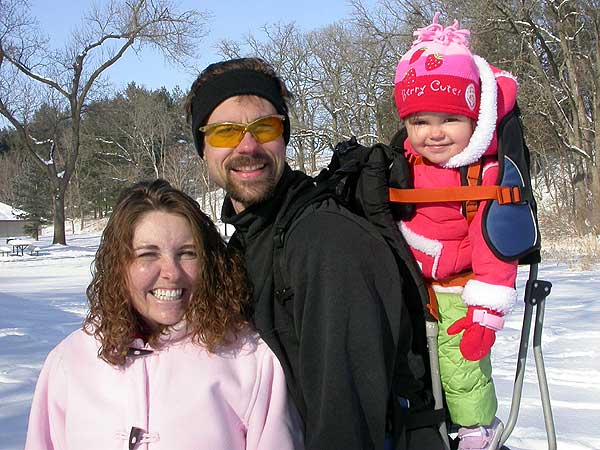 Merry Christmas, everyone! We've been having a wonderful
Christmas vacation up here in Wisconsin. Here's a family
picture when Kristine's sister, Anna, took us snow shoeing
in Platteville. We have all had quite a bit of fun in the
snow up here. The next three pictures tell the story:
cross-country skiing with mom, sledding with dad,
and sledding alone! Even if you are on 56k dialup, please
take the time to download and watch the video of
Analise sledding. It will be worth the wait!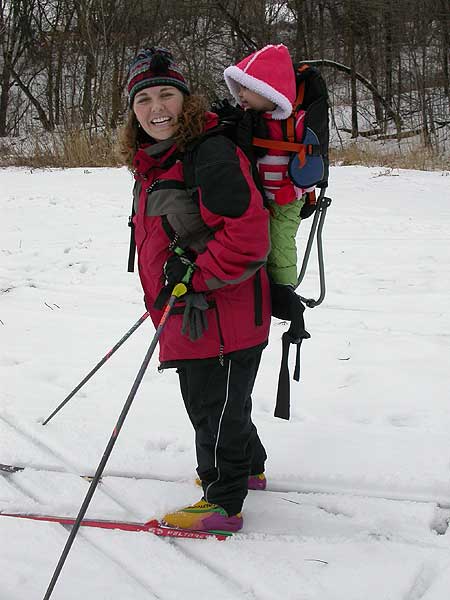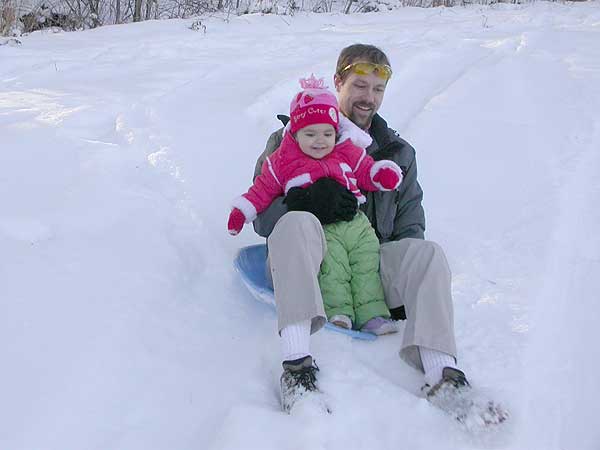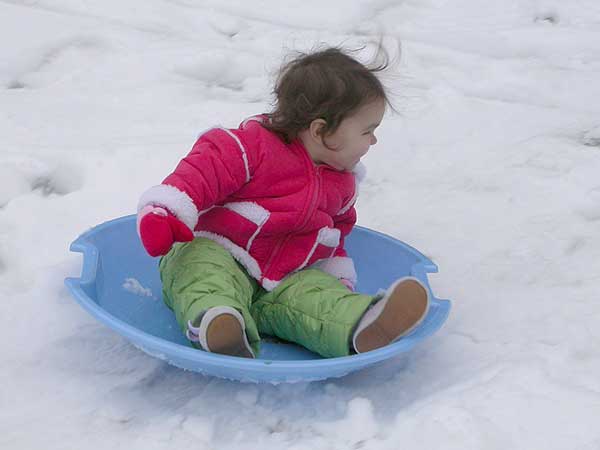 Click here to download a video of Analise sledding
Click here to stream a video of Analise sledding
Analise has also seemed to be on an accelerated development
schedule. She has been talking quite a bit more and added
the following three words to her vocabulary: "baby", "up",
"down". She's also pulled off a number of other feats
in the four picture collage below. Clockwise from
the upper left:
Stacking five creamers on top of each other while visiting
with Kristine's Godparents Kathy and Jerry Shultz and their
daughters Anna and Sara.
Walking with daddy in the snow, as evidenced by the
little set of footprints next to the big set.
Balancing her new baby on top of a
Christmas bull.
Carrying five baskets all by herself around the
Cardwell house.
I have been having some more fun adventures on the snow
and ice, too! Dale took me skiing with his mentee, Daniel,
on a frozen river —
the Namakonga — the same dreaded river that was the demise of
my digital camera the day before my wedding almost exactly
two and a half years ago. Pictures below with captions!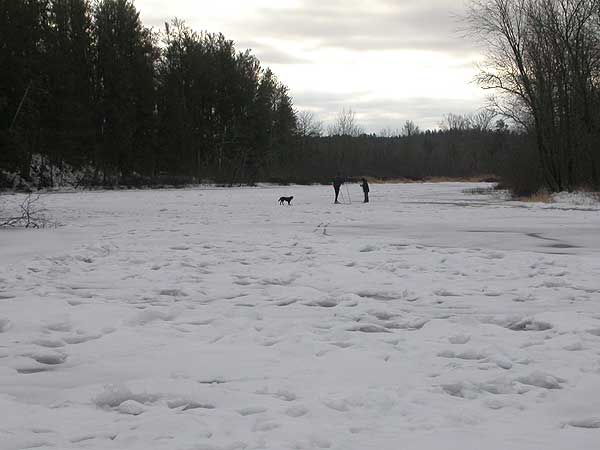 Molly (the dog), Dale, and Daniel talk about strategies for
negotiating skiing through the rapids.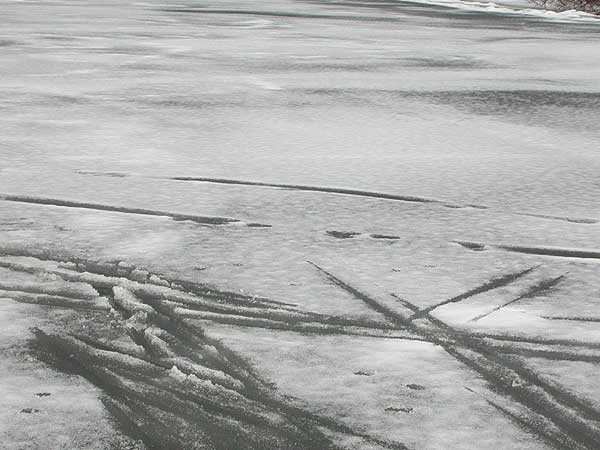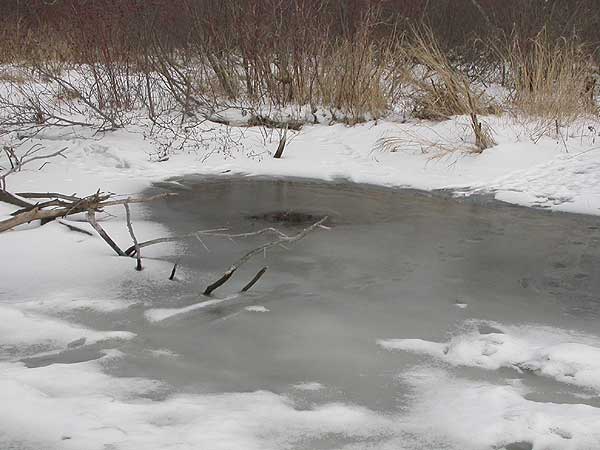 Probably the coolest part of skiing on the river was all
the animal tracks. We saw deer, maren (weasel-like)
predator, and river otter tracks! Yes, a river otter
leaves a very unique track … long tubes where the otter
will slide on its tummy. We saw these kinds of tracks
leading from a small breathing hole the otter had made
by the bank of the river. In the top picture above, you can
see the long tube tracks just beyond the ski tracks.
Above, in the bottom picture, you can see the otter's breathing
whole near the center of the ice puddle.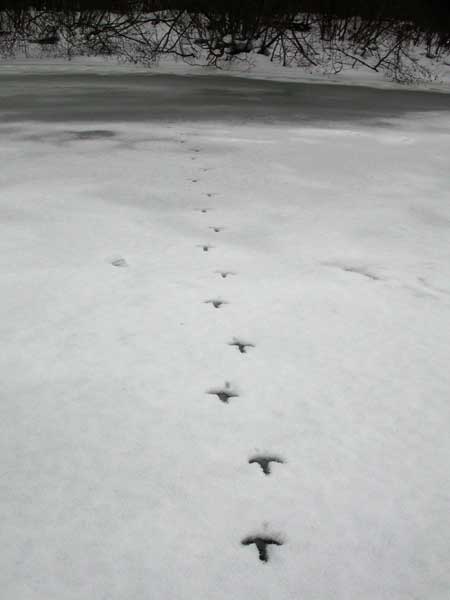 Seeing these tracks from a very large bird, most likely an eagle,
was also really cool!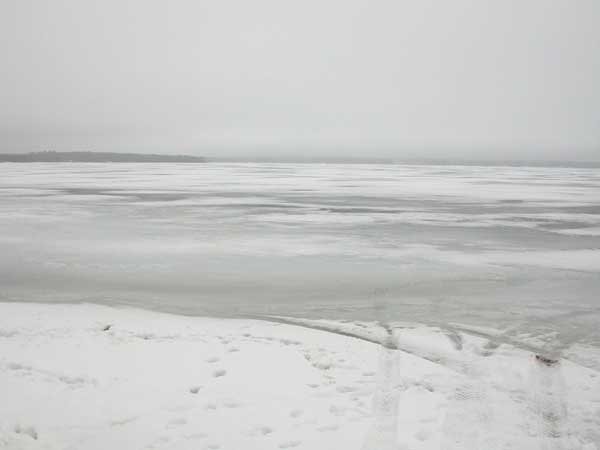 Finally, I went biking again today on some snow mobile trails
and only ventured out a little ways on to the lake. It was
clear enough today that you could just barely see all the
way across the lake to the other side.
Posted in Uncategorized | 2 Comments »