24th February 2005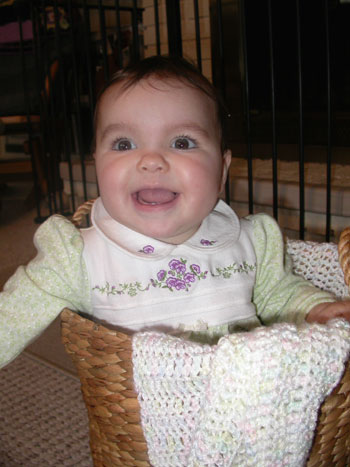 Here's another picture from yesterday:)
Analise is slowly "breaching" the borders in our house. She and I mainly stay in the carpeted den where her toys are and it's completely childproof, but she enjoys crawling into the hardwood kitchen to find me when I step out there. And if I leave the doorway to the hall open, she'll venture that direction.
Yesterday, she reminded me of the Prayer of Jabez from 1 Chronicles 4:9:
Jabez cried out to the God of Israel, "Oh, that you would bless me and enlarge my territory! Let your hand be with me, and keep me from harm so that I will be free from pain." And God granted his request.
I was in the bedroom and came back 30 seconds later to find her in the foyer – a place she's never been. She was sitting there with a big grin on her face and her hands up in the air. I think Analise has been praying that God would enlarge her territory, and she was pretty excited when He answered and she found the foyer!
Posted in Uncategorized | No Comments »