30th June 2006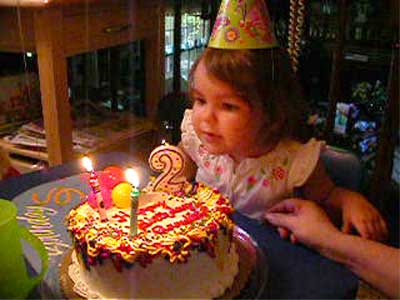 Click on the picture above for a video of everyone singing "Happy Birthday" to Analise and then see her try to blow out the candles. If the movie link doesn't work, then try this one.

When we arrived for birthday dinner, Analise had her own
little table setup for her to sit at with several birthday bears all wearing birthday hats. Here's she's pointing at one of the balloons tied to a chair.

This is a big difference between Analise's first birthday and this one. This year she is using a fork to take a huge bite rather than using her hands and getting all messy.

The rest of the party attendees sport their hats here.

The photographer had his hat on, too.

Analise enjoyed opening all her presents … Josiah enjoyed sleeping!

Yep, definitely sleepy!
 
And lastly, here are some professional pictures we had taken this week. Our little Analise sure is growing up!
Posted in Uncategorized | 1 Comment »