27th April 2005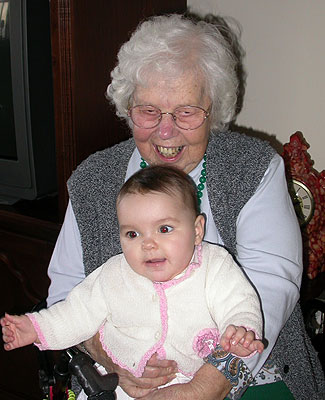 Today, we had lunch with Grandma Locke. She's in an assisted living center just down the road from Samford University, where Brian teaches. We join her for lunch every other week, but this is the first week we've eaten in the main dining room. Analise was the star of the room – gurgling and babbling, trying to pull the tablecloth off, gobbling up her veggie puffs and cheese, twice trying to steal a Chicken McNugget, and smiling all the while. Grandma is so proud to tell everyone Brian "teaches at the college" and let everyone "ooh" and "ahh" over her great-grandbaby, whom she insists looks just like her (see above).
As we were leaving, Grandma was walking us out and a friend of hers came up. "Are these your kinfolk?" she asked Grandma. I have to smile, even now. I don't think I've ever been kinfolk before.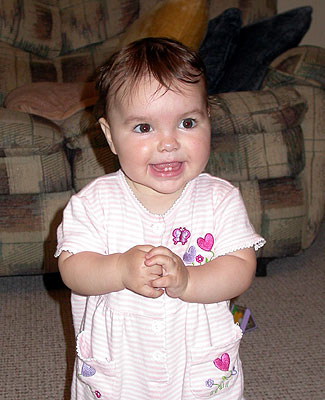 Adapting to this southern language is fun. I like "y'all" – in fact, having lived in Louisiana when I was younger, I even said it now and then before we moved here. But now, it makes me feel REAL southern. But there are several Southern-isms that I probably won't find myself using. Among them: might could ("I might could do that for you, if you need me to."), rekon ("I reckon it's gonna rain today."), and fixin' ("I'm fixin' to go to the store."). My little girl may grow up with a southern drawl, but I've got to make sure she's speaking good English or Grandma Sandy won't be happy:) Growing up, I couldn't even say "gonna" or "gotta".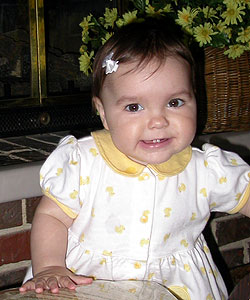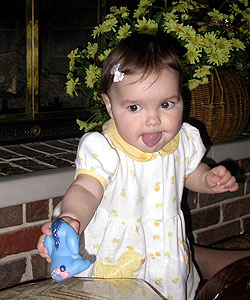 Now that you can make comments on my blogs, I need your input. Analise finally got a bow in her hair this weekend. Brian wasn't so impressed, and neither was Uncle Matthew, but Grandma Beverly and I thought she looked cute. What do you think? Leave us a comment!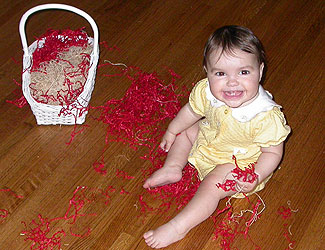 Photos: Top- Analise and Grandma Locke in January; 2nd- Standing tall for a picture. Analise loves to stand by herself these days. Won't be long before she's walking! 3rd- Vote for the bow:) Above- Analise has a way of finding things she wants to get into. This basket of shredded paper has been in our front room for a while, and she's found it several times. I think her memory is improving, because now if she's in the hallway, she heads in that direction.