14th August 2008
Nearly 2 weeks later, I'm finally getting to share this trip!  We had such a fun time, and there are so many great pictures to prove it!
(Ok, I've started this post several times and lost it, so I'm giving it one last try!)
Highlights:
The kids were AMAZING travelers.  Honestly, our kids are super-travelers, and they're normally better than most kids would be on all the big long marathon trips we take them on.  But this trip they were great in the car, and we made awesome time on both legs of the journey.
Staying with our friends, the Kackerts, Mike, Michele, Emma and Michael.  They were great hosts for our whirlwind weekend!
Amazing food… Michele cooked up some good stuff!  Six Can Soup (I got the recipe from her originally! Her seasoning was so flavorful!), the requisite spaghetti before Brian's race, homemade bread (from my recipe, but she's tweaked it.  I'll try it soon, and post my results), Buttermilk Blueberry Pancakes (with berries they picked and topped with Trader Joe's Maine Wild Blueberry Sauce – delicious!), huge thick-cut steaks that were perfectly grilled, baked sweet potatoes, Mushroom Orzo, and Strawberry Pretzel Cream Cheese Ice Cream (Michele snagged me an ice cream maker at her local thrift store… you'll be seeing a post about that soon!).  Yum!
We took a trip to a nearby Children's Gardens where the kids had fun running around, climbing and splashing.
Michele took me to a couple of her favorite thrift stores.  She knows how to find some good, cheap fun stuff!  That's my kind of shopping!  Why are the trhift stores around here not-so-good??
Of COURSE, we made a trip to my dearly loved, Trader Joe's.  Man, I love that store!  I chattered to the cashier about how I always have my TJ's reusable bags when I'm doing my everyday shopping at home, but we were on a trip, so I didn't have them with me.  I gave him my usual grilling about when we'll have a TJ's in Alabama.  He was so sweet and gave Michele and I both newly released canvas bags.  Do I need more reasons to love Trader Joe's??
Brian's races were good… the details are all on his cycling blog, under the category "Racing" and  titled "Tour of Elk Grove".  (Several posts on various things!  Too many to link to!)
The kids both did a kids bike race.  Josiah rode his trike while I pushed him with the handle, and Analise got to ride a big wheel, which she thoroughly enjoyed.  She's getting to be so fast!  They were also very good for me while we watched Brian race both days.  They're getting to be such well seasoned fans!
The kids loved having cats to play with.  We slept in the room the cats normally call their own, and we had a hard time keeping them out.  One evening, we'd put Josiah to bed, and when Brian took Analise up to bed, he found Josiah playing with a cat through the portable crib, offering him his pacifier.
On to the pictures.  I used Michele's Canon Digital Rebel DSLR camera most of the weekend, so some of these are hers and some are mine.  But, man, I LOVED that camera.  Maybe someday…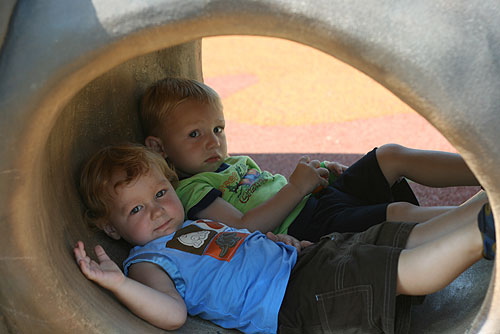 I love how the camera caught the splash in this photo.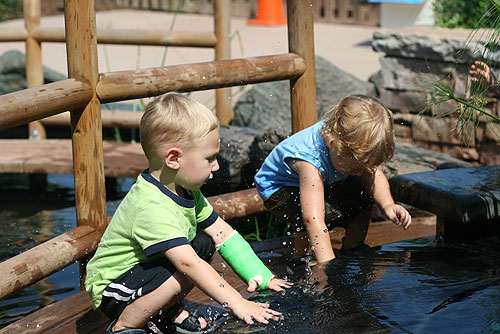 Stepping stones in the frog pond… I love the reflection of my cuties, too.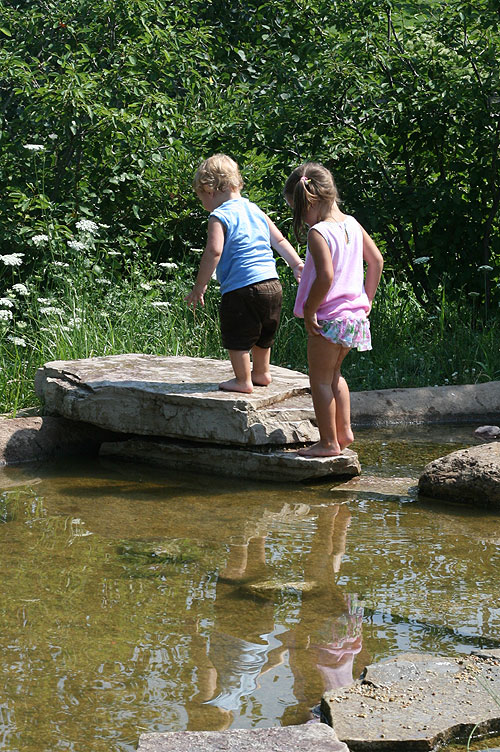 Stepping on the stones progressed to jumping in…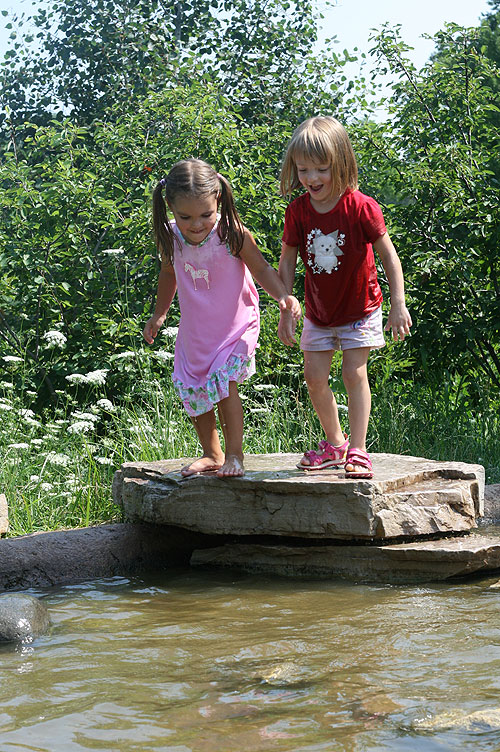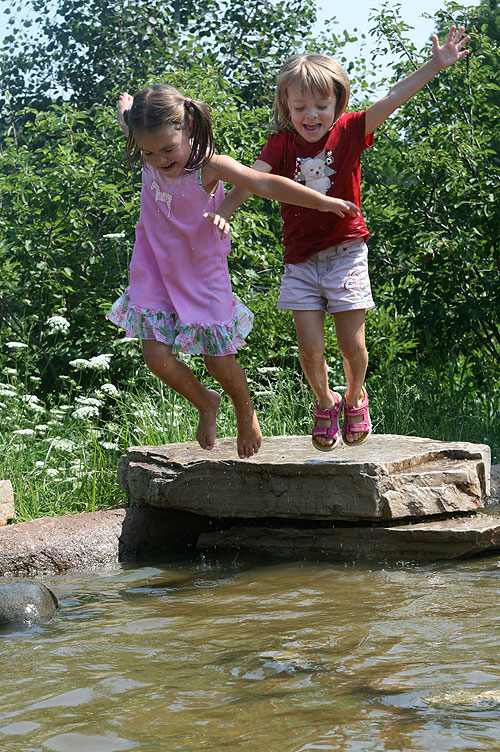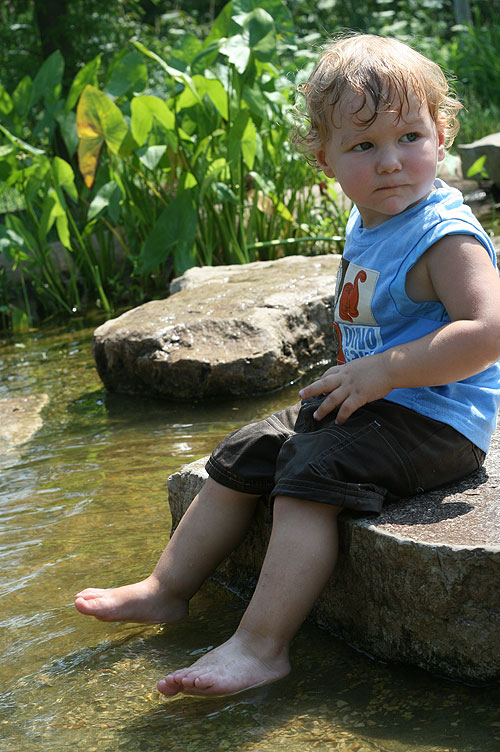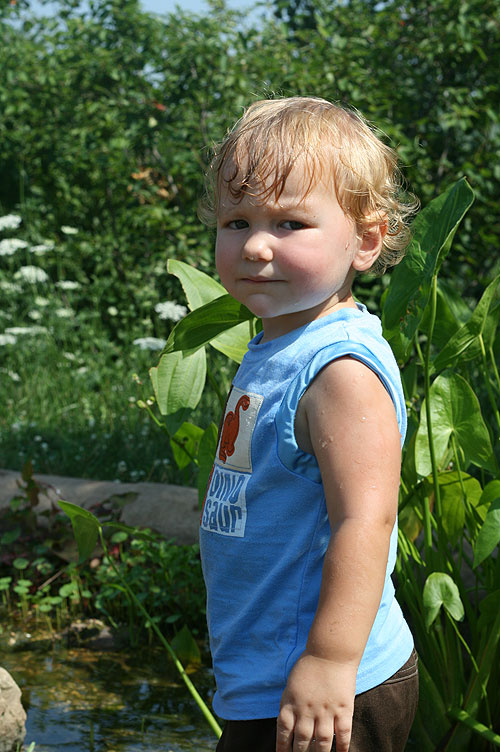 …which progressed eventually to swimming.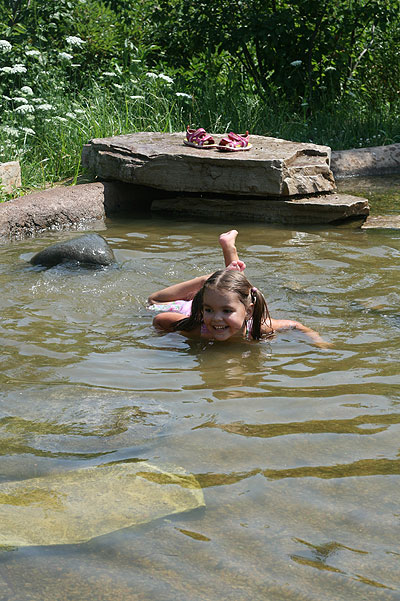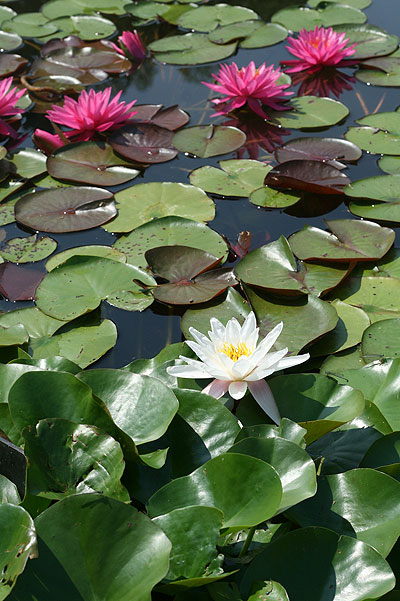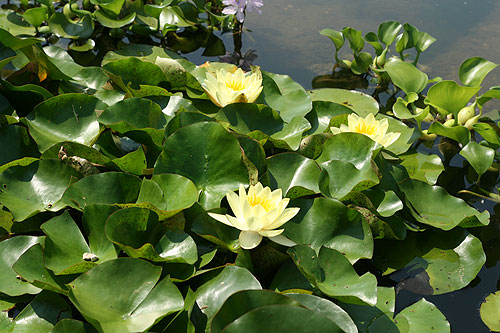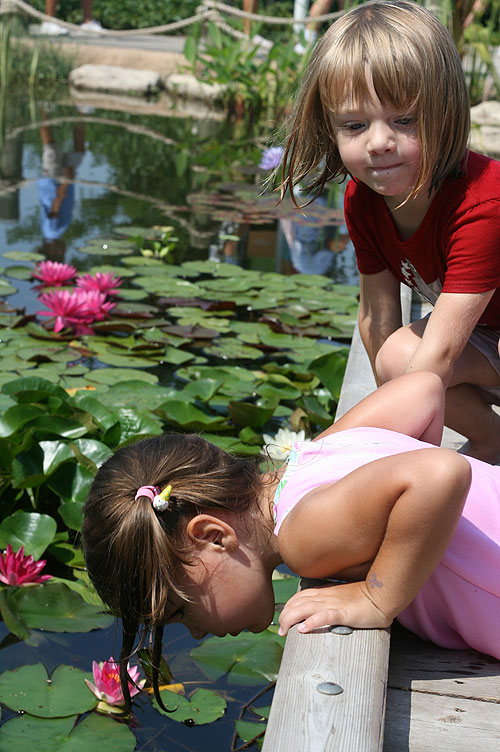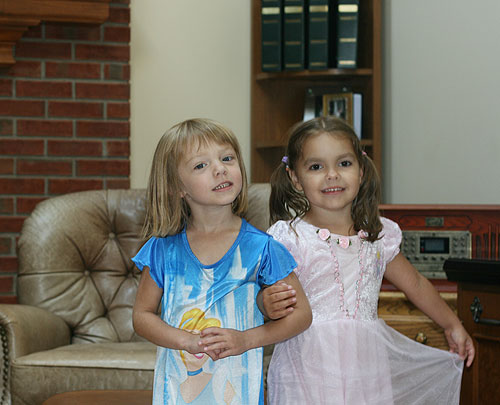 More coming soon!