13th January 2006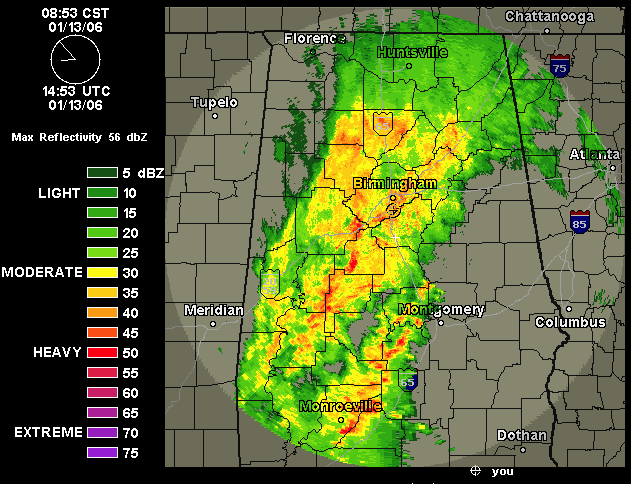 This is the radar image taken during the thunderstorms that passed over us this morning. The National Weather Service has just issued a tornado warning for an area south of us because of this storm.
IF YOU ARE IN THE PATH OF THIS DANGEROUS STORM…ABANDON VEHICLES AND
MOBILE HOMES AND SEEK A REINFORCED SHELTER. MOVE TO THE LOWEST FLOOR
INTERIOR HALLWAY OR CLOSET. COVER YOUR BODY WITH BLANKETS OR PILLOWS.

IF NO SHELTER IS AVAILABLE…LIE FLAT IN THE NEAREST DITCH OR LOW
SPOT AND COVER YOUR HEAD WITH YOUR HANDS.

IN ADDITION TO THE TORNADO…THIS STORM IS CAPABLE OF PRODUCING
MARBLE SIZE HAIL AND DESTRUCTIVE STRAIGHT LINE WINDS.
Just reading the description of what to do … "abandon vehicles and mobile homes", "cover your body with blankets or pillows", "lie flat in a ditch or low spot and cover your head" … illustrates the danger of this storm and in fact our helplessness against the incredible forces that exist in nature. It paints a picture for me of how truly big the universe is and how fortunate we are to be able to exist in it at all.
The leader of our home church is a firefighter here in Hoover, and he recalled the F1 tornado that hit near our street several years ago. He spent the entire night waiting for a path to be cleared through trees that covered the road so thickly for nearly half a mile that there was not more than a foot of open space on the road.
A different tornado hit Hoover just last year. The picture below is a map showing the path of the 2004 tornado and where our house is located. (We didn't move into our house until Jan 1, 2005). The portion of the road covered with trees from the tornado in 2000 that my firefighter friend was called to is also indicated on the map. The red X on the extreme righthand side of the map is where our house is located. Click on the map or the link below it to read a more detailed description of the F0 tornado.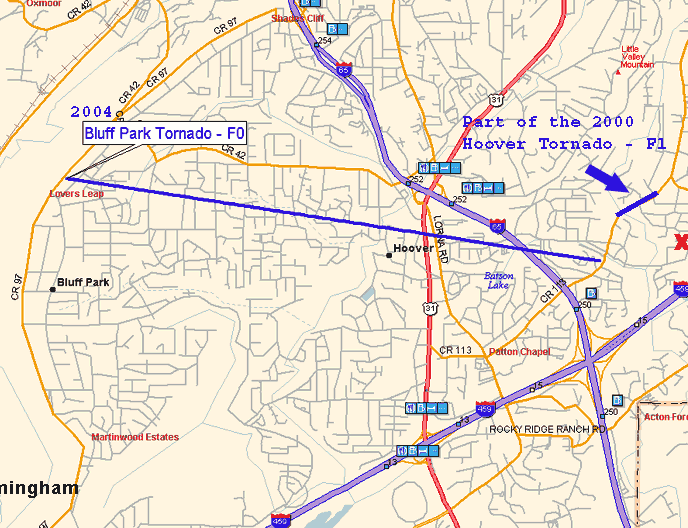 NWS Birmingham AL – May 31, 2004 Tornadoes
These were just F0 and F1 tornadoes! Imagine what an F5 can do. One F5 torndao that hit just north of Birmingham in 1977 sucked two dump trucks up into the funnel! You can read about that here in the Jefferson County Tornadoes – Alabama Tornado Database. Scroll down until you see the 1977 Smithfield tornado and then click on Storm Survey.
Posted in Uncategorized | 5 Comments »