12th October 2005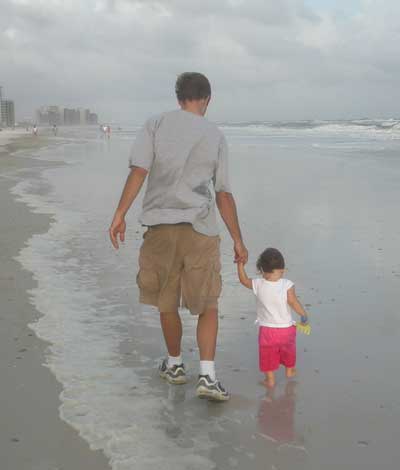 I find it very comical that the weekend we would be able to get a free condo to vacation at the beach, a hurricane would be blowing through the Gulf of Mexico. We had a good trip down there in Brian's dad's new car. It's a Ford Freestyle, that I helped pick out:), complete with a DVD player and wireless headphones, upon which we watched a total of 3 Einstin movies and 2 non-Einstein movies on the trip there and back. Oh – Why did we go to the beach during a hurricane, you ask. Brian had been cycling with some people from Samford who were participating in the MS 150 ride to raise money for multiple sclerosis. We hadn't planned on going to Orange Beach, Alabama until someone from Samford offered us a condo for the weekend. Who would pass up on a beach weekend?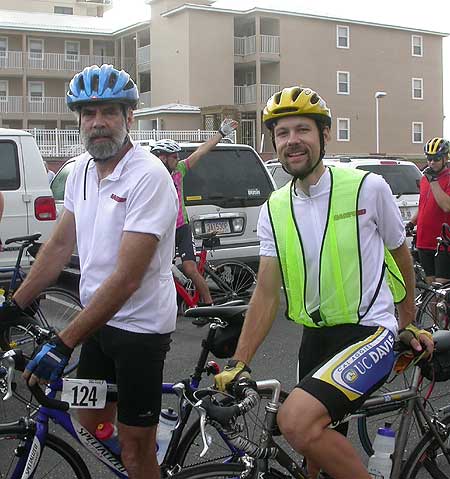 As we arrived on Friday night at 9pm (see Brian's post here), we were driving along the beach road to get to our condominium, and it was raining so hard and sand was blowing across the road making it nearly impossible to see. We carefully perservered, though, and hoped the morning would bring better weather.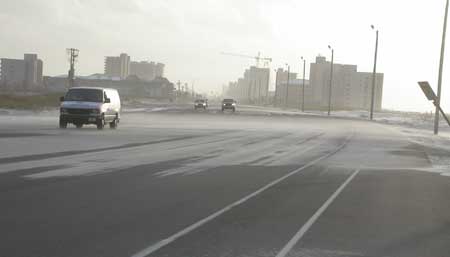 Saturday dawned grey, windy and rainy. They shortened the ride from 75 to 45 miles, and while it downpoured at our condo, Brian said they missed most of the rain. We had a nice lunch at a seafood restaurant and retired to the condo for naps while Brian's parents shopped:) How else would you spend a rainy beach weekend?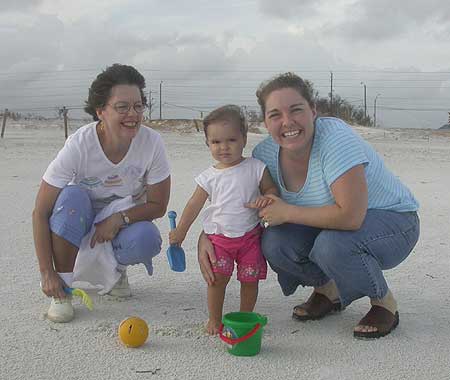 By late afternoon, the weather had dried out a bit, so we decided to go check out the beach. In spite of getting a face full of blown sand on our way across the street, we had a good time. The waves were rough and the sand was hard-packed from all the rain. Analise enjoyed raking with her rake, going from one place to another all the way down the beach. She was determined to catch a sea gull:) I like the beach with my little one… some day we're going to have a sunshiney beach weekend!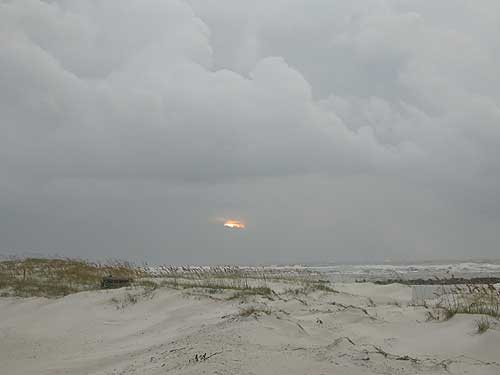 Sunday was definitely drier, but the wind was between 20-30 mph. The ride was the full 75 miles, and Brian rode out in front of most of the riders and returned before we expected him. He told us, though, he'd been in his 2nd lowest gear because half the ride was into the wind. It had been HARD WORK. Below is some of the flooding from the heavy rains of Friday and Saturday.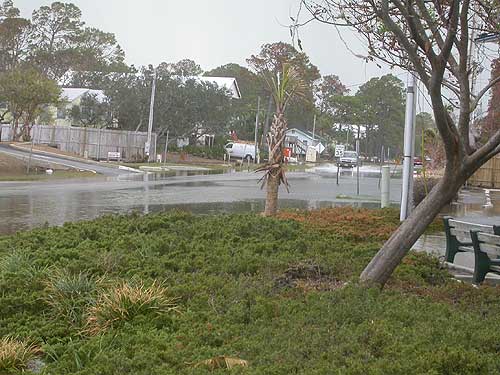 We stopped at an Alabama tradition, Priester's Pecans, for some samples on our way home. We returned to Birmingham to find the remanants of Hurricane Rita tossing tornados and severe weather our way. We got Rita coming and going, how 'bout that? Still – it was a fun weekend! These last pictures are ones that Brian took of some beach homes and the damage left over from Hurricane Ivan more than a year ago.