9th May 2009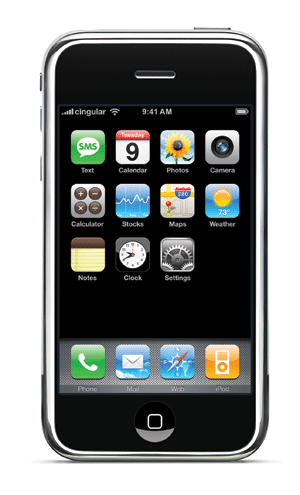 an iPhone 🙂  I'm almost embarrassed to admit it, because I really DON'T want to "keep up with the Jones'".  But we've mulled it over for a very long time, and finally took the plunge.  We have never had internet on our phones before, so that is the REAL exciting part.  I can tell lost of pre-iPhone stories about pulling off the Interstate to find a hotel with wi-fi, digging out our huge laptop, hoping the battery wasn't dead, trying to find an email or look something up online.  We've always joked about how there needed to be an "internet superhighway" that we could connect to while driving.  Lo and behold, we've finally found the Internet Superhighway with our iPhone.
It's already proved itself invaluable to me.  On my recent trip to Indiana, I lugged my laptop along, but aside from my family checking their email, I didn't really use it.  My mail and the internet were right in my plam, and man, was that nice!  And on our recent trip to Athens, GA, we didn't even bother to take the laptop (which is unheard of for us!) because we knew Brian wasn't going to work, and we were able to do everything we wanted on the phone.  I particularly like being able to find restaurants and Starbucks that are close to wherever we are AND get turn-by-turn directions from our exact location.  Last weekend was plagued with really bad weather, and I was able to keep close tabs on the storms, and we ducked into a restaurant just as the worst of things passed over us.  Simple pleasures 🙂
I'll skip the technical review except to say that I love it.  The kids love it too, and they've very quickly learned how to play their favorite apps that I've downloaded.  Analise said to me on one of the first days we had it, "Mommy, can you load-down some more games?  I'm bored."  And when they're playing on it, it's very difficult to get it back.  But it's served us well at the doctor's office and waiting at restaurants with games and videos.
I have a few links I wanted to post, in case you've got an iPhone, too…  I'll probably check back in and review my favorite apps, too.