14th August 2009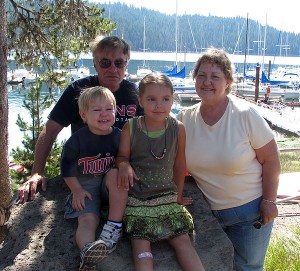 Analise pulled out her lacing cards this afternoon, which she hasn't played with in months… or maybe even since Grandma Sandy was here last year!  She said, "It's been like a week since I played with these!"  She's just finally caught on to the go up from the bottom/go down from the top to "sew".  I was impressed.
She was really excited about the lacing cards, though, and said, "I'm going to sew with Grandma Sandy! And you're going to… do chores!"  Haha.  Sounds like fun.  Maybe Grandma Sandy and I can at least work in a trip to Kohl's around all my chores…
(This post is going to be filled with randomness, as that's the status of my mind today, this week, this month… come to think of it, this year!)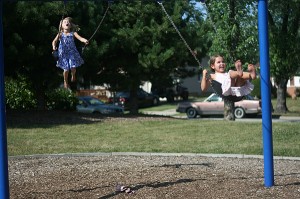 Analise has also reached another wonderful developmental milestone.  She hopped on a swing, got herself going, and started pumping her legs, swinging completely independently.  Honestly, this is an exciting achievement!  It means that my work on the playground just got much easier… or at least divided in half.  Between potty-training and swinging, it's serious freedom for a mom 🙂
I do have pictures from our Out West Adventure in the works.  At the moment, it's an open folder on my desktop with my favorites.  But currently, there are more than 80 of them, not counting Corrie's and Michelle's from our visits with them.  I'll try to pare it down to less than 50 for your enjoyment 🙂  Actually, I've got coupons for photobooks that expire soon, and so that may happen before they get uploaded here…  Or not.
But Grandma Sandy's coming tomorrow, and we're going to have a great visit with her this next week!