7th October 2009
This recipe is AMAZING.  Last year, I probably made it 10 times in the fall.  I even made mini loaves to give to kids teachers at church for Christmas, wrapped them (the mini loaves… not my kids :)) in a dish towel, and tied it up with a single serving Tastefully Simple Oh My Chai drink mix (feel free to order or email me directly!).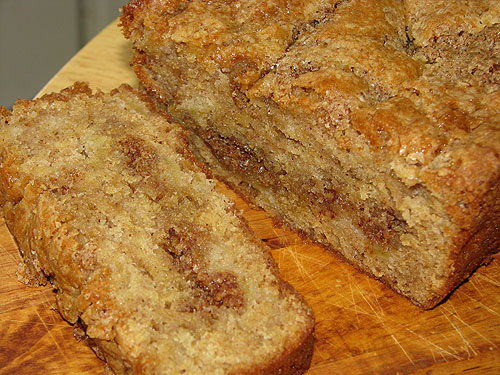 Anita's Amazing Apple Bread
1/2 c sour cream
2 c sugar
3/4 c oil
3 eggs
1 t cinnamon
2 t vanilla
1 t salt
1/2 t nutmeg
2 c shredded apples
3 c AP flour
1 t baking soda
Topping:
2T butter, melted
1/2 c sugar, 1 t cinnamon, 1/4t nutmeg
Preheat oven to 350. Grease and flour 2 loaf pans (or 3 mini pans per loaf). In a large bowl, mix sour cream, sugar, oil, eggs, spices and apples. In a separate bowl, combine the flour and the baking soda. Add dry ingredients to the wet mixture and stir only until moist. Divide evenly between the two pans.
Pour butter over batter in pans, dividing evenly. Sprinkle with sugar mixture.
Bake 50-60min or until a tester inserted in middle comes out clean.
**My notes… I've never shredded the apples, just very diced them finely.  I've also "healthified" this… light sour cream, 1 c. brown sugar/1 c white, 3/4c applesauce in place of oil, egg substitute, half white whole wheat flour (King Arthur White Whole Wheat is the BEST!).  I also added 1/4c toasted oat bran to the topping.  Works great!