24th December 2009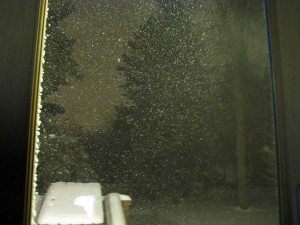 It has just started to snow here … I'm up for a while tonight to document the progress of the storm. Weather forecast calls for 2-4 inches tonight, 3-6 inches tomorrow, and even more on Christmas day! Also, I've got pictures and video at the end of our cross-country skiing outing with the kids earlier today.
Here is a video of the light snow blowing in the strong wind about an hour after it started.

Here is a "documentary" video as I walk through the snow to video at the same spot again about three hours after the snow first started falling.

And here is part II after I walked on down the hill onto the street:

The swirling snow right outside the glass door next to my laptop:

Earlier today, we went skiing at the Red Barn Campground ski area. The kids did great despite the cold wind blowing hard. Here is a video of Josiah and Kristine at the beginning. This was Josiah's first time to go skiing. He did really well!

Here is a collage of falling down moments – unfortunately the camera batteries died before I could get a good video of Analise skiing. She did great again this year.

Photos of our skiing outing: