13th May 2006
Cheaha Challenge Century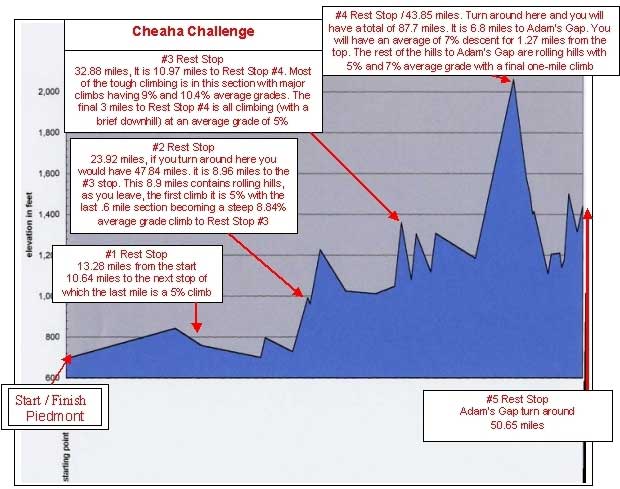 It's been an awesome, fun couple weeks of biking that I want to catch
everyone up on. I'll go in reverse order with today's
Cheaha Challenge,
billed as the toughest ride in the South. And it was tough. The course is
an out and back course which means that you ride out 50.65 miles and then
turn around and ride back the exact same way for a total of 101.3 miles. It
took just a little over 5 hours for an average speed of 20.1 mph. I topped
out at 52.1 mph coming down one of the hills near rest stop #3 on the map
above. I was able to stay with the lead group all the way until the climb
coming back up Cheaha Mountain on the way back. I got dropped as the lead
three riders just slowly pulled away from me. That would have meant a
lonely 45 miles back to the start, but my dad and Kristine met me at
several points to cheer me on and give me food and water. They are awesome!
Here's a picture of Kristine waiting at the finish, and here's one of
Analise looking more tired than daddy!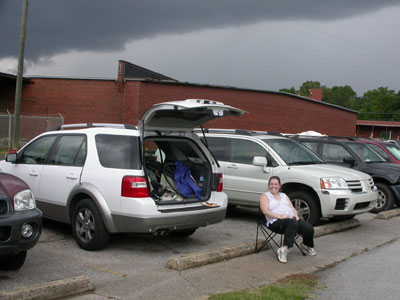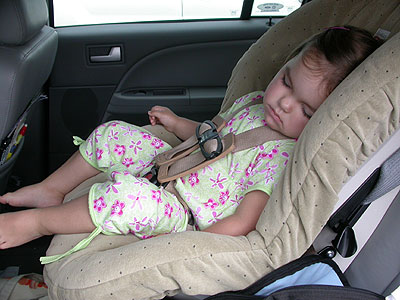 Sunny King Criterium
(Click on each image to see a larger image)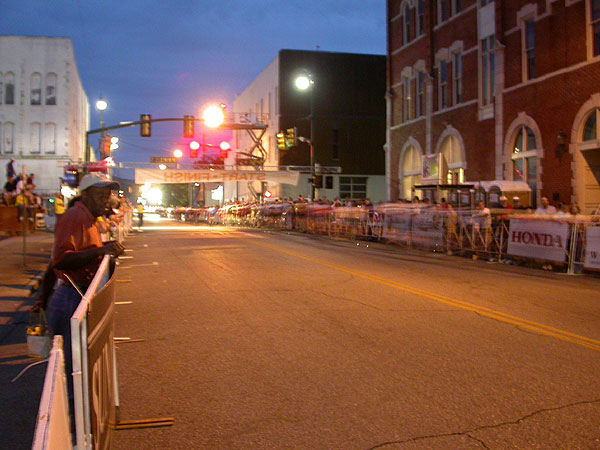 Saturday afternoon we all loaded into my parents car and drove to Anniston, AL
for the Sunny King Criterium. This was the first criterium my parents had seen
me race since before I left for grad school in California! It was also the largest
criterium I've done since 1998. There were 77 people in my race, and I ended
up placing 14th. I was in fairly good position going into the last corner, but
a rider was going very slow in front of me going into the last corner, and I lost
several positions trying to get around him. There was an exciting professional
race after my race. There were 100 professional and Category 1 riders in the race,
and it was exciting. There were four cameras set up around the course, and three
large wide screen TV's set up in the start/finish area to watch all the action.
The two videos below are of the Pro-1 race. It was fast! I'll let the pictures
speak for themselves. Click on each one to see a larger image.
| | |
| --- | --- |
| The ladies watch a small breakaway in an earlier race. | |

| | |
| --- | --- |
| | Analise and Grandma "bwaca" try to figure out how to climb the tree. |

| | |
| --- | --- |
| There were some exciting little kids races with parents frantically running after their children. Analise is for sure doing this next year! | |

| | |
| --- | --- |
| | Runners line up for the 1km dash-for-cash. |

| | |
| --- | --- |
| Analise tries to take a nap in the "bed" she found, which was actually my warm-up rollers! | |

| | |
| --- | --- |
| | The pro race was so exciting to watch, especially with the widescreen TV's and video cameras setup all around the course. |