14th March 2010
What a day!
On the outside, it didn't look very promising. 40's and intermittent drizzle, at a 2.5 hr bike race. But we took warm clothes and rain boots, as well as the kids bikes, with us to Guntersville. Over the course of waiting for Brian to come around for each of his 4 laps, the kids rode and played on the damp playground.  Despite my warnings, they ended up sliding down a slide into a puddle, and Analise was completely wet. Of course, I'd packed lightly, with no extra clothes for anyone. She had to change into Brian's cycling tights, vest, and rain boots, and she shivered the rest of the day. Then,  Josiah told me too late he had to go to the bathroom. Damp and chilled, I wasn't impressed with the state of the day halfway through the race!
We've been talking it up for a while, and so Analise asked me to to take her training wheels off and help her ride. And so we did…
At the end of the day, my sweet girl can ride a 2-wheel bike without training wheels by herself… and even stop! And Brian won the race! The soft rainbow we saw summed up the day!
A few more pictures…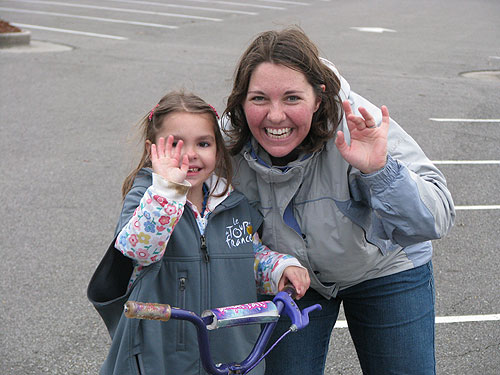 A few iPhone pictures that didn't resize right… Email me if you want a larger version!