18th August 2010
I saw this project last fall, and knew I wanted to create one for our home.   I also knew I'd never get to it myself… perfect for doing with Mom!  We picked out our scrapbook papers, clicked through all the other canvases people had posted in the comments on the link above to pick our favorite rules, came up with 2 11×14 inch Family Rules canvases for me and 1 set with Rules to Live By for my mom to use at school.  Here are the final projects…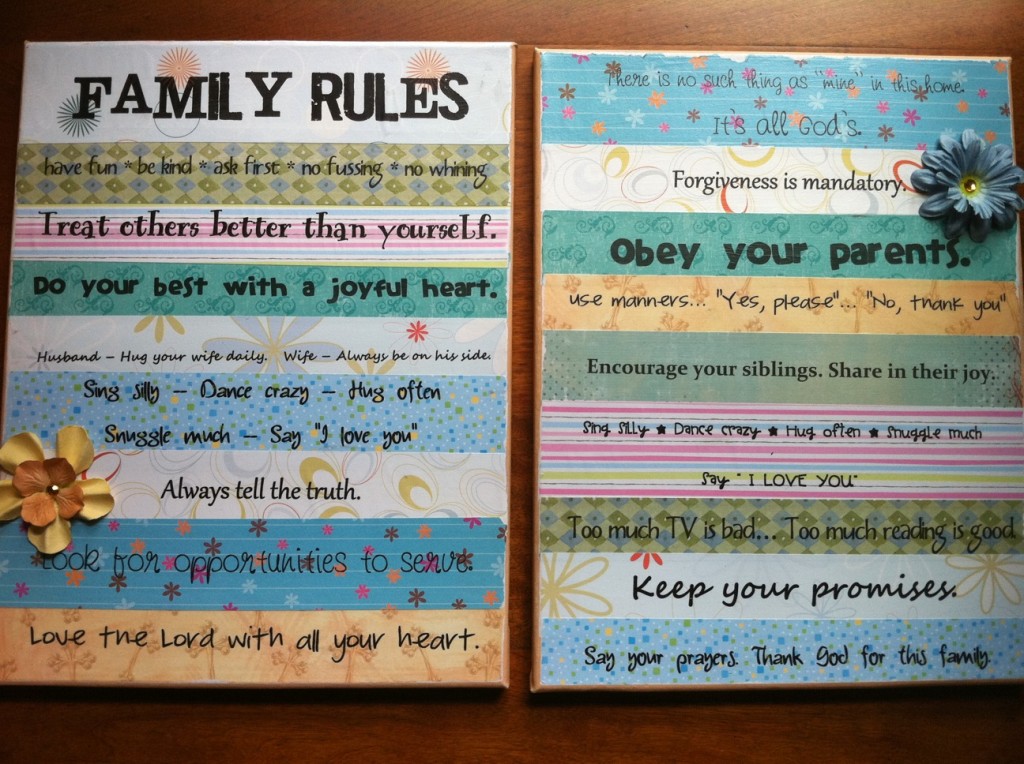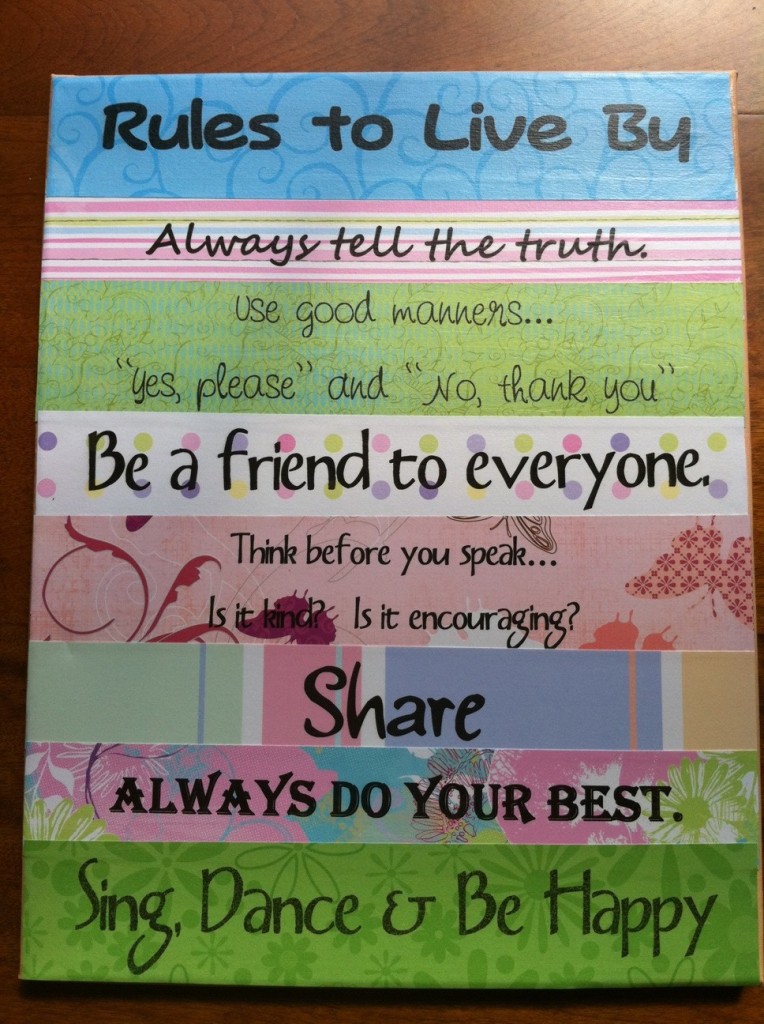 A few notes…
The original from the link is very large, and I wish I could have done mine that big.  But it's a good thing I couldn't figure out how to do the lettering wider than 12×12 paper, because I really didn't have a good place to display anything larger than the 11×14 canvases I made!
We tried to choose not-quite-matching papers, but they couldn't be too dark or have patterns that were too strong. And heavier paper works better with ModgePodge, but its not imperative.  We did my canvases with all scrapbook papers we had on hand.
We cut 12×12 paper down to 8.5×11, typed our rules into a (landscape format) Word document, using fabulous fonts from this link (be careful… very easy to install and addicting once you start!).  We cut each rule into a strip, laid them out in order, and used Modge Podge to put them on the canvas.
A couple Modge Podge tips we learned (after Mom's first canvas bubbled/wrinkled badly) – Heavier papers are better, but the absolute key is to paint a layer on both the paper and the canvas.  This way they will bond together, with no bubbles.  Smooth with a credit card, for 30 seconds or so.  Let the Modge Podge dry, then seal the edges with another couple coats.
I found a fun tip for "antiquing" the edges.  We had painted the sides and 1″ border of the canvases.  After we had Modge Podged as many times as we wanted and it was dry, I used sandpaper to blend the paper into the painted canvas.  It turned out well, looking like the edges were torn, but with black or grey paint, it would have looked much better.
I embellished with a couple flowers, just to give them some dimension.
Again, if you're going to do this, click through the examples of the original project.  Such great ideas, and endless rules!
My rules list:

Have fun, be kind, ask first, no fussing, no whining.
Treat others better than yourself.
Do your best with a joyful heart.
Husband – hug your wife daily. Wife – Always be on his side.
Sing silly, dance crazy, hug often, snuggle much, say "I love you"
Always tell the truth.
Look for opportunities to serve.
Love the Lord with all your heart.
There is no such thing as mine in this home. It's all God.
Forgiveness is mandatory.
Obey your parents.
Use manners… "Yes, please"… "No, thank you"
Encourage your siblings. Share in their joy.
Too much TV is bad… too much reading is good.
Keep your promises.
Say your prayers.  Thank God for this family.
I'm so pleased with how these turned out!  If you send me your family rules, maybe I'd even make one for you 🙂