3rd August 2006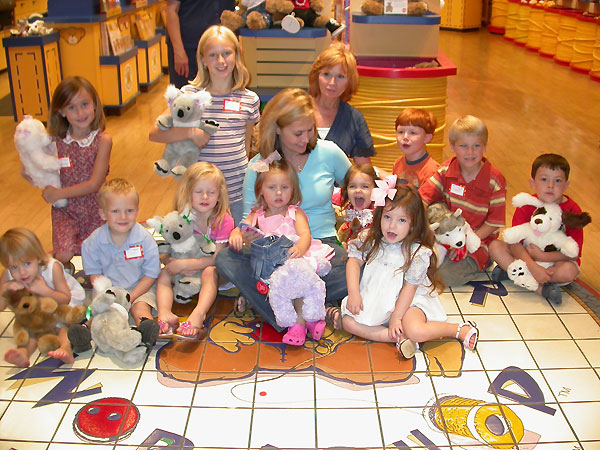 Analise squeals with delight sitting next to Olivia's mom
Sunday was a fun day. It started out kind of sour for me as I was still running a small fever and not feeling well so Kristine took the kids to church and dinner at my parents' house without me. I stayed home, got some work done on the computer, and rested. Later that afternoon, I was feeling good enough to take everyone to a "Build-A-Bear" birthday party that Analise was invited to by her friend from church, Olivia. This is a picture of everyone with their finished bears.
It was a near process. First, you picked out the bear that you wanted to stuff. Then you picked out a heart for your bear. Then you did a number of little things to teach the bear how to walk, how to run, how to eat, etc… Then you put the heart into the bear and attached it to this machine which injected feathers into the bear. Finally, your finished bear was placed in a takehome doghouse along with a birth certficate with all the bear's stats. Here's a few pictures from along the way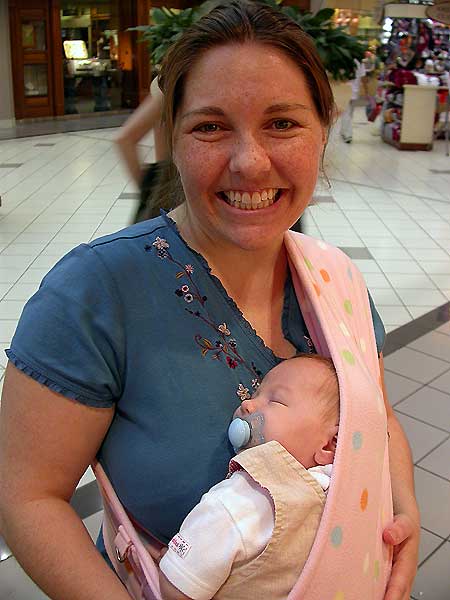 Kristine held little sleeping papoose the whole time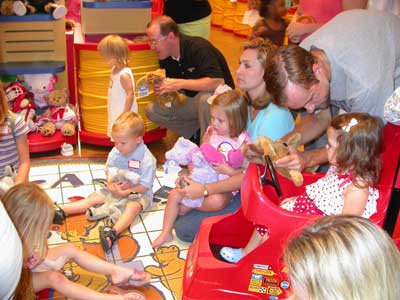 Explaining how the process is going to work to the kids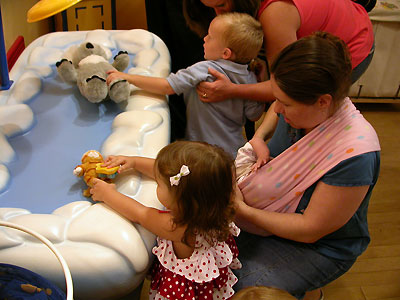 Analise found and decided to wash an already stuffed little kitten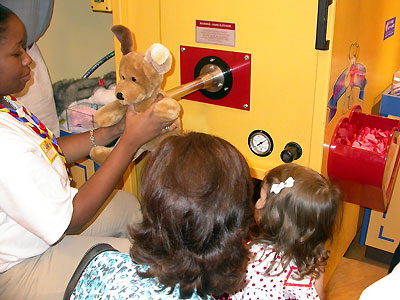 Here is Analise's puppy dog, "Bear", being stuffed
After the fun party, Kristine and I went over to Backyard Burger for a leisurely dinner. We got all kinds of free food for our cute kids! On the way over there Analise was singing Twinkle-Twinkle Little Star really well. I got some of it on video that I'm going to post in a little bit. Here's some pictures from our dinner.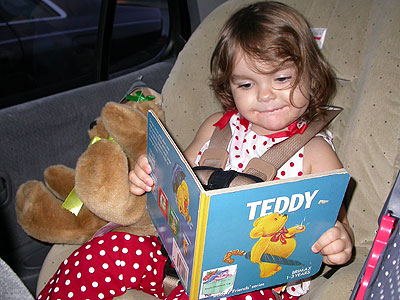 Analise reads about the teddy bear to her teddy bear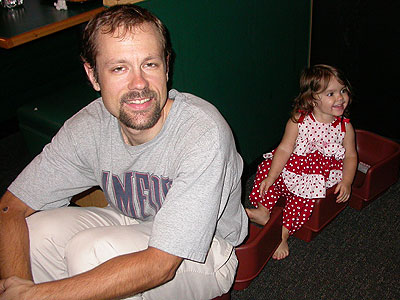 Daddy gets to ride on the choo train Analise made out of the
restaurant's booster seats
Videos to come soon!