13th October 2006
Yeah for blogging! My amazing hubby has added a new feature that makes it so much easier for me to format a blog. I'm so excited! It's invisible to you, but now I don't have to include all the HTML tags. Previously, even my short blogs took 10 minutes or so to post, and with a picture, it was at least 15 minutes. Now it'll be much quicker… so much quicker, you may even hear from me more often!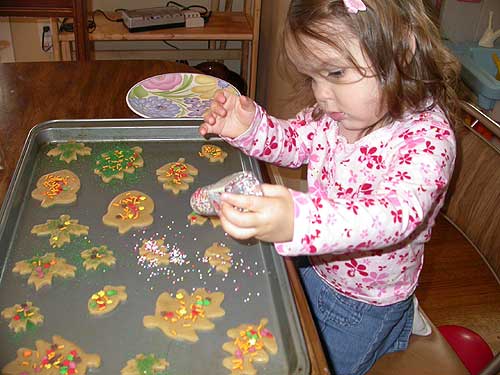 Today's adventure was baking. I had some sheets of premade cookie dough, and I love cut-out/decorated sugar cookies. Analise loves sprinkles, so I thought today would be a fun chance to bake together. She loved it! We had leaf and acorn cookie cutters in various sizes, which she helped cut out.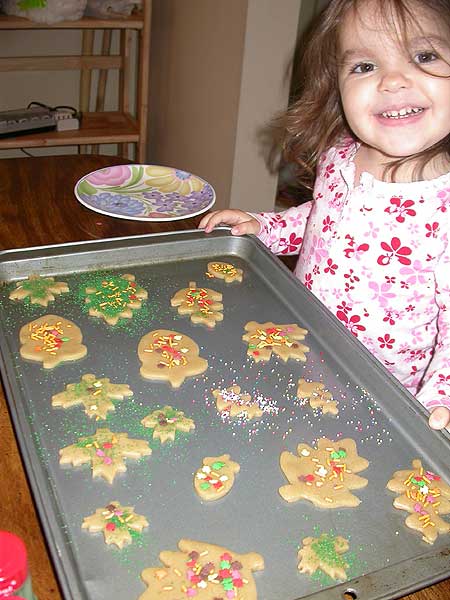 Then we sprinkled. In case you don't notice, one cookie got *heavily* sprinkled with green sugar… that was while I was dashing for the camera! I didn't get a picture of the finished cookies, but they were tasty and were mostly gone after dinner tonight.
Josiah's 4 month check-up was today. He weighs 16 1/2 pounds (in the 80th%) and he's 26.5 inches long (in the 90th% – woohoo!). He was a trooper for his 2 shots. He wasn't feeling good tonight, though. Hopefully a dose of Tylenol will keep him sleeping through the night.
Have a good weekend!