4th May 2011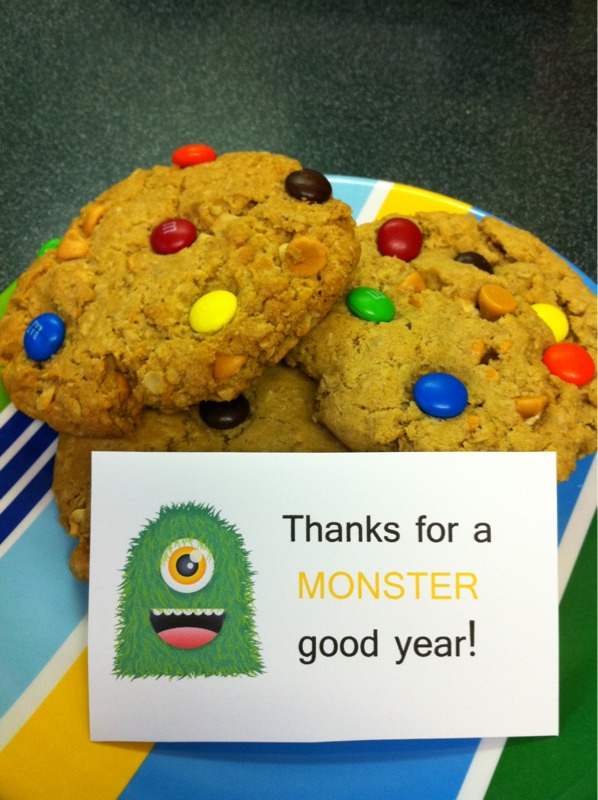 I repeated last year's easy, delicious end-of-the-year gifts today… These amazing Monster Cookies with a cute little "thank you" tag. This is a Taste of Home recipe, and I can't imagine a better monster cookie. Yum!
Ingredients:
1 cup peanut butter
1/2 cup butter, softened
1-1/4 cups packed brown sugar
1 cup sugar
3 eggs
2 teaspoons baking soda
1 teaspoon vanilla extract
4 cups quick-cooking oats
1 cup M&M's
1 cup butterscotch chips
1 cup salted peanuts
2 cups all-purpose flour
Directions:
In a large bowl, cream peanut butter, butter and sugars. Add eggs, one at a time, beating well after each addition. Add baking soda and vanilla. Add oats, M&M's, butterscotch chips and peanuts; let stand for 10 minutes. Stir in flour (the dough will be crumbly).
Shape 1/4 cupfuls into balls. Place on greased baking sheets, about nine cookies on each sheet. Gently flatten cookies. Bake at 325° for 15-18 minutes or until edges are lightly browned. Remove to wire racks. Yield: about 2-1/2 dozen.
Notes:
I decreased the oats by 1/2 cup and I used old fashioned instead of quick oats. Heaping 1/4 cup of dough, with M&M's into top, spread slightly to be 3 to 4 inches across, for a total of 21 cookies. DELICIOUS!!
Source: http://www.tasteofhome.com/Recipes/Monster-Cookies
– Posted using BlogPress from my iPhone