6th November 2006
It's hard to take photos and cheer… oh, and handle 2 children! We don't have great pictures of Brian's finish, but we're counting on the professional one to show us his exciting finish line moment with Analise. But here are some fun glimpses of the weekend.
First, Brian, Josiah and I enjoying a chilly sunset on the beach on Friday night.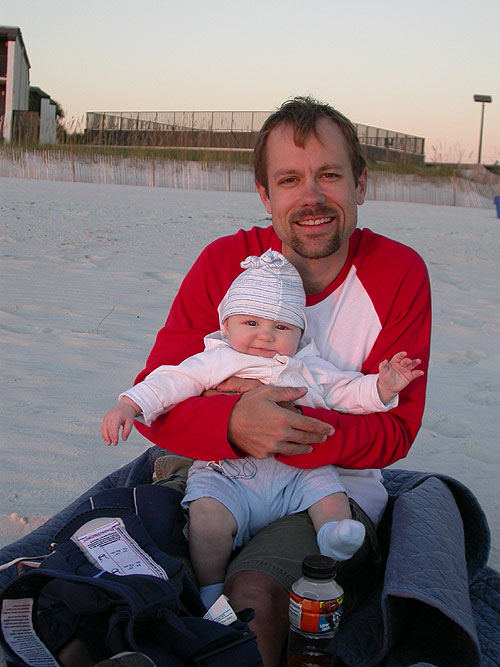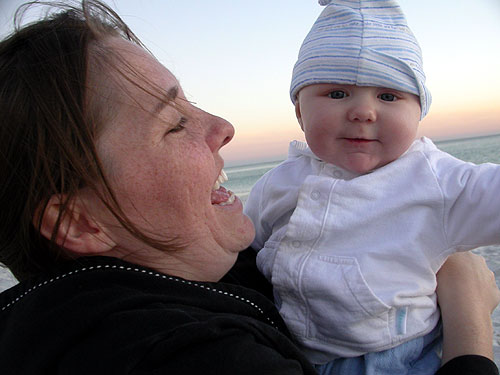 During the day on Friday, We visited the Ironman Village and picked up registration info (below). Then Brian, Ben and Arthur went out for a ride. They also got into their wetsuits to test out swimming in the ocean.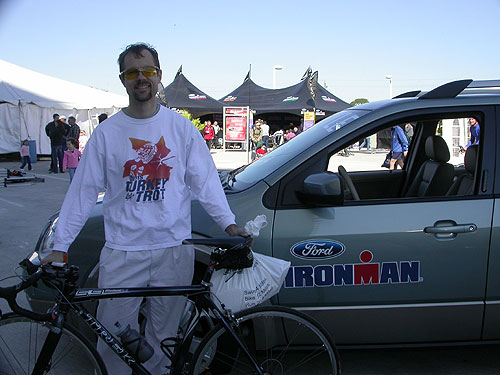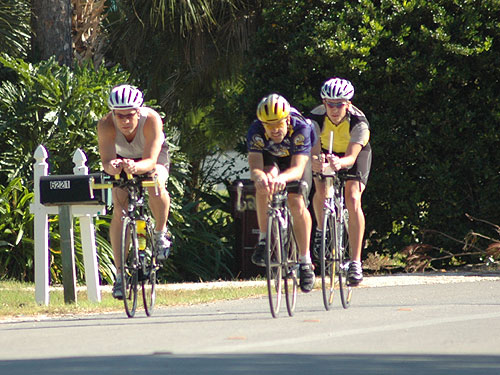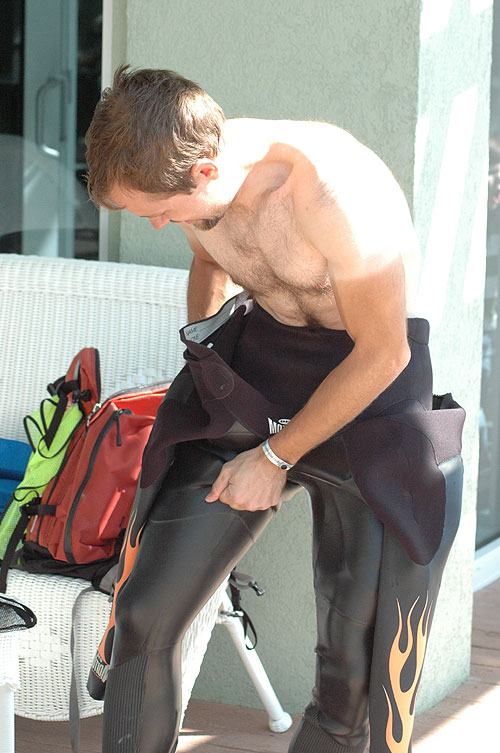 Finally, it was race day. Brian left at about 5:30 to walk down to the start area. He had to get "body-marked" where they write your race numbers on your arms and legs, check on his bike, put a few last minute things in his transition bags (like his shoes! which he couldn't put into the bag the day before because he was wearing them and had forgotten other shoes!). I walked down the beach from our condo and saw the start from the distance. It was pretty crowded, and I was on the wrong side of the swim area, but here are the pictures of the start and racers coming into the beach finishing their first lap before heading out for their second lap.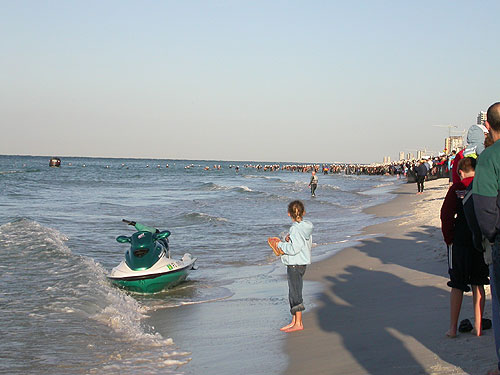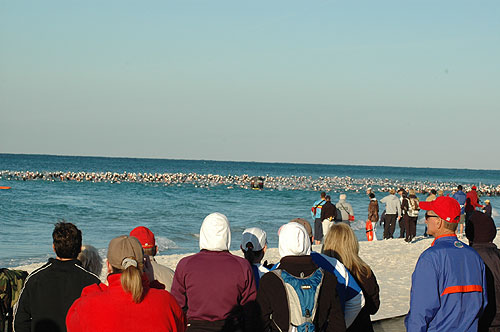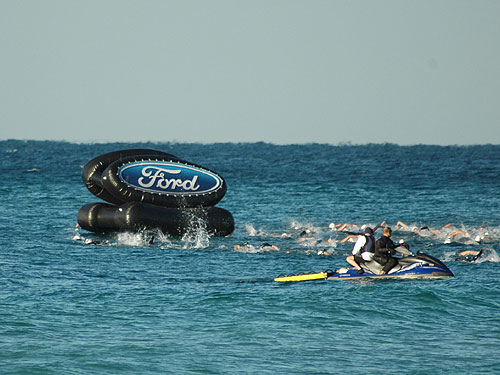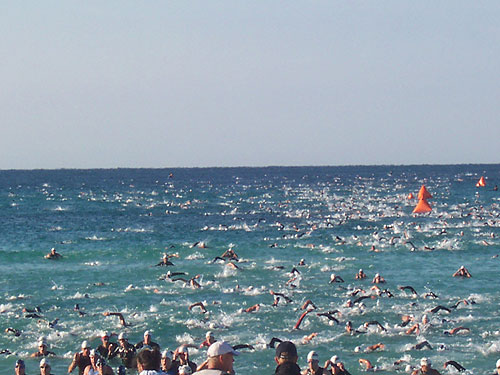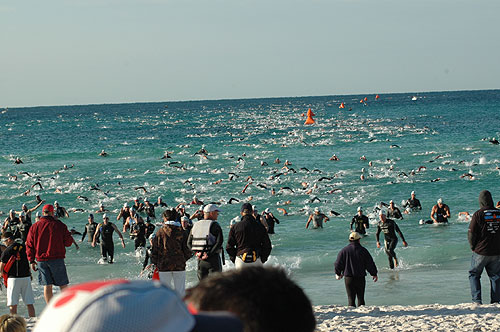 Though I missed Brian coming through the beach between his swim laps, the rest of our group saw him. Then we moved over to where they come out of the swim-bike transition area to head out on their ride. Here's a picture of a tiny part of the bike area – 2500 bikes! This was taken by Brian after he dropped his bike off on Friday afternoon.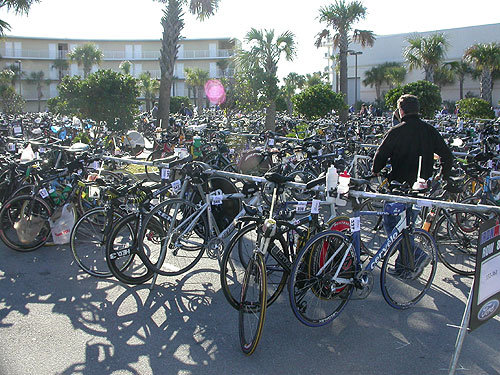 After we cheered Brian on his way out onto the bike course (again, we couldn't get a picture of him – maybe because he was moving too fast through all this?!?), I went back to the condo while everyone else headed out onto the bike course. They got this great picture of Brian flying by. Lauren said she'd never seen him so intensely focused. I suppose so! He passed more than 1300 people, averaging 22mph!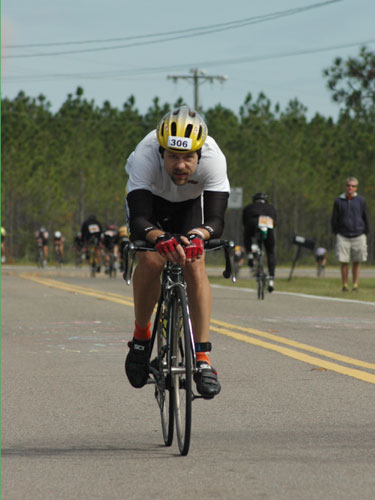 Beverly and the kids and I walked down to the bike-to-run transition area and caught Brian dropping off his bike, changing his shoes and heading out for his his long run.
We saw him twice on the run, right outside our condo, as he finished his first 13 miles, turned around about a half mile down the road and headed out again. No photos of that. I'm a SERIOUS cheer-er… Brian knows not to expect pictures from me because I am too busy cheering. After we saw him head out onto his second half of the marathon, we headed to the finish line around 5:30, expecting him before 6pm. It was dark and cold and my little ones were tired. It took him a bit longer to come through than we expected, and I started to get worried. He told me that he ran most of the first half of the marathon, but had to walk about 10 miles of the 2nd half. He was walking at mile 25 and another guy who was just finishing his first lap started walking with him. Brian had lost track of time, and because it was dark, he thought it was pretty late, like 8:30, or getting close to 14 hours. But when this guy found out Brian was almost finished, he told him he was pretty close to breaking 12 hours. Brian ran the last mile, and finished just before 7pm. Yeah! So here are our only finish pictures – Brian and Ben after Ben's finish at 10:52pm.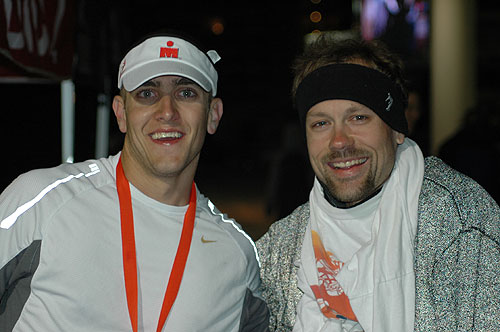 After Brian had showered and gotten some food, we headed back to the finish line to cheer on Ben. We ended up staying until midnight, the 17 hour cut-off time. That's a fun place to be – the music's blaring, the announcer is keeping everyone riled up, they're giving away hats and t-shirts, and the "everyday" ironmen are coming through. It was fun to see them achieving such a monumentous task. The last picture is of Brian and I cheering on the last finishers.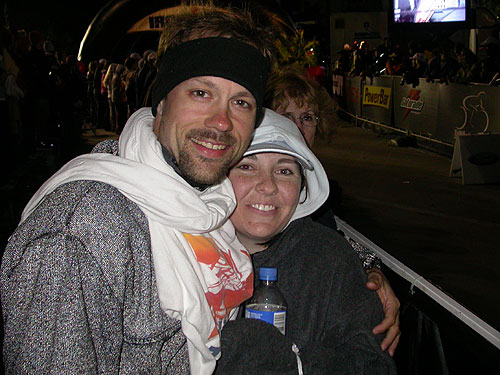 Here are his finish stats:
2.4 mile Swim: 1:28:10 (1647th place of 2109 finishers)
Swim-to-Bike transition: 14:39
112 mile Bike: 5:05:08 (346th place in the race overall after this segment, 81st place in bike times!)
Bike-to-Run transition: 4:32
26.2 mile run: 5:02:11 (1291st in run times)
Total: 11:54:40 (762 overall, 114th of 261 in men's 30-34 age category)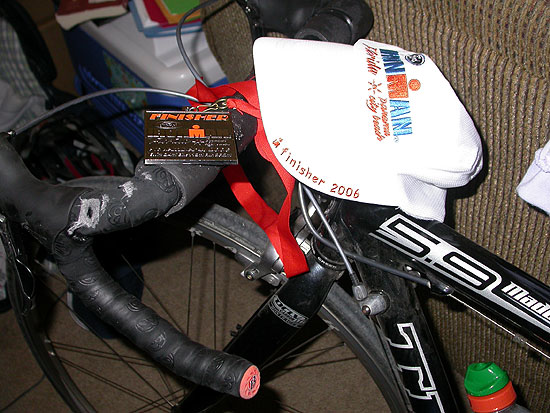 That's my wrap-up of the Ironman Adventure. If you have questions for Brian, post them here, and he'll answer them in a first-hand from-the-mouth-of-the-Ironman blog sometime this week.