9th June 2011
If you had told me last week how much we would accomplish in our short visit to Nicaragua, I would not have believed you! What an amazing visit this has been seeing this beautiful country, seeing the impact of Nuevas Esperanzas on the communities of El Ojochal through the effective long-term development strategies being implemented in projects as diverse as rainwater harvesting and beekeeping. Yesterday was a special opportunity to worship alongside most of the entire Nuevas Esperanzas team during Friday tea (moved to Wednesday to accomodate our tight timeframe). With Leo on the guitar, Andrew on the trumpet, and Emma on the flute it was a special time of reflection thinking of what we are thankful for and for what we would petition God for Nuevas Esperanzas.
Before the photos, some maps of where we went on Monday and Tuesday … on Monday, we spent the day in the communities of La Union and Nueva Amanecer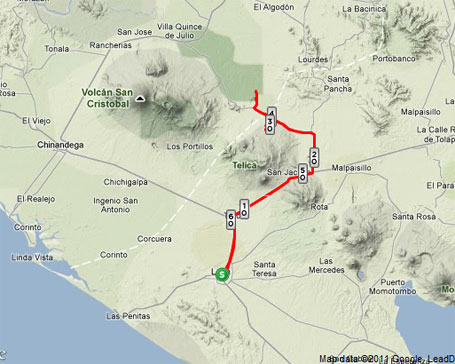 Tuesday was our day full of hiking, horse-back riding up a steep volcano hillside, beekeeping, and meeting people from the community of El Ojochal.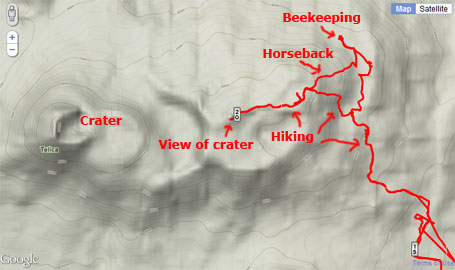 Only a few more pictures to post from our day full of meetings and reflection yesterday including a very early bike ride to the beach. I'll be posting several videos over the weekend.