2nd June 2007
Time Trial (8 miles – Saturday 9:30AM) 22nd out of 41
I am traveling by myself this weekend to Union City, GA just south of Atlanta. I just finished the morning time trial. Unfortunately, I am not sure what my time was for the 8 mile time trial because my heart rate monitor didn't have any free memory left to record the race. Somehow I must have forgotten to delete the data from last week's race.
It definitely was not my best time trial although I started out strong and caught my 30 second man within the first five minutes. The out and back course was pretty hilly on perfect roads. At the turnaround I still had about a 30 second gap over Travis Werts (Team Krystal), the rider who had started 30 seconds behind me. But unfortunately, at the turn around I realized why I had been flying on the way out — a strong tailwind. This strong tailwind became a strong headwind as soon as I turned around. My legs were burning and even though I was still gaining on the next person up the road I really started to fade towards the end. Travis Werts finished only a few seconds behind me meaning that he beat my time by about 25 seconds. I believe it will be another middle of the pack TT for me.
Oh, and all of this was with less than 5 minutes warm-up!!!! I stood in line at registration for about 45 minutes. Then there were no porta-potties so I had to book it in my car back to the nearest gas station which was about 5 miles away. By the time I got back, switched the pedals from my road bike to Richard McBee's TT bike, got dressed, and got on the bike I only had 5 minutes before my start time. I rolled around near the start/finish area and then right up to the line with only 15 seconds before I was supposed to go off. A quick pull to tighten my shoes and I was on my way.
Right now I am resting at Panera Bread and looking forward to tonight's race. It will be an hour-long criterium starting at 6:30pm (eastern time). I'll report back after the race!
Criterium (60 minutes – Saturday 6:30PM) 14th out of 50
I felt great during this race, but the story of the race for me was that I was watching the wrong guys. I was in a couple early breaks that looked promising, but they both got caught by a fast chasing peloton. Then I started to just ride near the front letting several breaks get away that didn't have the pros. Unfortunately, one of those breaks without the pros stayed away. I rode strong near the front and felt that the race was relatively easy. I was in OK position going into the field sprint but then somebody almost fell in front of me and this caused another rider to swing wide and forced me into the gutter where I had to slow down losing all my momentum. I was able to ramp it up again to finish 9th in the field sprint, 14th overall with 5 men in the break.
Road Race (90 miles – Sunday 9:00AM) Somewhere near the bottom of 55
After missing the break in the criterium, I was determined NOT to miss the break in the road race. I made it into nearly all the breaks during the first half of the race with one of those breaks looking OK and staying away for about 15 miles. Then we got caught, and I started to get pretty tired and decided to let a few breaks get away thinking the peloton would chase them all down, but the pack wasn't chasing very well and so I ended up trying to bridge across or chasing down the breaks myself. Finally, a break went that stuck and I wasn't in it because again it didn't have the pros or stronger riders in it. This one stayed away though and somehow I missed getting into the chase group, that DID have the pros and strong riders in it. I was stuck back in the peloton, and I was exhausted by this point and ready for the race to be done. Towards the very end I attacked to try to finish in the top 20 at least, but then I cramped up real bad and had to stop pedalling for almost a minute while those muscles settled down. By this point, the peleton was already well up the road. I chased hard but ended up finishing on my own about a minute or so back. The course was very hilly (see the graph below). This was the end of the longest week of riding I've had in almost 10 years: 360 miles from Monday-Sunday — well over half of which were race miles.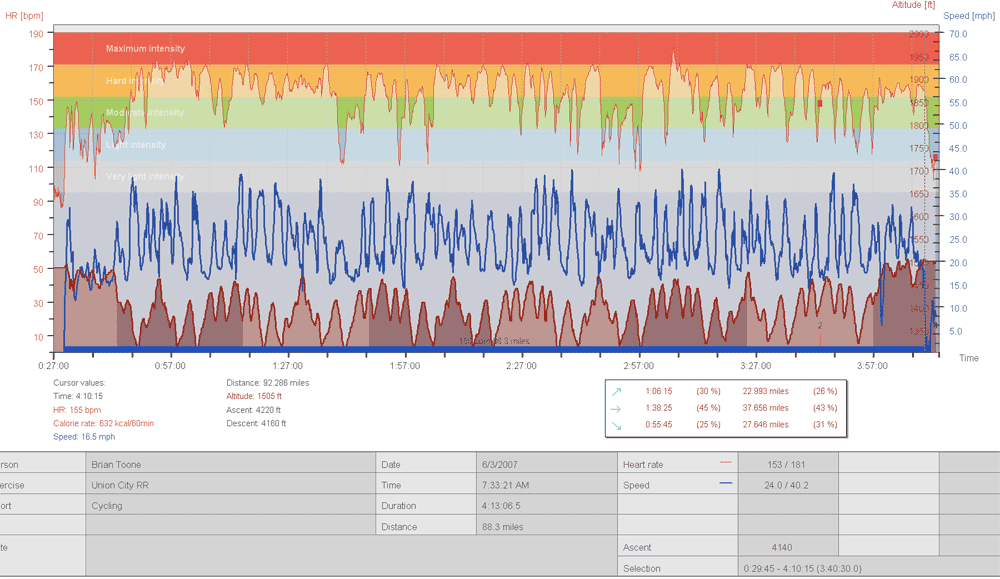 The weekend was great training, but somewhat disappointing because of the missed opportunities to earn the points to upgrade to Category 1. I'm not sure what that means for the Minnesota race, which is only for Pro's and Category 1 riders. I'm going to email the regional official again to see if he will upgrade me to Category 1 based on my results at Edgar Soto. If not, I'm going to ask the promoter of the race for permission to race as a Category 2 rider. If he says no, then it looks like I'll just be doing the two short amateur races up in Minnesota (Mankato and Stillwater).