26th June 2007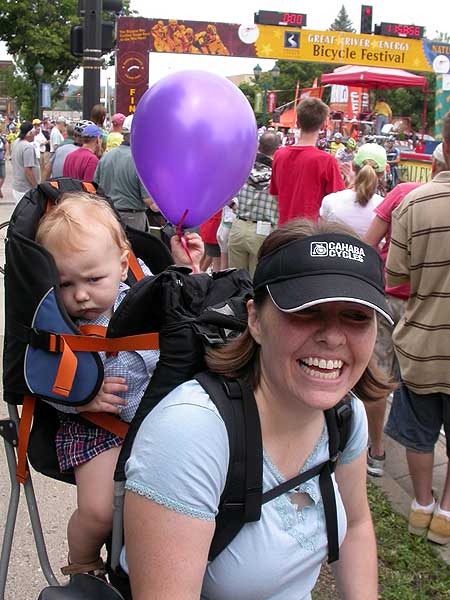 My number one fans before the start of the Mankato Race.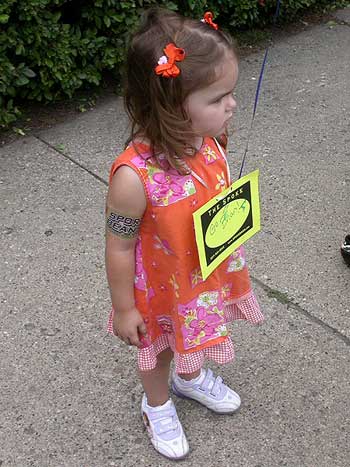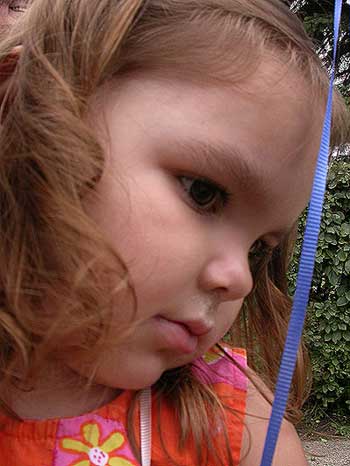 Another number one fan. Analise was standing there as I was getting ready to warm-up. Whenever Kristine would tell
her to say "Go Daddy Go", she would instead come over to me and give me a hug around my leg which is what
she is doing in the second picture above. I ended up 8th in the race (see the race report below).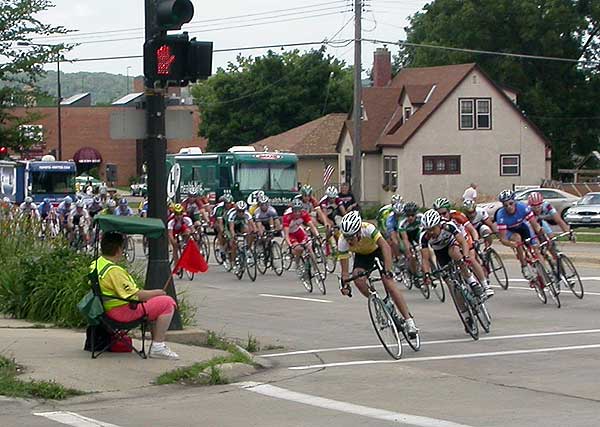 Here I am in second position near the beginning of the race.
Whew, a lot has happened since I last wrote, but it has been hard to sit down and find time to upload pictures or write a blog. First, the Nature Valley Grand Prix is over and done with and it was an exciting race to watch. I hope to be an active participant in next year's edition. I was still able to race in the amateur races on Saturday and Sunday and I've included my race report below for those who are interested.
Currently, I am sitting in a local coffee shop with air conditioning and wireless internet. I have managed to get sick again this year and have been feeling really really bad. To put it in perspective, I didn't ride my bike today and probably won't tomorrow making for only the 3rd and 4th, days this year I have not ridden my bike. Kristine, the amazing superhero mom and beautiful wife, has picked up the slack and is at her parent's home getting two sometimes very fussy kids to sleep in 90 degree weather without air conditioning. I missed a trip to the Shell Lake beach during lunch so Kristine will have to report on how that went. Ok, I think that's all for now, except for my race report below:
Minnesota Iron and Metal Criterium (June 23)
I felt good during this race. Great start, good position for most of the race. I stayed near the front going with every break thinking that a break would emerge fairly quickly like it did during the training crit on Tuesday. Unfortunately, there was a large team (Grandstay Hotel) that was not letting anything get away and they didn't seem interested in getting in a break themselves. They chased down their own breakaway at least once. With three laps to go on the 1.5 mile course, one rider attacked and got a short gap. With two to go, I attacked hard through the start/finish gapping the field and bridging to the lone rider. I passed him and kept going through the next two corners. Then I made a mistake by looking back. Never look back with less than 2 laps to go!!! I was discouraged thinking that the gap wasn't enough so I sat up. It took an agonizingly long 5-6 seconds for the field to catch me after I sat up. I then tried to go for the sprint, too, and managed 8th. I should have won that race just by laying it all out once I had the gap.
Stillwater Kurt Kinetic Criterium (June 24)
This race was unbelievable. We raced on the same crit course as the pro's with the 20+ percent gradient climb. Imagine something slightly less steep than South Cove Dr in a crit! The start was at the bottom of the climb and the finish was at the top of the climb so my heart rate went from 98 before the start to 182 in less than a minute. I felt great on the climb and the group went from maybe 50 at the start to just 10 of us with about 4 laps to go. One guy attacked on the hill and I was right there and started to bridge up to him, but there were 3 Grandstay Hotels riders at the front who had been chasing down everything earlier so I figured they would just chase us down again so I sat up. Unfortunately, they were tired and they didn't really chase that hard so we were racing for 2nd place with one lap to go when I had an anaerobic brain meltdown – I started to figure out how I could move into position to be first around the last corner since there was hardly any room between that corner and what I was thinking was the finish line. So I attacked and moved into first through the corner thinking that there was no way anybody could pass after the corner … But as soon as I rounded the corner, I remembered that the finish line was at the top of the hill. This meant that I was at the front leading into the hill at which point I made another mistake – I should have attacked at the bottom of the hill rather than waiting for people to come from behind me to attack. When those attacks came I got passed by everyone except one guy. I was able to re-pass a couple guys on the climb since it was so steep, but that was only good enough for 6th in the race.