18th July 2007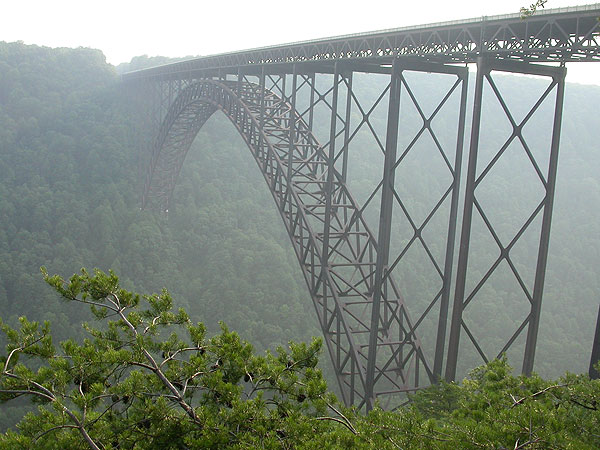 New River Gorge bridge, West Virginia
Part 1: Birmingham, AL to Somerset, PA
748 miles, 17 hours
We left Birmingham early Friday morning and made it all the way to Somerset, PA just after midnight. It was definitely a long day in the car, but a beautiful drive through the Appalachian Mountains. One of the highlights was a surprise trip across the New River Gorge bridge. I had always heard of the bridge and we saw on the map that we were close to it, but we didn't realize that our route was going to take us right over the bridge which is the second longest steel arch bridge in the world.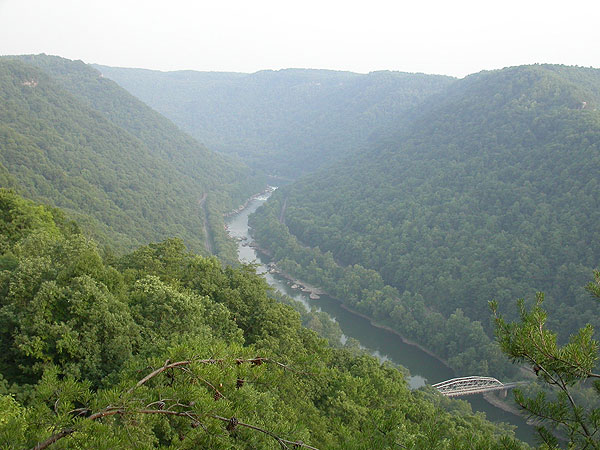 View from the scenic overlook near the New River Gorge bridge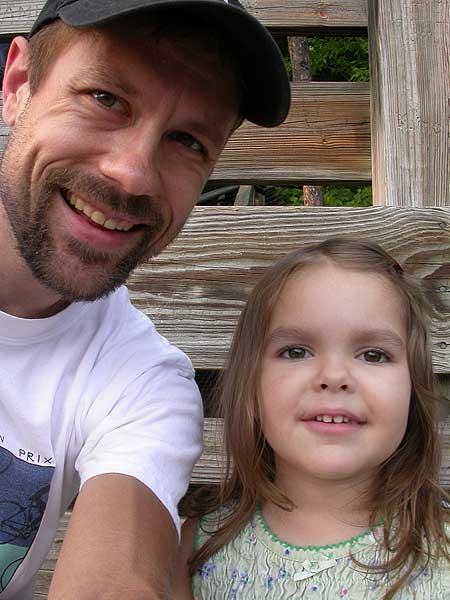 Analise and I at the same scenic overlook
Part 2: Somerset, PA
3 days
For the next part of our trip, we spent three days in southwestern PA where I was registered to race in the US Masters National Championship race on Wednesday, July 11. On Tuesday, we had a picnic at the Seven Springs ski resort after I picked up my registration packet. Then on Wednesday was the race, which started out really well, but ended up somewhat of a disappointment as I fell behind on the last lap and ended up 27th. After the race, though, we had a great time exploring the area. Here's some photos from all that we did.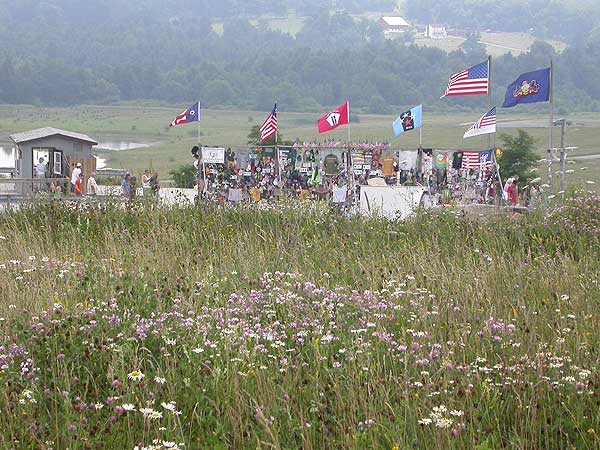 First, we visited the Flight 93 memorial which was only 10 miles from our hotel.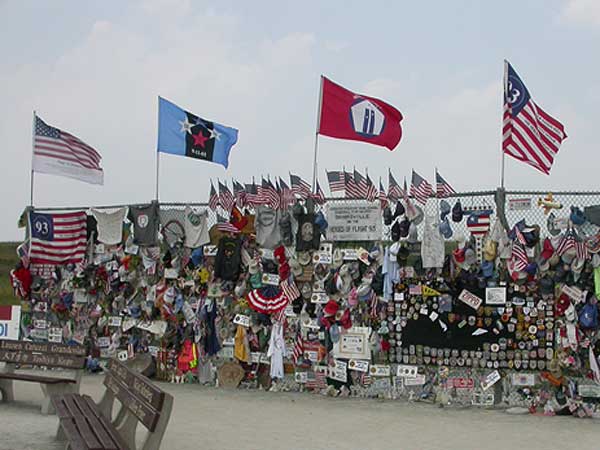 Still very poignant to visit here even 5 years later.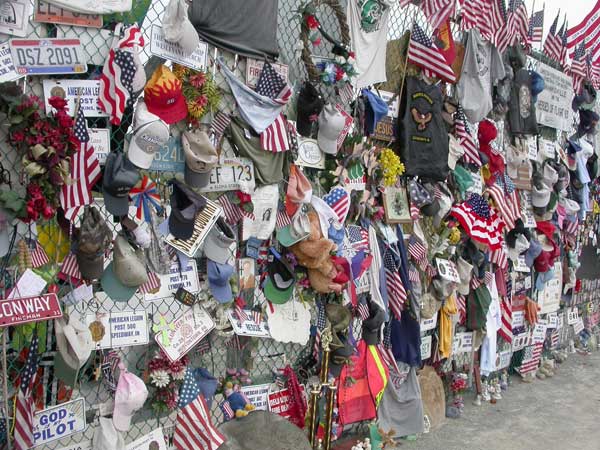 A close-up of the memorial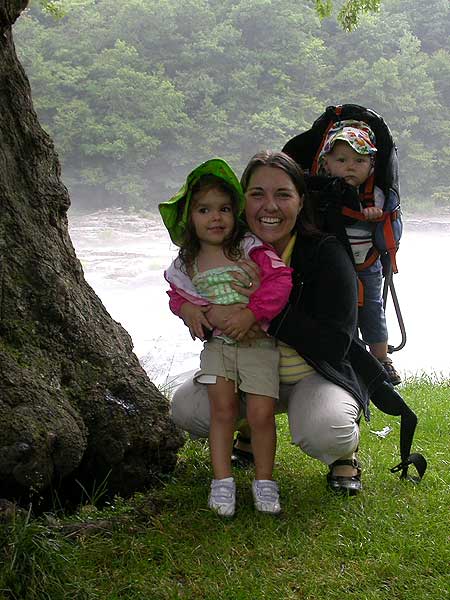 Next, we visited Ohiopyle State Park and saw the waterfalls and rapids.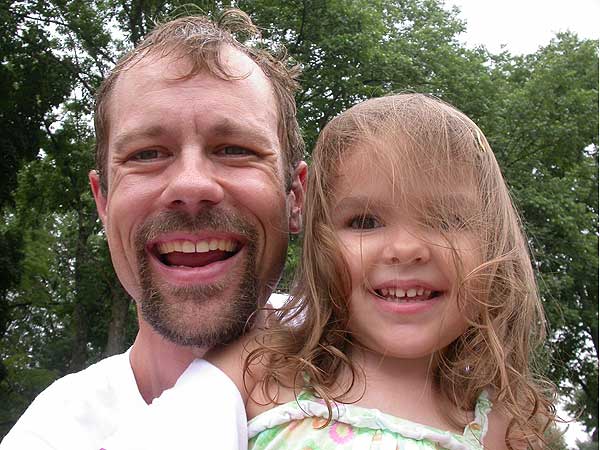 Even though it was raining a little bit, we still had fun walking around.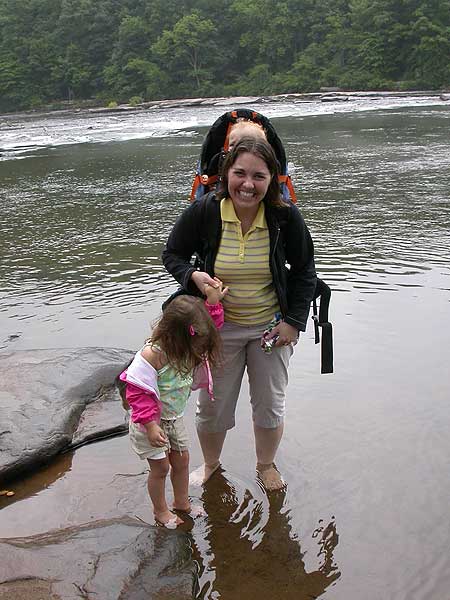 Kristine, Analise, and Joisah were even ventured out into the icy cold waters.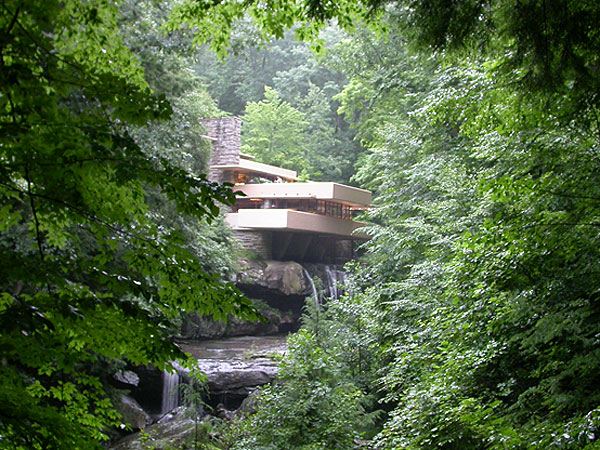 Just a few miles away was Frank Lloyd Wright's "fallingwater" house which was very cool to see.
Since a tremendous thunderstorm and rainshower passed over us as we were visiting, we got to
see lots of falling water at Fallingwater. They also had little umbrellas which Analise was excited to carry.
Part 3: Somerset, PA to New York City
316 miles – 7 hours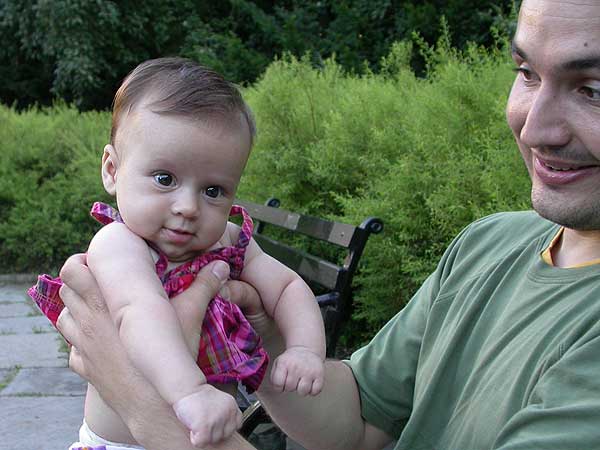 Then on Thursday after the race, it was onto New York City to see Radu and meet Claire
and their 10 week old daughter, Violet. Here's a picture of Violet on our walk through Central Park.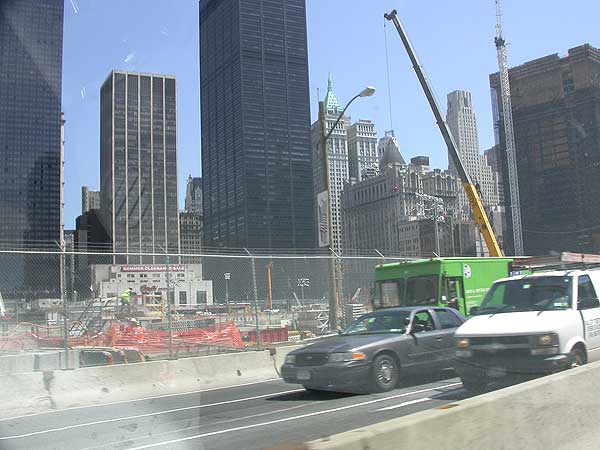 We entered Manhattan at the south end of the island via the Holland Tunnel and then drove
all the way up the island to 110th Street to Radu and Clare's house in Harlem. Along the way we
drove by the World Trade Center reconstruction site — nothing more than a hole in the ground right now.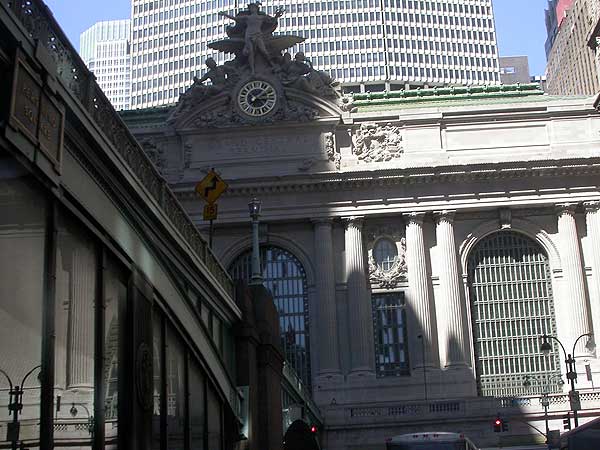 We also drove right by Grand Central Station.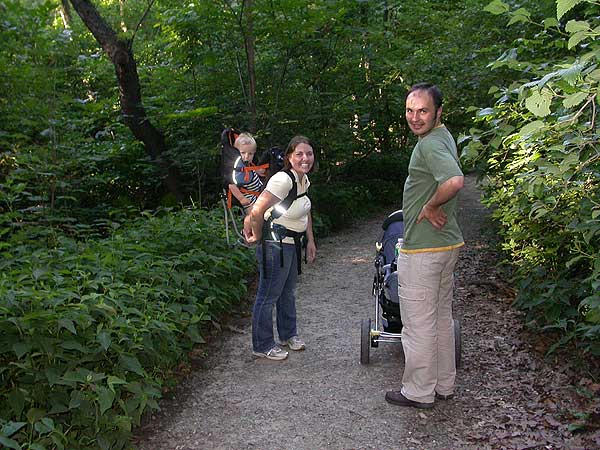 After we made it to their apartment and Radu got home from work, we walked over to
Central Park, played on one of the playgrounds before embarking on a hiking adventure.
I had always imagined Central Park to be flat, but instead it was rugged and heavily forested.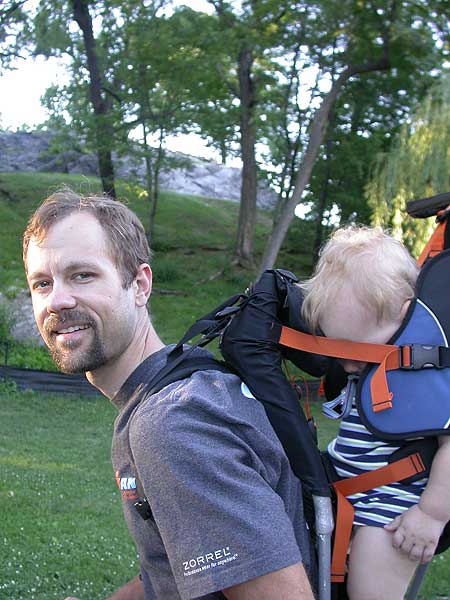 Josiah was exhausted from all our traveling and fell sound asleep in the backpack.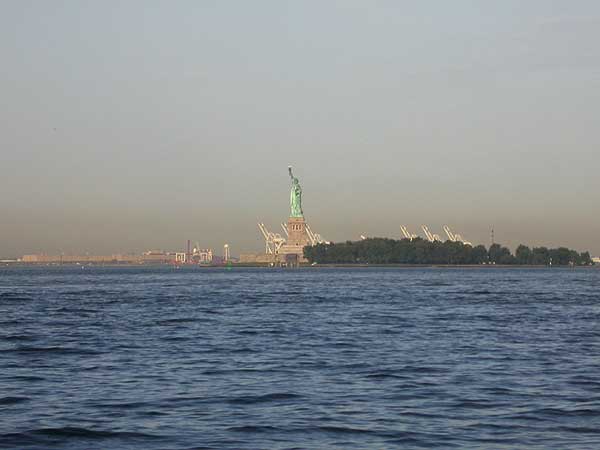 The next morning I biked with Radu down to the financial district. I continued on to the tip of
the island and snapped this picture of the Statue of Liberty from Battery Park.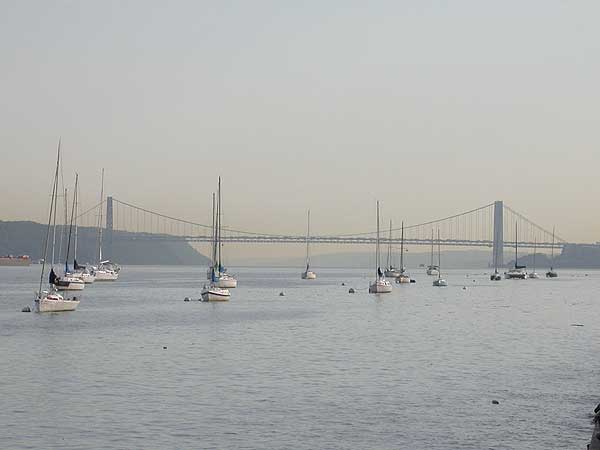 Here's a picture of the George Washington bridge which crosses to the north end of Manhattan.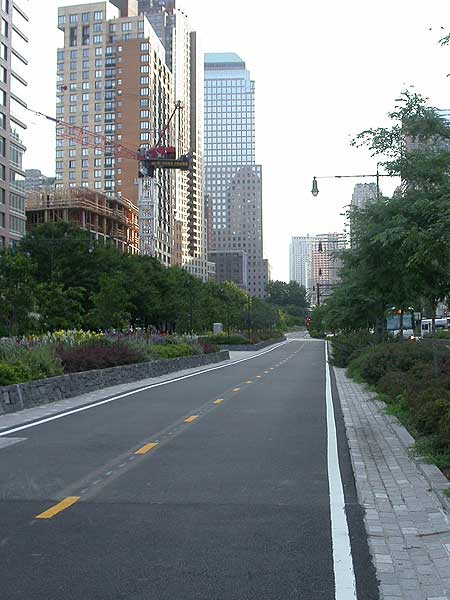 Biking through all of Manhattan during morning rush hour was very fun. This
bike path was right along West Street. Pedestrians were very conscientious
of bikers so you could fly along the bike paths and people would get out of the way.
When I made it back uptown to about 95th street I started to make my way
over to Central Park, but I was thwarted by a one-way street. I turned left
and saw a lot of green lights ahead of me so I sprinted up to about 30-35 mph and
flew alongside all the taxis and negotiated my way up 15 blocks in just a few minutes.
Part 4: New York City to Williamsburg, VA
399 miles – 11 hours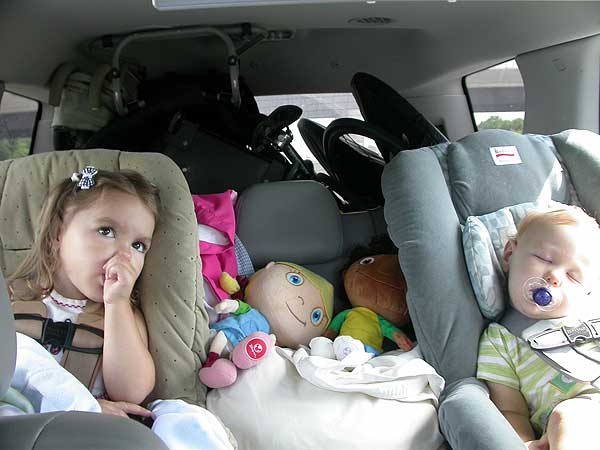 After I got back from my bike ride around Manhattan, we loaded up the car and
headed for Williamsburg, VA to meet Kristine's family for a quick visit. The trip was
supposed to take about 7 hours, but took us 11 with all the traffic on I-95 south of
Washington, DC. Surprisingly, there wasn't much traffic at all in DC itself as we
took I-395 right through the heart of the city seeing the Capitol, Jefferson Memorial,
and the Washington Monument. Our tired travelers took turns sleeping through most of it.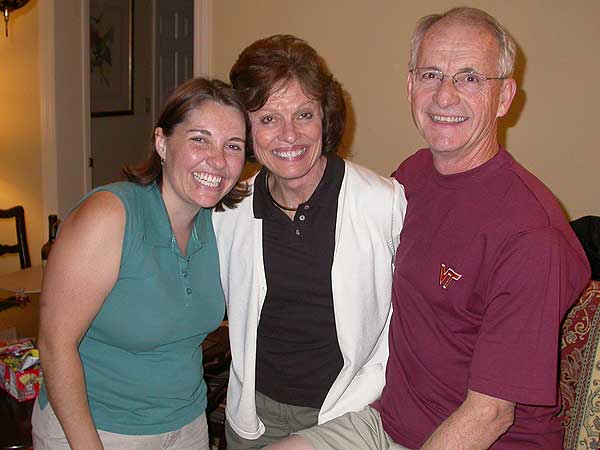 When we finally made it, we had a wonderful pasta dinner with Kristine's family.
Here's Kristine with her Aunt Carol and Uncle Jim.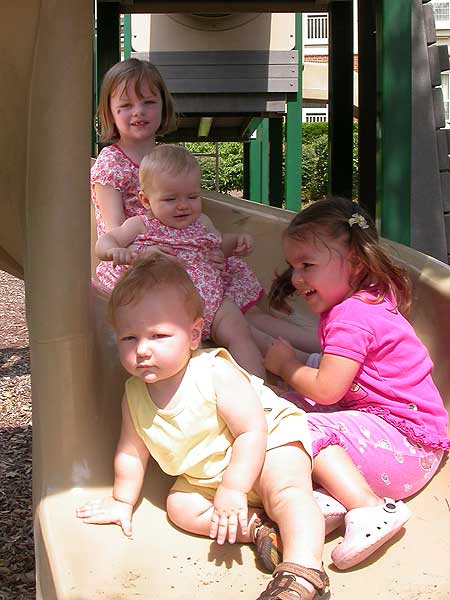 Here's all the kids together … Hailey, Lily, Analise, and Josiah. I got to go for
a bike ride while Kristine caught up with her cousin Kimberly and their kids.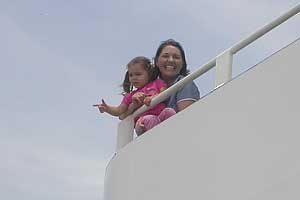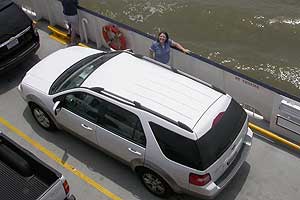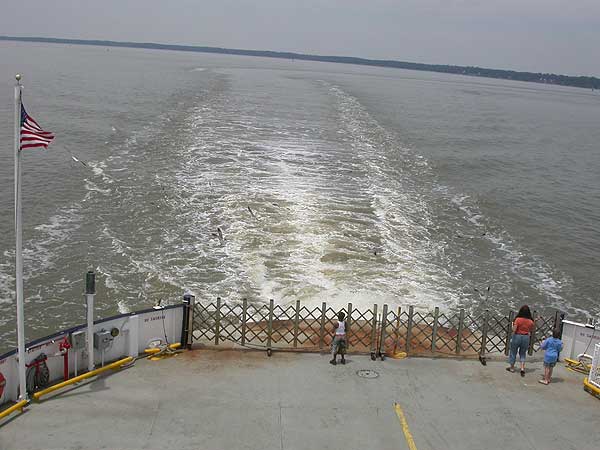 When we were ready to leave for the last part of our vacation, we started out by taking the
ferry across the James River … fun, fun, fun! Here's a few pictures from that part of our trip.
Part 5: Williamsburg, VA to Myrtle Beach, SC
373 miles – 7.5 hours
For the last (and most fun) part of our trip, we are currently in Myrtle Beach, SC enjoying a fun beach vacation. Here's some pictures from our first couple days here. We'll be here through Saturday and then back home to Alabama.