13th October 2007
We're having a great time in Greenville, SC already on our first day of our annual fall break trip. Analise and I both had bike races today. Analise won a ribbon, and I got third place making it onto the podium! Here are some pictures from the day's racing. Enjoy!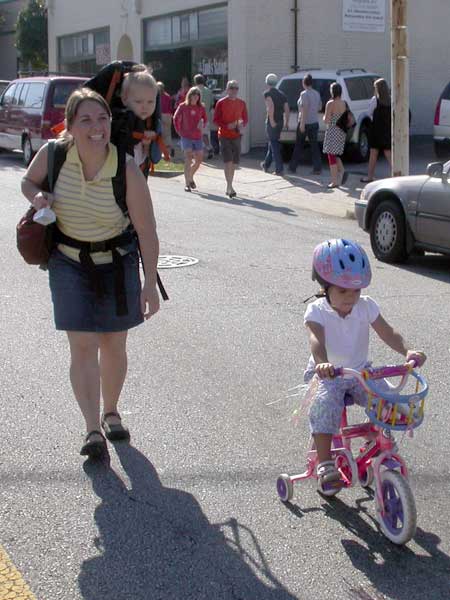 Kristine had her hands full with both kids.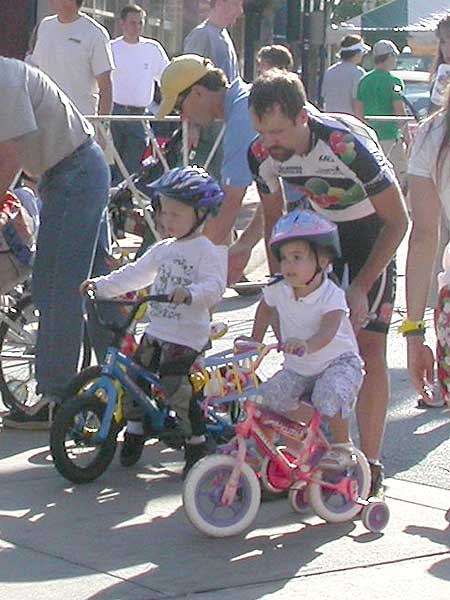 At the start line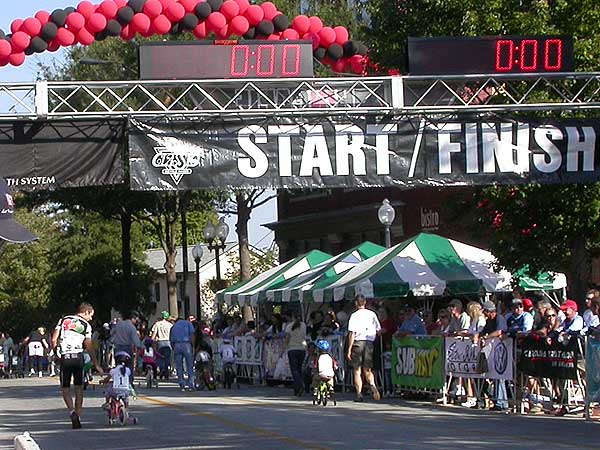 Here we are crossing the finish line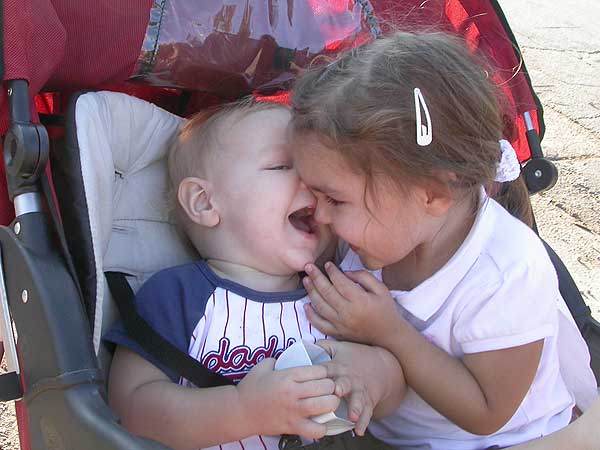 Kristine had her hands full with both kids during the race. They entertained themselves pretty well, though.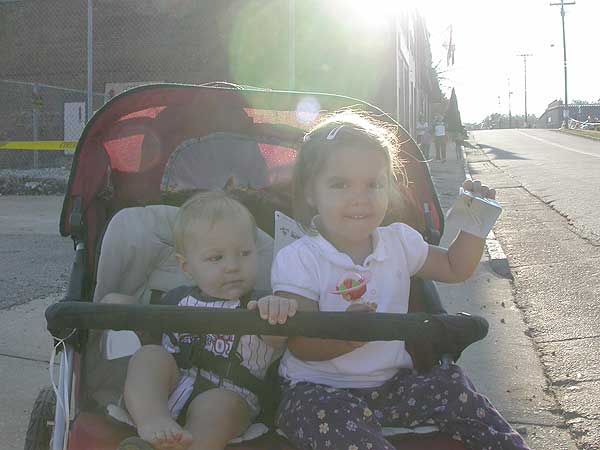 And they cheered too, while ringing their cowbells.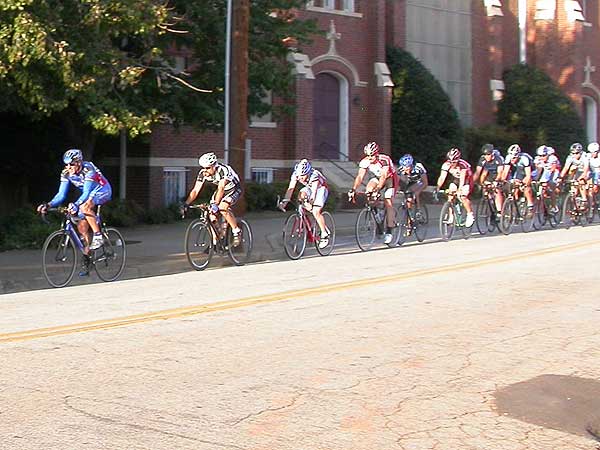 Here I am sitting in second position between the two AEG pros.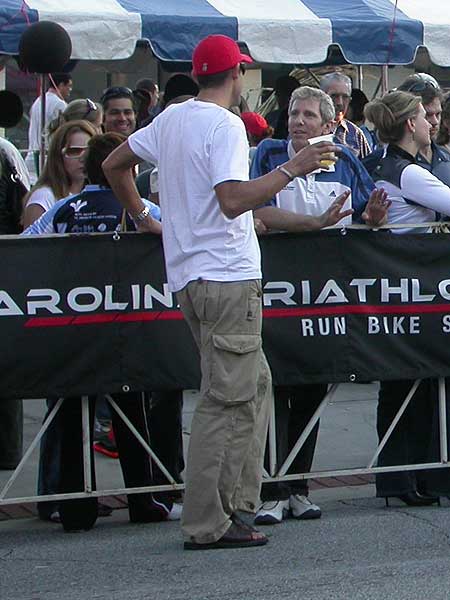 George Hincapie was riding in the pace car instead of racing.
Lastly, here is the race report I sent out to my team tonight:
Good weekend for Tria! Congrats Philip and Kev! Y'all took first and second at TdC – and I took 3rd at the Greenville Cycling classic! So let's call it a 1-2-3 weekend! It was awesome … podium, flowers, hat, podium girl, the whole 9 yards!
George Hincapie was riding in the pace car — but his future T-Mobile teammate (Craig Lewis currently with Slipstream/Chipotle) was racing with us. AEG had a couple of riders. Hincapie-Bianchi had their full squad maybe 10 riders and altogether there were maybe 60-75 people in the field. Big crowd from the Fall for Greenville festival making tons of noise. Turn one was downhill, and bleachers were setup right in the corner. It was crazy.
The race went down something like this: I had a terrible start with no less than 15 riders called to the line. The course was downhill on one side and uphill on the other. It was a very steep, short uphill coming out of turn two, then a short downhill followed by a longer uphill going into turn 3. Turn 4 started the downhill screamer to the finish line. A break of four riders got up the road on the first lap while I was still halfway towards the back of the pack. They never got a huge gap (maybe 15-20 seconds at the most), because our pace was pretty high. Still it took maybe 10-15 laps (out of 50) to catch them. Once they were caught, there were several counter attacks and moves. I made it into one break with about 4-5 riders but we only stayed away for a lap. With about 10 laps to go, I was sitting right on the wheel of one of the AEG riders when he attacked hard on the backstretch. Craig Lewis and a couple others made it into the break with us, too. I thought this move had a chance to stay away as we started to rotate and we kept the pace insanely fast through the corners, down the hill, up the hill — well, pretty much the whole course. I think too many people were watching Craig to let it get away, though. We were reeled in after a couple laps. I stayed near the very front (top 5-10 riders) for the next five laps and the pace stayed very high. One rider got away with five to go and quickly got a 20 second gap. The pace was super high with Craig Lewis drilling it at the front. We reeled the lone rider in with two laps to go. The AEG riders then took turns attacking but each attack got reeled in by Craig Lewis or the Hincapie-Bianchi team. On the last lap, I was in the top five going through all the turns and then came around a couple riders at the start of the sprint to take third behind the huge (6'5 probably 200+ pounds) Hincapie-Bianchi rider (can't think of his name) and Robert Sweeting (AEG).
I was so happy with the race, and felt very strong even at the end. One more race to go tomorrow!