23rd December 2007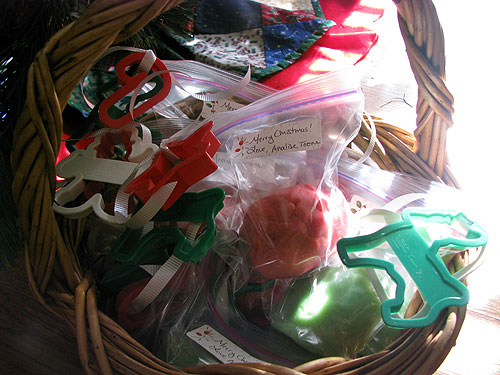 My first attempt at homemade play-doh was a great success this week. I had picked up holiday cookie cutters to package with some dough for Analise's classmates. Here's the recipe I used:
Jello Playdough (Nonedible)

• 1 cup flour
• ½ cup salt
• 2 tsp cream of tartar
• 1 cup water
• 1 Tbsp cooking oil
• 1-3,1/2 oz. pkg unsweetened jello

Mix all ingredients together in a medium sized saucepan and cook over medium heat. Stir constantly until consistency of mashed potatoes. Let cool and knead with floured hands until dry. Allow the dough to cool completely before storing it in an airtight container or plastic bag.
Additional tips: The consistency of "mashed potatoes" is REALLY THICK. The thicker the better, actually, as it requires less kneading later. But I was afraid of burning it, so I undercooked it at first, then returned it to heat. It took some serious kneading and probably an additional 1/2 c. of flour to get it really smooth. But this is a wonderfully soft, smooth dough, colored and scented from the jello. Very pleased!