8th April 2008
Analise and I celebrating my birthday over Easter weekend in Indiana with my family.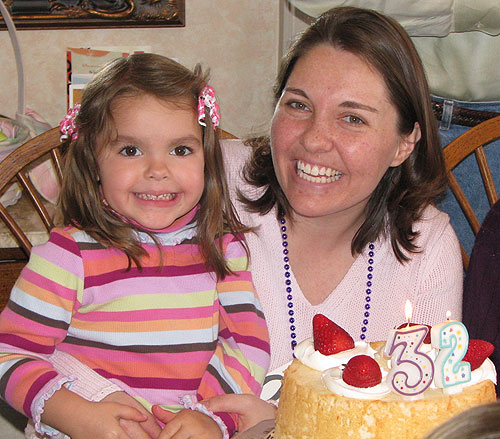 **I started this post yesterday on my birthday, but it's been so busy around here, I'm just now posting it!!!** 32 years old! And everyone woke up healthy – woohoo! That's the first and best birthday present! It was a fairly good night's sleep for everyone, and Josiah was super sweet and snuggly with me in bed. And Analise is on best birthday behavior for me, which makes me smile!
I had a couple e-cards waiting for me. My dad sends us lots of e-cards, and the kids always want to watch them over and over and over. So we spent the first part of the morning enjoying all the cards he's ever sent us.
I got lots of emails and notes on my Facebook page, and interestingly
enough, just one card in the actual mail! What a techy society we are
becoming! But of course, with the little birthday reminder on
Facebook, far more people remembered it was my birthday and dropped me
a note. I got a beautiful bouquet of pink sweetheart roses and daisies
with a balloon from my parents. Brian got me a handheld label printer
(yes, so very romantic… it was just what I wanted!!) and some
sunflowers. And a mom friend surprised me by dropping by mid-morning
with some flowers, a bottle of wine, and some chocolate just because
she knew the kids had been sick, and she couldn't imagine me cooped up
with sick kids on my birthday. AW! Analise and I the Best Birthday Cupcakes,
and they were actually VERY good, possibly even the best.
Since everyone looked like they were going to be sick, I had planned on staying in for a birthday dinner. But Brian and I ended up getting our favorite (well, only) babysitter and enjoying dinner at the Cheesecake Factory. I tell ya, dinner out without kids is *heavenly*. We really don't go out much with the kids, except for Moe's (fast fresh tex-mex), Roly-Poly (wraps), and Chik-Fil-A. As unpredictable as the kids are, it's not worth the money to go elsewhere because we never know how long we're going to have to enjoy it, so it was a real treat to be on our own for a quiet, leisurely meal. We had Chinese Potstickers (very very good, though still, not quite as good as Corrie's!), Shrimp & Bacon Club (me, what I get nearly every time, it's amazing) and Bang Bang Chicken (Brian, a peanutty-curry chicken & shrimp dish that he loves). We shared a piece of Kahlua Coffee Cocoa Cheesecake, and of course, they wrote "Happy Birthday, Christine" on the plate and sang to me 🙂
Honestly, I've been in a bit of a funk lately. Mothering has worn me out over the last couple months…not from any particular thing, just the sum of the everyday events. I feel like my needs have gotten lost in all the needs of my kids, Brian, the house, and other responsibilities. That sure does sounds selfish, but I think most mothers would understand where I'm coming from. I love my kids, I love my husband, I love being MOM, but it can get wearying. I'm not doing the greatest at taking care of myself and filling up my heart on a regular basis, so I'm sure that's part of it.
As I went to sleep on Sunday night after writing this post, I was just praying, "God, please don't let anyone be sick on my birthday. I really need a day that's a little bit about me." He's such a good God… He heard my aching heart, and poured out countless tangible blessings for my birthday. So humbling. He didn't need to. I'm sure there will be birthdays that will be overshadowed by needs, events, etc. And yesterday could have been spent taking care of sick ones, or even being sick myself, and it wouldn't have been the end of the world. But in my very small corner of the world, the super sweet, flowery, sunshiney full-of-love day was so appreciated! Thank you, Lord!!