12th April 2008
It turns out we did have a very close call with a tornado yesterday. When we were out and about today, we discovered that the damage to our neighborhood was a little more extensive than we had originally thought. When I got back today from taking Analise and Josiah to her friend Laurel's birthday party while Kristine was at a baby shower for friends of ours from church, I looked up the weather and saw this weather update from the National Weather Service regarding yesterday's storms:
The National Weather Service has surveyed damage in Jefferson
County in the city of Hoover. It has been concluded that the
damage on Friday, April 11 was caused by a tornado.

The tornado touched down at approximately 425 PM... in the colonial
grand apartment complex uprooting and snapping multiple trees. The
tornado traveled northeast causing damage in the Cedar Brook
apartment complex. Multiple trees were snapped and major roof damage
occurred when a brick fire wall used to separate units collapsed.
The path length of this brief tornado touchdown was approximately
2000 feet... one third of a mile... and was 25 yards wide at its
widest point. The tornado has been rated an EF-0 on the Enhanced
Fujita scale as damage was consistent with winds of 75 to 80 miles an
hour.

Here is a map showing the locations described in the NWS damage survey and the path of the tornado in relation to our house and my parent's house. The red arrow shows approximate touchdown and liftoff (given a 2000 foot damage path). Note that it was heading straight for a major intersection of two interstates at the start of a Friday rush hour and then pretty much straight to our house! Imagine how bad this could have been if the tornado had been even a moderate sized one instead of a relatively small one. We sure were lucky.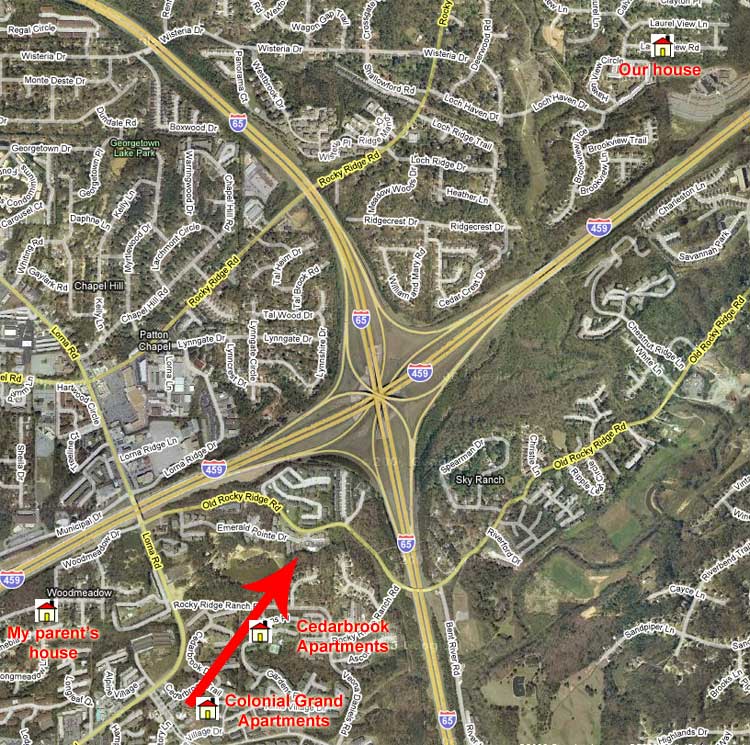 First, here are pictures that I took yesterday an hour or two after the storm had blown over.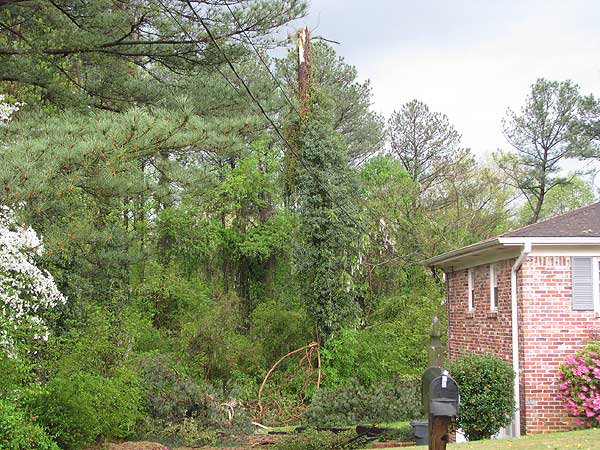 Our neighbors across the street had a tall pine tree snap in half.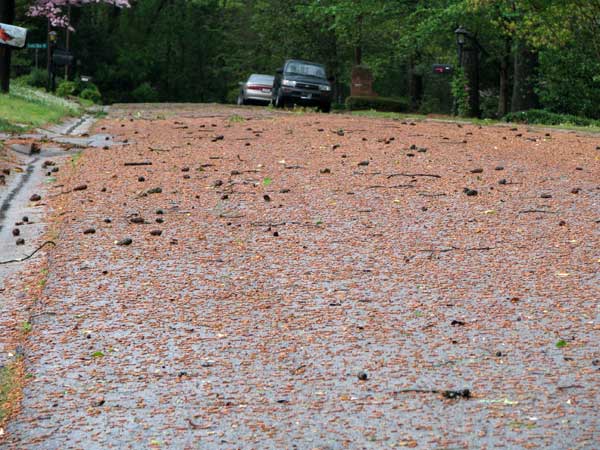 Debris littered the street in front of our house.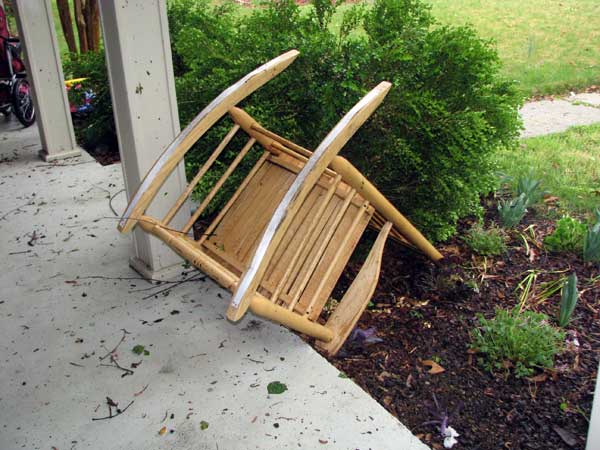 These rocking chairs are HEAVY and yet this one got knocked over and slid slideways into one of porch support beams.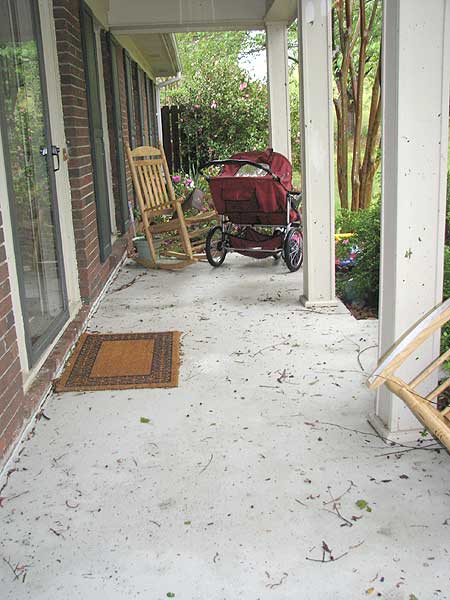 The parking brake on our double stroller was still locked. You have to push really hard to skid the stroller along the ground with the rubber wheels locked – and yet the winds blew the stroller across the porch into the other rocking chair where it collided with the other rocking chair and slide it too!
Here are some more pictures that I took today on my bike while riding around our neighborhood nearly 24 hours after the storm.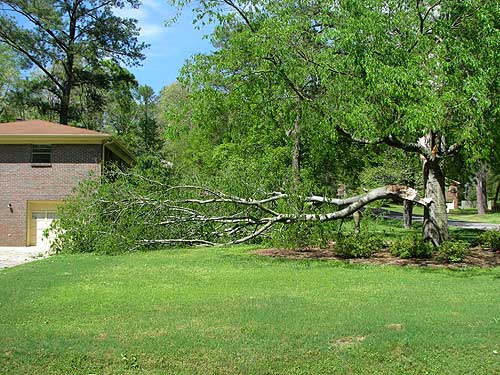 This tree narrowly missed a house down the street.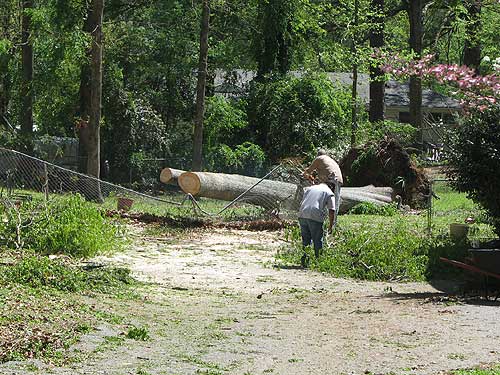 This fence was not so lucky.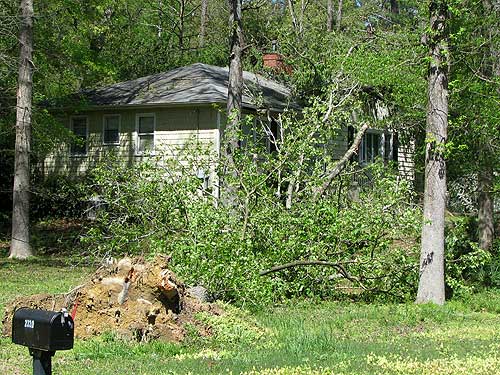 Nor was this house.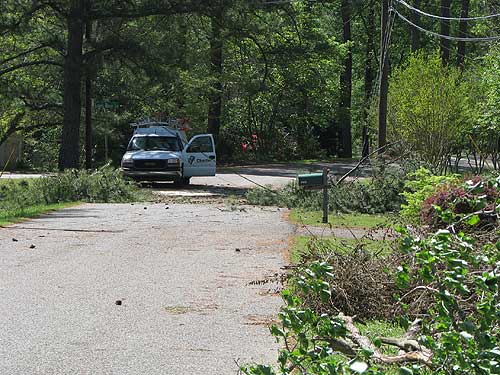 Charter Cable was at the scene to fix this cable line today. Remarkably, we only lost power for a minute or two during the entire storm!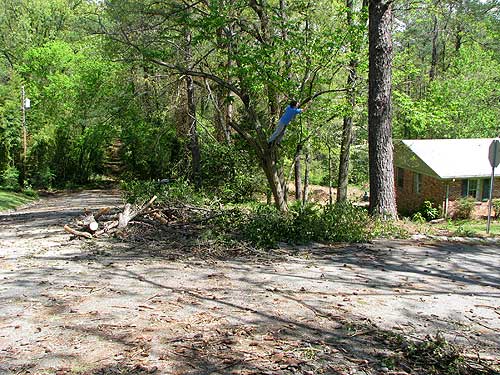 Our neighbor just up the street from us had to use a chainsaw to clear the road to get to his house. Also, in the left of this picture you can see the path through the woods that Analise and I take to walk her to her Mother's Day Out program.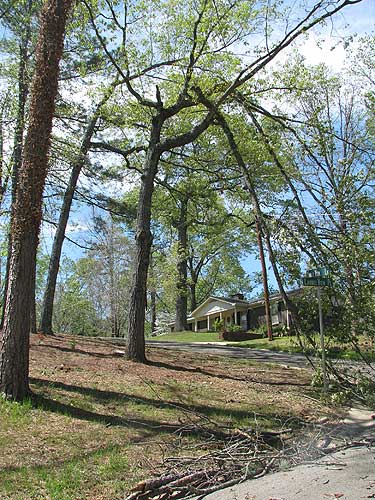 Another broken tree top.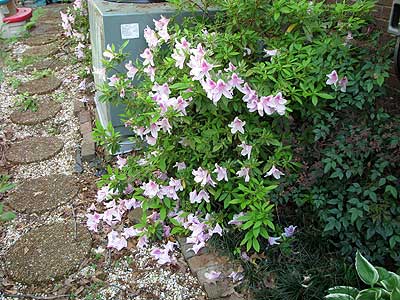 Beautiful spring azalaes at our house. Ummm, note that some of them have fallen off onto the ground 🙂
Here is a video taken AFTER the winds had died down a bit and after I stopped looking out the window to make sure none of the trees in our backyward were going to fall on the house. You can see the hail bouncing on the ground.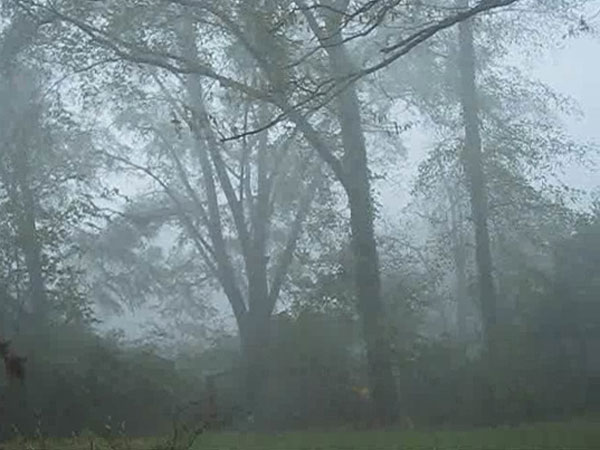 Video of the rain, wind, and hail.
Here is an unrelated picture of a house that burned down in our neighborhood a couple weeks ago.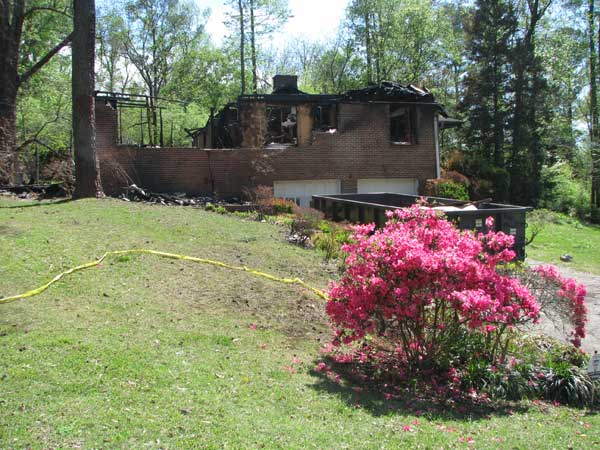 This was not weather-related. The owners were on vacation when it happened.
Finally, here are pictures and a video from last Friday's storm (4/4/08). That's two Fridays in a row with major storms. What will happen next Friday?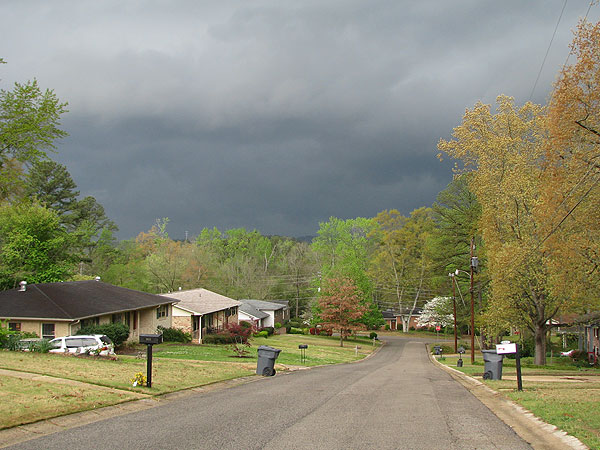 Squall line approaching our house on Friday, April 4, 2008. See the video below for commentary.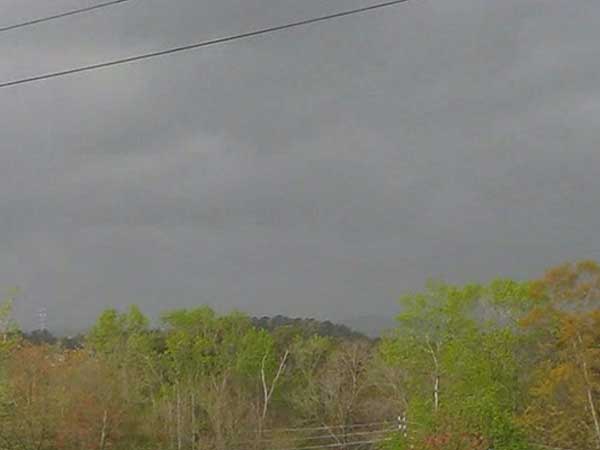 Video of the April 4 squall line approaching our house.