28th April 2008
I should be dealing with the absolute mountain of laundry that's taking over my couch. Some of it is leftover from the sick nights of last week, but some of it is new from the another evening of sickness LAST night. I had forgotten to post that both kids had been throwing up on Wednesday night, too, and Josiah had a few bout of diarrhea on Thursday and Friday. But by Friday evening, everyone appeared to be happy and healthy. So we'd packed up and headed to the races on Saturday am.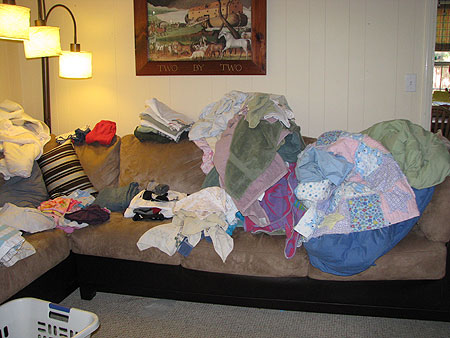 We'd been gone all weekend, having a fabulous time in Athens, Georgia for Brian's bike race (that deserves its own post), and the kids had not been sick at all. Until Josiah blew out a diaper in the car on the way home. Then after we got home and all fell into an exhausted sleep, Analise got sick, and at the same time, Josiah woke up a mess from another blowout diaper. Poor boy had to have a bath at 4am. He was not pleased. I finally got everyone back to sleep just before Brian had to get up. No throwing up today, but both kids have diarrhea.
What is going on in our house? One sick night, one sick day, 2 healthy days, then they're sick again. We've got to get healthy for good soon!
Timeline (more for my mental note than anything)
Apr. 5 (Sat) – Josiah sick all night
Apr. 6 (Sun) – Josiah sick all day, Analise sick in evening
Apr. 8 (Tues) – Brian sick
Apr. 9 (Wed) – Brian sick
Apr. 15 (Tues) Analise sick
Apr. 21 (Mon) – Analise sick at night
Apr. 22 (Tues) – J has one bad diaper
Apr. 23 (Wed) – Analise and Josiah sick at night
Apr. 24 (Thurs) – J has one bad diaper, Beverly sick
Apr. 25 (Fri) – J has one bad diaper
Apr. 26 (Sat) – J has one bad diaper
Apr. 27 (Sun) – J has 3 bad diapers, blowout during night, Analise sick at night
Apr 28 (Mon) – J has all bad diapers, Analise not feeling well, and diarrhea