12th July 2005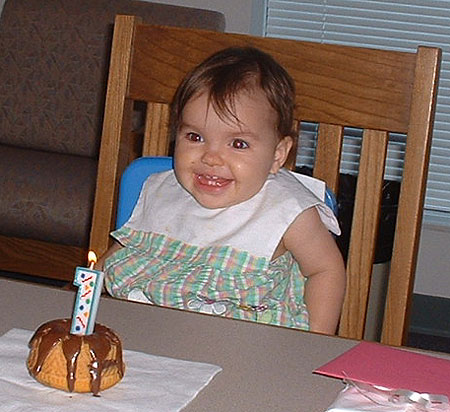 It's time to get caught up! I've been wanting to recap our trip "up north" last month for a long time, so settle in:)
First off,
Happy Anniversary to Steve and Corrie, Dena and Dan, and Anna and Hal – all celebrating in the last week. We love you guys and pray many blessings on your lives together!
Our first destination was Iowa to see my sister and her husband, but on our way there, we were able to stop at my cousin's in Evansville, IN for dinner. Analise enjoyed getting to meet her cousins Mia and Cooper. I wish we were closer so that Analise and Mia could play together more often!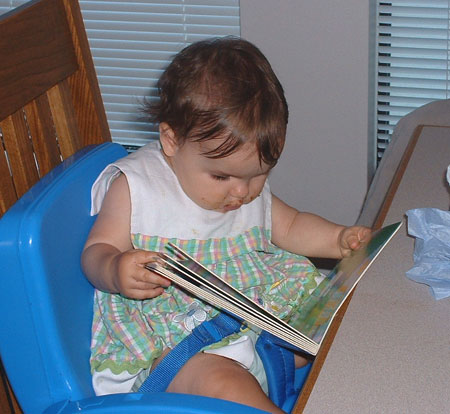 We drove through the night to arrive in Waverly, IA at 5am. My grandma and her husband drove over from Indiana, and my parents came down from Wisconsin, so we had a mini family reunion. The highlight was celebrating Analise's birthday and Father's Day. Analise got her own mini bundt cake complete with a candle (top picture). Analise was very meticulous with her gifts, tearing tiny pieces off the wrapping one at a time. When she saw both the Baby Einstein DVD and book, she was excited and looked them both over intently (above). Below, Analise is enjoying Brian's first Father's Day gift, the book Daddy Kisses.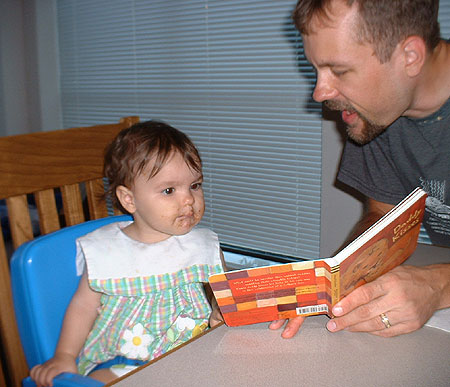 While in Iowa, we visited with a friend I met in Nicaragua, Tami, and her husband Ryan. See Brian's previous post and the super cute video of Analise "cat fishing".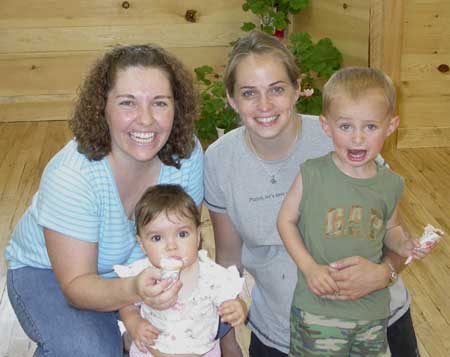 After Iowa, we headed to Wisconsin for a week in the "home country" of Shell Lake. *SIGH* It's always good to go home, isn't it? Though it was oppressively hot and humid (more like Alabama weather!), we saw lots of people and had a relaxing week. One highlight was seeing my old friend, Meg, and her 2 1/2 year-old son, Simeon, and enjoying ice cream (above). We also met my college roommate, Dena, and her son, Derek, in Wausau for an afternoon at the splash park (below). Our little monkeys were too busy trying to drive the tractor to smile at the camera, and you can see my anxious hands in the left corner and Dena's reaching hands in the right:)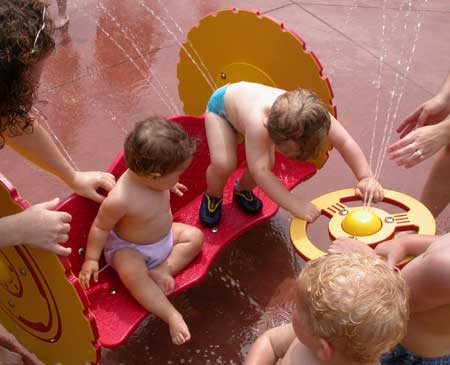 TO BE CONTINUED…