21st September 2004
Brian, Analise and I just got back from an extended visit to Alabama. We left on Sat. Sept. 11th, supposedly to return this past Thursday. Hurricane Ivan blew in and changed our plans, so we got a couple extra days relaxing with the Grand-Toones and exploring the area that will be our new home in late December. We ALSO managed to find a house, put in an offer, and finalize a contract!! Maybe I can get Brian to upload a few pictures and I'll post them so you can all recognize the house when you come visit:)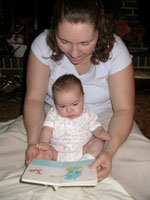 Here's a picture from some mommy-daughter time during the Hurricane in Alabama!
For almost the first time since before Analise arrived, it's just us in our apartment. Brian's parents were with us from June 14-July 6th. We were in Wisconsin from July 9-20th. Then my mom joined us on August 3rd through the 24. The Grand Toones arrived again thanks to a cheap ticket 3 days later, and stayed til Sept. 9th, and we just got back from a week long visit to Alabama (all dates are approximate).
So we're settling into our routine – I'm up before 6, feed Analise at 6:30, catch the bus to work at 7:15, Brian is a stay-at home-dad during the day, I get home at 6 to a HUNGRY baby, then we're off to bed by 10. So this is what "normal life" looks like. Then again, has life ever been "normal" for me??
Today, though, a friend of mine, Heather, started watching Analise. She'll be taking care of her for 5 hours, 3 days a week. I hope it's going well – I'll let you know!
Yesterday was a little rough. I think Analise was a little "off" from the travelling. She hardly slept, and instead of just her tired fussing, she was actually crying. I felt bad because I would have given anything to trade places with Brian. But he did well, and I came home to a smiley sweet girl, who proceeded to fall asleep immediately when I put her to bed at 7:15. She's easy enough for me!