21st July 2005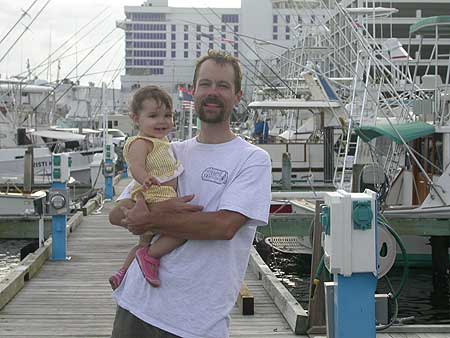 This exciting title was the name of the road bike race that Brian competed in this weekend. The "summit" of Mount Biloxi was somewhere around 130 feet in elevation. It appeared to be more of a hill than a mountain to me, but then again, I wasn't riding:)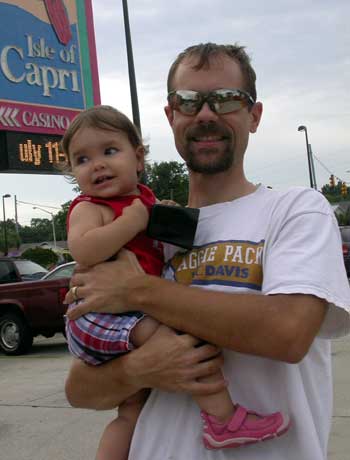 Above, Analise is holding the cow bell my Dad sent her to ring during the race. She was pretty good at it! The first event was the road race – 75 miles, on a 4 lap course. Analise and I stationed ourselves in the feed zone, stocked with several waterbottles to hand Brian each time he came through. It was 88 degrees, with a dewpoint of 79, and a heat index of 102 degrees – in layman's terms, that's HOT AND STICKY. Brian went with the lead group, and they battled it out until the sprint at the end. He finished in 3rd place! We were very impressed, and Brian was pretty pleased with the outcome.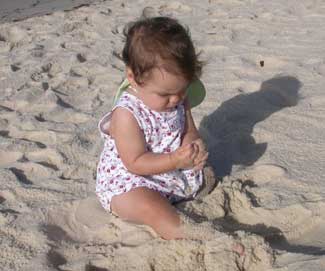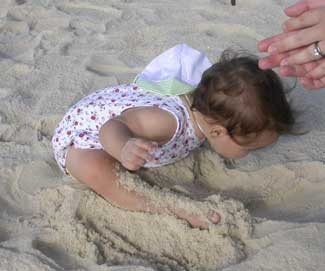 After eating and resting for several hours, there was a time trial. This is a 3 mile race, essentially as fast as you can go, with the racers starting one at a time, every thirty seconds. You're racing for time. Brian had used up most of his energy in the morning race, so the afternoon result wasn't quite as exciting as the morning.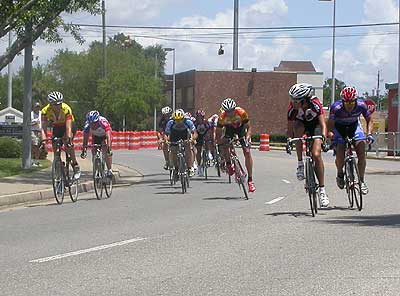 The final event of the weekend was the criterium on Sunday afternoon. This is a 3/4 mile course around city blocks (i.e. meaning lots of technical corners), where you race for an hour. They'll ring a bell occassionally, which means that lap is a "prime", and the winner for that lap gets a prize. Then they'll ring a bell for the final 5 laps, and the final top 10 finishers are awareded the overall prizes. Brian had a great show of power and won one of the "prime" laps, and finished the race in 11th place. This put himm 8th overall for the weekend. I was surprised at how well he did with very little training, and Analise and I really enjoyed seeing him race.