3rd November 2004

Well, in case you can't make it out from this photo, Analise voted yesterday! She and Brian did their civic duty together before the babysitter arrived. When they came home, she started chewing on the 164 page California Voter's Guide. Here's what Brian told me on Instant Messenger while I was at work:
Brian (typing with Analise on his lap): heyn were goping to vote
Kristine: lol
Kristine: have fun sweeties!
Brian: k, be back in a little bit
(time lapse)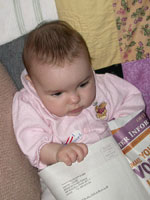 Brian: we voted!
Brian: analise has an "i voted" sticker on her outfit
Brian: she looks so proud of it
Brian: she also was so overcome with excitement, she tried to eat the voter's guide when we got back
Brian: guess she didn't know how else to express her love of democracy and freedom!
That's my girl! We're raising her to be proud to be an American! If you'd like to see a cute live video of Analise voting, you can click here…
Lastly, here's one more picture of my little American girl – if you click on the photo, you'll see the bigger image of her proudly wearing her "I voted!" sticker:)