16th January 2006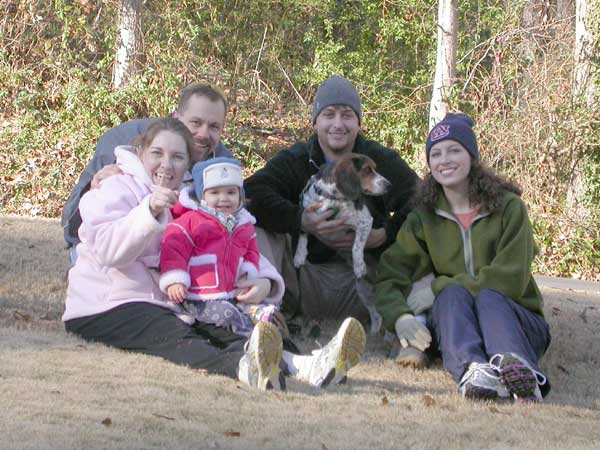 Here is our group after our "walk in the woods" posing
for a picture in my parent's frontyard. Bryant and Lauren
Naile and their dog Ellie went with Kristine, Analise, and I
to explore the Woodmeadow Woods, which have just
received their death sentence in the form of a decision
to build 31 luxury town homes. My parents have lived
in the same house my entire life so I grew up playing
in these woods — riding my mountain bike on several
trails, swinging on vines, playing hide in seek, shooting
my bb gun, etc…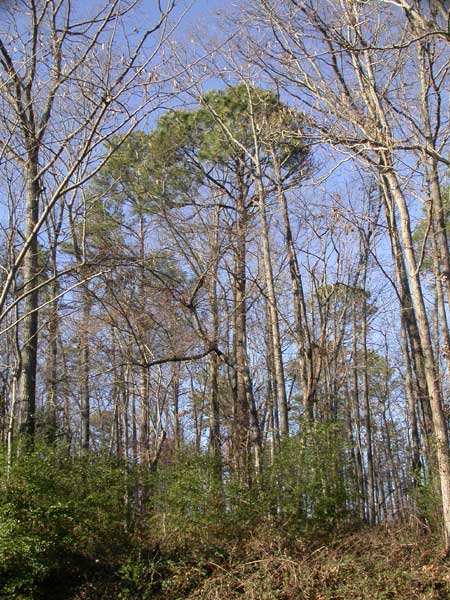 Every tree you see here in this picture will most likely
be gone before the beginning of Spring this year. The
tall pine tree you see in the middle is the state tree
of Alabama — the long leaf pine tree. The trails that
were in the woods as recently as seven years ago
were completely overgrown so we had a bit of a rough
time making our way through; but it was still an awesome
time. Bryant is a landscape architect, so he was telling
us about all the different trees and bushes. We also
found a variety of old goodies — an abandoned lawn mower,
a tennis shoe, several old tattered blankets. It was
great to reminisce and share old memories with our
friends from home church. Afterwards, we drove down
the street to
Aldridge Gardens
and had a fun time walking around.
All of this fun was followed later that evening by a fun
dinner at Cajun Steamers with several other
couples from our home church: Blake and Stephanie Basham,
Tim and Lindsay Lawson, Bryant and Lauren Naile, and us.
We listened to live music by a very cool acoustic guitarist.
I had fried alligator, and it was good. Then, to top everything
off, we walked down the street to Cambridge Coffee, had some
espresso, listened to more live music, and had a great time.
Altogether, it was an awesome Saturday.