9th February 2006
Sorry, I've been speaking a lot of spanish lately. My dear friend Claudia from Nicaragua has been with us since Saturday. She's enjoyoing chasing Analise, and I'm giving her a break from speaking constant english in Texas, where she's been working with Mercy Ships. We're having a great time.
Baby Hair
I just had to post this picture. Analise's hair is so soft and fine lately. It's getting long! After her bath, her curls are all fresh and cute. I always wanted a little girl with curls:) Brian had a head full of blond curls that his mom didn't cut until he was 2, so I'm glad Analise got some "curl genes". Brian's dad keeps saying it needs to be cut… it is hanging in her face a lot and we're in search of the right barrettes. But it's going to be a while until my little girl gets her first haircut. I've lamented a lot lately about my baby growing up, but she's still got her baby soft hair:)(I snagged this photo while she was snuggling in my lap before bed, but I couldn't get a good one from the front! Maybe later today!)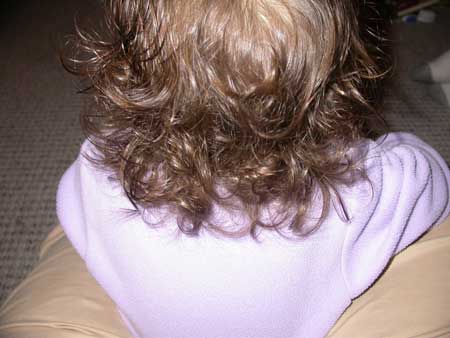 School Days for Analise!
Today is registration day at Lakeside Baptist, where Brian's parents go to church, for their Mother's Day Out program. It's a structured 4-hour "school" time, and we've decided Analise would really enjoy that for next year. I've got mixed feelings this morning… part of me feels like since I'm staying at home with her, it's silly to send her off to school, but I know how much she enjoys being with other kids and she doesn't get that opportunity very often. And then I think that 4-hours/2 days a week seems like so much time… I'm going to miss my little one! But on the flip side, my hands will be full with a new little one this fall, so I think that it really will be a good time for all of us.