1st March 2006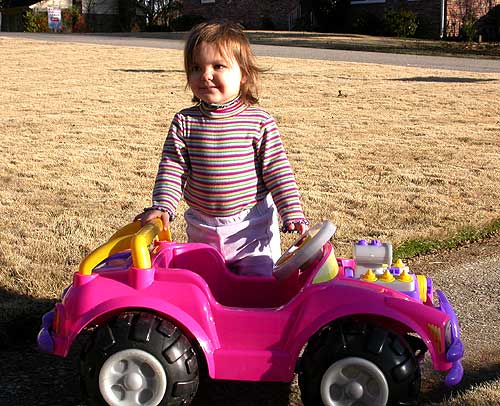 Someone posted a comment in the last blog asking for pictures, so here you go! (Brian's had a nagging cough for a few weeks and finally went to the doctor yesterday. He's got a sinus infection and bronchitis, poor guy. I hope these make him smile, too!!)
It's been a week of lovely weather – in the 70's today! – so Analise and I have been enjoying being outside a bit (above). Brian snagged this photo (below) of Analise in the kitchen putting her zoo animals down her overalls last night. She managed to put about 8 animals in there… until they started coming out her pants leg!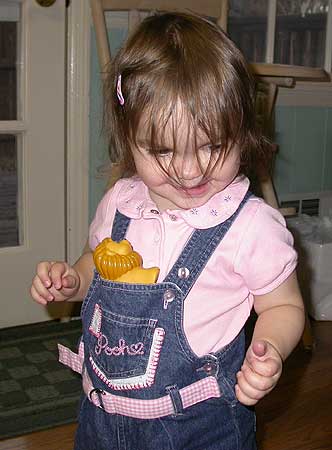 I caught this photo yesterday of Analise and Grandpa (now called "Poppa") snacking together on the kitchen floor. I tell ya, she's such a mover, it's hard to get her still enough to smile, but when you get one, it's as sweet as ever! By the way, note the bow in her hair. We're working on keeping a bow or a barrette in her hair, but as you can tell in 2 of 4 photos here, it's only working some of the time!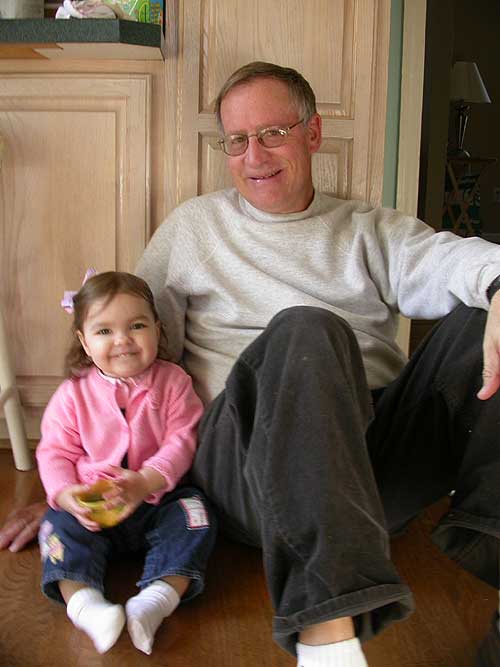 I wish you all could see Analise with the newborn babies in our church. She's just enamored with them, rocking them in their infant car seat carriers, covering them with blankets, making little crying noises when she hears them crying. This past weekend, two of the moms were standing and rocking their babies, swaying back and forth, and Analise, holding her baby, started swaying back and whispering little sing-songs to her baby. It was the sweetest thing. Have I said she's going to be a great big sister?:)
This last photo (below) was during our time outside time yesterday. We'd been strolling Analise's baby around, and she decided the baby needed a bit of rocking.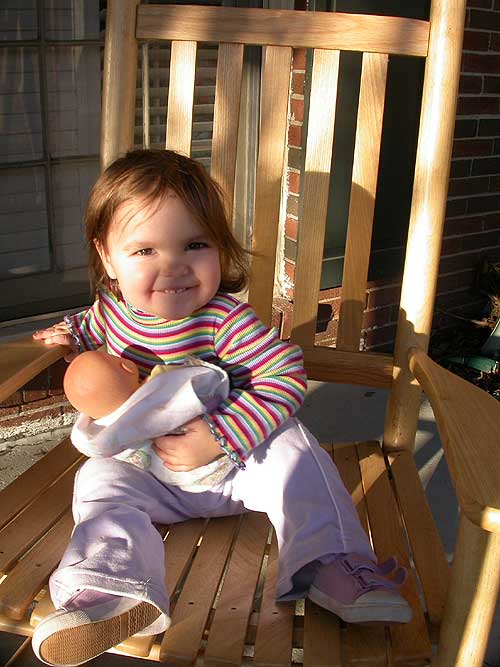 Tonight is our last home church gathering of 19 people. We've decided to "multiply" our group into 3 new smaller groups starting next week. I'm going to miss the weekly chaos, the lovely smorgasboard of food, seeing all our dear friends on such a regular basis. But we're excited to be starting a new home church on Thursday nights with a few of the same people, and hopefully bringing some new people into the awesome ministry we've got going. It's really exciting to see how the home churches are really impacting people on an individual level. We've had quite a few people visit church for a Sunday or two, visit a home church, continue coming, and before we know it, become members of our new blossoming church. It's the best way to get connected and feel like a part of the Clearwater family!