22nd May 2006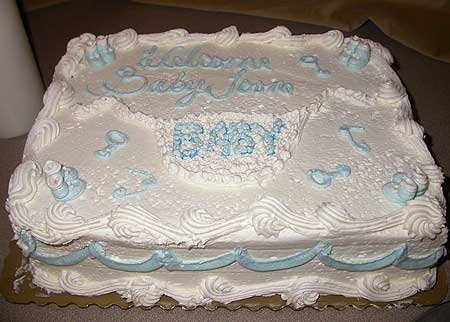 I am a lucky woman in so many ways. But yesterday was really sweet as my friends from Clearwater Community Church threw a baby shower for our little Toone-to-Be. It was so fun, and I appreciate them so much!! We got a big gift bag of stock-up items, like wipes, tylenol, diaper creme, baby wash, etc. We got a few cute outfits and some crib sheets. I was really surprised, though, to open a gift from all the hostesses – a Baby Gymnastics Jumperoo! I registered for it at Babies 'R Us just as a fun thought for something new that Analise never had, but I never expected to get it. What a treat! I think little Josiah will enjoy it… Analise is dying for us to open it, and I'm sure she'd love to try it out!
Here's a picture of all the lovely ladies. Obviously, I'm in the center, looking LARGE. I think that's a bad angle for me… Analise was holding a little camera she'd found at home. She's so funny – she'll say, "Miles! Ready? Cheese!" as she's pretending to take your picture. It's still hard to catch her smiling, though. She entertained herself with blocks at the party (below). She's never really enjoyed these large Legos, but Sunday in the nursery, she spent quite a bit of time with them, and she was building tall towers with them during the party.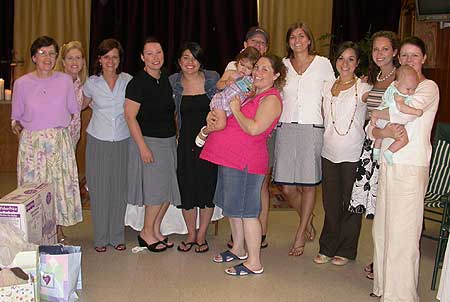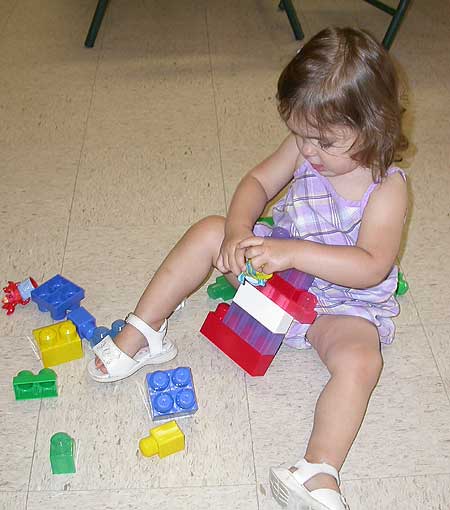 Lastly, here's a little glimpse of me and my late-pregnancy craving – Sno-Biz sno cones. I don't want anything but Georgia Peach flavor, a mix of strawberry and peach. Man – it hits the stop! I'm dying for one right now! You can't beat it for $1!