6th April 2010
Or is it singular "bunk bed"?  There are 2 beds…
Either way, I found a bunk bed at a garage sale on Friday, and couldn't pass it up.  I knew it would be a great addition to Josiah's room… if I can keep him from bouncing on the top bunk and keep Analise from doing gymnastics up there!
The first night was quite an adventure.  They fought over who would get to sleep on the top bunk, but we convinced Analise that the bottom would make a cool "cave" so Josiah could have the top.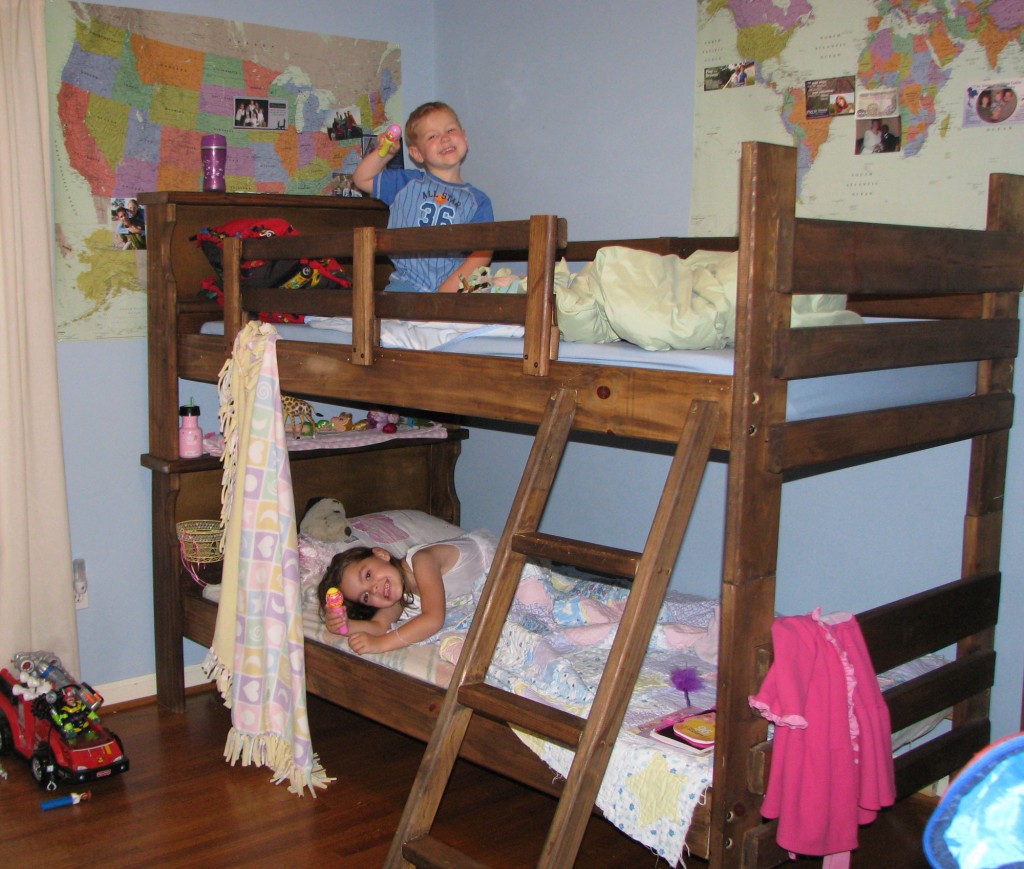 (Holding up their twirly egg lights from their Easter baskets. Analise literally moved into the bottom bunk, even though she is only going to sleep there on non-school nights.  She had all her special things and blankets, including pen/paper/stickers, robe/slippers.  So cute!)
Of course, 20 minutes after the lights went out, guess what happened?
In the end, Josiah went back to the top bunk, after waking Analise a couple times with all his ins/outs/ups/downs.  He finally fell asleep after about an hour and 15 minutes.  He was up at 5:30am Sunday morning to go to the bathroom (yay!), and he was ready to play (while Analise was still sleeping) by 5:45.  I had to move him to Analise's room until we were ready to get up Analise woke us up at 6:30.
Night 2:  Josiah, who had been up since 5:30am, asked to go to bed at 7, was very sad to find Analise was not going to be in his room because it was a school night.  (She was asleep in less than 5 minutes.)  Josiah started on the top bunk, moved to the bottom, came to the bathroom 3 times, fell out of the bottom bunk and came to show us the lump on his head (which there actually was!), and finally he ended up on the top bunk, asleep about an hour later. This morning, he was up at 6:30 to go to the bathroom (good boy!).
Night 3: Tired boy after lots of bike riding, sunshine and fresh air.  Amazingly, we didn't hear from him after we tucked him into the top bunk, and he's asleep right where we left him.  Except. I forgot to make him go to the bathroom right before bed, figuring he'd be up stalling. Whoops.  Might be learning to change sheets on the top bunk tomorrow.