1st July 2006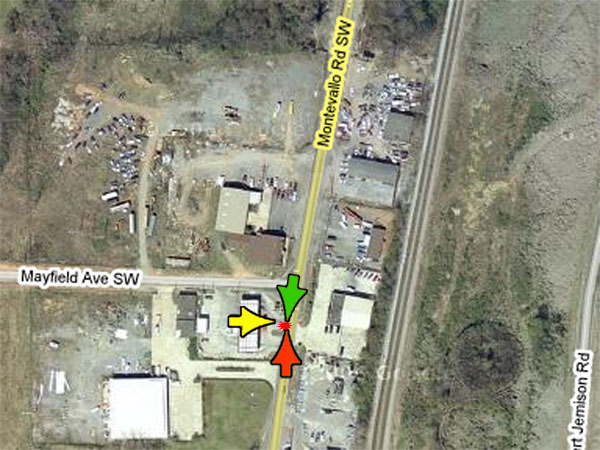 I was the victim of a hit and run accident on Friday on my way home from a meeting at Birmingham Southern. Fortunately, I'm OK. The first picture above shows what is left of my bike. The front fork was sheered in two cutting through the bicycle computer wire attached to the front wheel. Fortunately, I think I was airborne as soon as the car hit my front wheel and my leg may have hit the car with a glancing blow because it is the sorest part of my body. I did a complete flip as I saw the ground spin 360 degrees before landing flat on my back cushioned by a loaded backpack containing shoes and clothes from the meeting I had just been to at Birmingham Southern University. I also somehow managed to bruise both sides of my other leg which never came into contact with the car.
So what happened? That's the second picture. I was riding my bike on Montevallo Rd heading south in the direction pointed by the green arrow. I was riding with the flow of traffic several feet from the shoulder as I had just passed through an intersection and wanted to be as visible as possible. (Note: if you ride too close to the shoulder, this reduces your visibility to motorists who are typically looking at the center of the traffic lane for cars.) The car which hit me was traveling north in the direction pointed by the red arrow. The yellow arrow indicates the entrance to a Shell gas station. This is where the accident occurred. The car traveling north must not have seen me or must have assumed that I was going to yield to him as he was making a left turn into a gas station. I don't know. Judging by the angle and speed with which he was trying to enter the gas station, it was clear that he was trying to cut in front of me (or perhaps a car behind me?) to get into the gas station. I was going about 20mph and the car heading north was going possibly the same speed. I had no time to react. I didn't even see him until his car was coming almost head on into me in my lane. I knew that he was going to hit me and there was absolutely nothing I could do but tuck and roll as soon as I was flying through the air. I remember several things very vividly about the moment of impact and the first 30 seconds afterwards:
Seeing the driver and the car coming almost straight at me in my lane
Hearing one or two people screaming close by in the parking lot of the gas station simultaneously …
… as I was flying through the air and seeing horizontal flip through 360 degrees
Being conscious and waiting for the moment of impact with the ground
Assessing whether I was hurt instantly after impact with the ground
Getting up almost immediately and approaching the car which hit me to find out what on earth had just happened
The driver mouthing the word "sorry" through a closed window
Finally and most importantly, 1D3303Y, the license plate number of the car as he drove off
The gas station was full of people, and three different people actually saw the whole thing. A young man and his mother (I think she may have been the one screaming) were first to reach me, and then another man named Paul who saw the accident dialed 911 and handed me the phone so I could give them the license plate number right as the guy was practically peeling out of the gas station. Paul stayed with me until the police came to make sure I was OK and to let me use his cell phone to call someone to come pick me up. He even called me later that evening to make sure I was OK. Paul, you are awesome. Thanks so much man!
When the police came, they took down all the information and said a hit-and-run detective should be contacting me shortly. The policewoman seemed to think that because I got the license plate number, they should be able to track down the person and hold him accountable for what he did.
I first called Kristine to let her know I was OK and to see if she could come pick me up, but she had never been to this part of Birmingham, and it wasn't exactly easy to give instructions on how to get there. So she suggested I have my dad come pick me up. I called him and he came over, but by now it was rush hour traffic and it seemed like it was forever before he made it. Paul had already left, so I had to ask a couple people at the very busy gas station if I could borrow their phone to call and direct him how to get here in case he was lost. He made it and we made it home.
So right now I'm not sure if my bike is fixable. At first glance, it looks like at a minimum the front fork and front wheel (and bike computer) need replacing. That will cost at least $500. But the rest of the bike needs to be examined very carefully to make sure there aren't any cracks or stress fractures caused by the impact with the car. My insurance company has already told me they won't pay for any damages to my bike because "it's not a vehicle and even if it was it would have to have its own policy." I'm very disappointed with them, even if it is impressive how quickly they got back to me after we called them yesterday.
I got my Specialized Allez into working condition and rode it this morning. I felt pretty good, but cut the ride short when my left leg (the one that hit the car) started throbbing and feeling all the bumps in the road. Here's some pictures from the ride.
View of Samford University from Hwy 31 at the
crest of Shades Mountain

View of Ruffner Mountain from the same spot