20th November 2006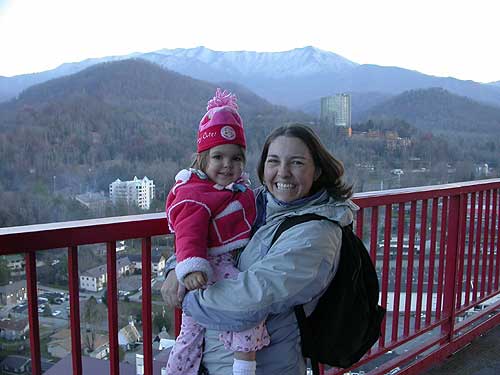 Yes, we are alive here in Toone-land. Sorry you've not heard from us! We made it to Gatlinburg (a whole post in and of itself, coming soon), and though our hotel had wi-fi, Brian had the laptop with him at the conference for part of the time, and the other part of the time, I found that our room was too far from the main part of the hotel to get the signal. GRR. But we had a good trip, and after a LONG car ride, we got back Saturday night. Above is one of the few "people" pictures from the trip – Analise and I at the top of the Space Needle ($6.75/person elevevator ride up a 25 story tower in the center of town) with the mountains in the background.
Then it was a busy day at church on Sunday morning, as I was in charge of the nursery and we were teaching in Analise's classroom. After that, we had a busy afternoon getting ready to have 6 friends over for an Ironman wrap-up dinner. I made mexican shredded chicken for tacos, queso dip, homemade sangria (recipe from AllRecipes.com) (yum!), and a brownie trifle (recipe from Betty Crocker). Great company, great food, fun stories about the race. All in all, a great evening!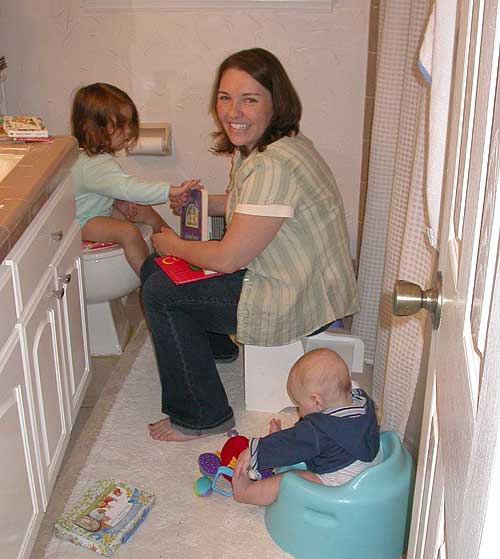 I've forgotten to mention that we're in Potty Training Boot Camp. Brian's mom got Analise started pottying when we were in Florida for the triathlon, and she's doing really well. It's a wonderful relief to be washing less diapers, but it's still a time committment to get her there and get the job done. Josiah's getting the short end of the stick… so we moved his Bumbo seat into the bathroom so he doesn't get left sitting (or rolling or swinging) in the family room. Analise is doing pretty well, and hopefully, we'll be into "big-girl underwear" (with Dora, the Backyardigans and Elmo on them!) later this week.
Lastly, I'll leave you with a picture from earlier this month, on the day of our family pictures. I can't believe how Josiah is so big! She definitely can't hold him on her lap anymore!