1st December 2006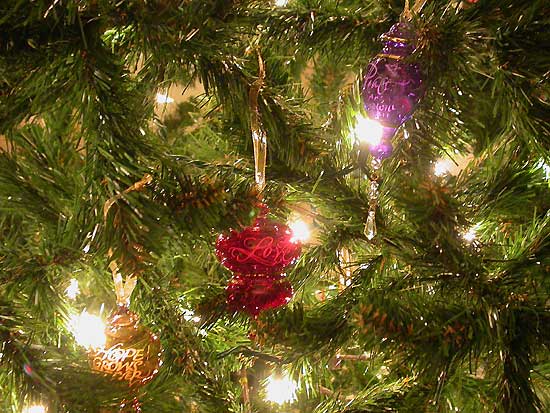 So tonight we aimed to start our family tradition of tree-trimming. I'm trying to develop Advent/Christmas traditions, and since today is the first day of December, considered by some to be the first day of Advent, I thought it would be a great night to have a nice family meal (turkey chili and homemade cornbread) and decorate the tree. Then maybe we'd watch a nice Christmas film. Luckily for us, The Polar Express is on TV tonight, so that looked like the perfect end to the evening.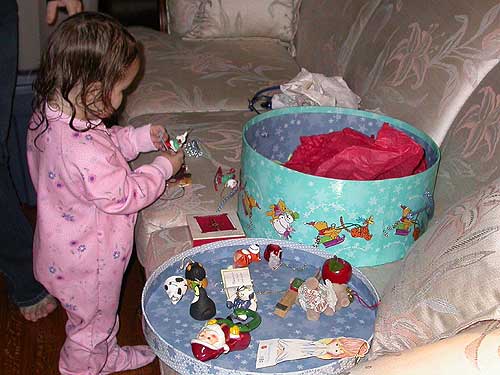 Ah, the best of intentions. This will be a fun one to remember:) Decorating a tree with Analise was quite an experience. I think discovering the ornaments in the box was more exciting than actually putting them on the tree. I'd pull one out of the tissue paper, and she'd be grabbing it out of my hand as I put a hook on it. She wouldn't even make it to the tree, let alone hang the ornament, before she was back for another one. If she made it to the tree, she'd sometimes drop it on a branch – where it tumbled to the floor – and hurry back to me, all excited to see what ornament was next. She didn't appreciate the fragility of all the pretty delicate
ornaments. She didn't seem to hear me telling her about how this one was special to me because I made it when I was 2 years old, or about how I made that one in 4th grade.
Here's an excerpt from the evening:
Kristine: Analise, do you want to hang this pretty ball on the tree? Be careful, it's very special.
Analise: Oh pretty!
Kristine: It's from the year I was born, 1976!
Analise: Ooo! It's a ball! Can I throw it?
(Yes, we caught her before she tested its bouncability, thankfully.)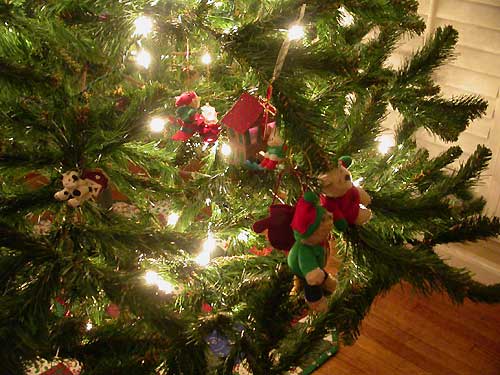 And when she put them on the tree – and she did about 60% of the ornaments in the end – they were all on the same 5-6 lowest branches. Above: This was pretty much all that was on the tree after about 15 minutes. Notice how many ornaments are on each branch! It's too funny. I was intending to re-distribute, but it's so fun to look at, I don't think I will.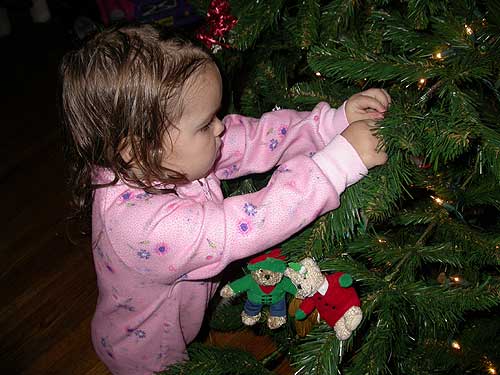 Intently hanging… these two bears were supposed to be kissing, but it appears Analise would have none of that.
We wrapped up the tree-trimming by bringing out the little Advent tree. It's about a foot tall, and it has a little drawer with a tiny ornament for each day leading up to Christmas. So Analise got to open 1 drawer. There were tears, of course, because she wanted to open more than one. Even reminding her that she could open another drawer tomorrow didn't help. *sigh* Learning the "waiting" part of Christmas is hard. But it's what Advent is all about!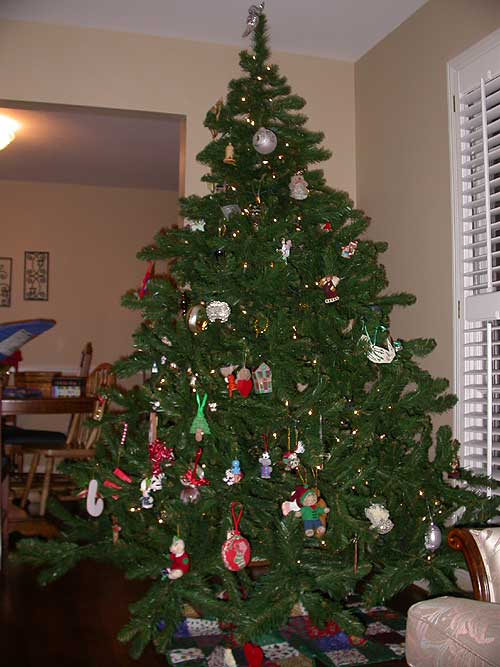 Anyway, those tears woke grumpy Josiah up, so he joined us in my arms for part of The Polar Express. We've never watched this movie before. It's interesting. The animation is technically very cool, but something about it is just weird. Brian said he'd heard mixed reviews of the movie, so he asked me to look them up and we found this one, that pretty much summed up why it felt weird.
A few excerpts that struck us as funny – but true…
This season's biggest holiday extravaganza,
"The Polar Express," should be subtitled "The Night of the Living
Dead." The characters are that frightening…
Santa
Claus gets his very own category of creepy. In an overzealous effort to
make Saint Nick look like he has some kind of benevolent inner glow,
the filmmakers make him look downright radioactive. It's enough to make
you want to skip the milk and cookies and don rubber gloves and
protective clothing on Christmas Eve.
It's a shame. "The Polar
Express" wants to be an uplifting holiday film, but it tries too hard
to make its point. Moreover, the technology just hasn't caught up to
the lofty ambitions of the hundreds of talented people behind this
film. And when it comes to the characters within, the film looks like a
remake of "The Children of the Corn."
Please forgive me if this is one of your favorites! Analise enjoyed it. Brian also thinks the little girl is supposed to be a little Condoleeza Rice. Anyone else have strong feelings about The Polar Express? I think next year we'll have another movie ready for our tree-trimming night.
I love the Advent season. Having grown up the Lutheran church, each Sunday between Thanksgiving and Christmas is celebrated as preparing for the extraordinary event of Christmas. I feel kind of like this tradition is lost in most evangelical churches. For our family, I really want to make this a season of remembering and anticipating Christ's birth. So we'll be celebrating each Sunday of Advent by reading a part of the Christmas story, lighting the Advent candles on our Advent wreath, and probaby opening up a family gift. I'm watching a really nice blog called Advent for Evangelicals that's full of great ideas and thoughts for the season. We'll keep you posted.
For now, enjoy the start of the most joyful season! Here's a glimpse of sparkling tree. None lovelier in my eyes… (PS – the tales of putting the tree up are coming soon!)