11th December 2006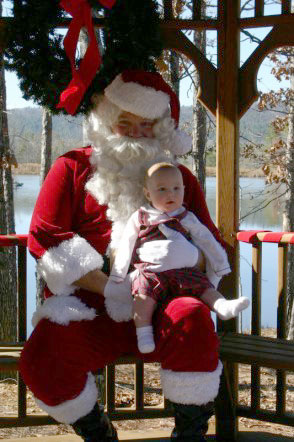 My little guy turned 6 months old yesterday! I can't believe how fast the time has gone. He's changed so much, and he's gotten so big! He's so sweet and smiley. He still thinks Analise is the coolest thing, and he's really very content in the car as long as he can see her. He's making all kinds of noises lately. The most common ones, though, are lots of little growls, grunts and groans. He sounds like an expressive little monster. It's so cute.
I've started calling him my little "Roly-poleon". He likes to roll all over the floor. He's got lots of motivation to get moving as Analise has toys strewn all over that he'd like to chew on. And if there's paper somewhere on the floor, watch out! He's just decided he likes chewing on sippy cups. I can't remember if I mentioned that he had a tooth break through the week of Thanksgiving, but I think we've got another one coming in soon. He really likes chewing on plastic kitchen utensils, too, like the egg separator and the spatulas. Tonight he got ahold of a big metal cookie pan that was close to him at the dinner table. His eyes got really wide as he pulled it towards him, and his mouth opened in anticipation. He was pleased to chew on it through dinner.
He's getting so big! He's got lots of rolls on his soft body. When he stands on the bathroom counter before/after his bath, he looks like a little baby sumo wrestler. Darn cute. If we could rig up some sumo-wear, we'd take a picture.
His favorite sleeping place is still on me. Yes, I'm still wishing I had my hands free and could be getting more accomplished, but I'm sure this won't last forever, and before I know it, I'll be aching for the days when he would still snuggle in my arms. He just loves to snuggle into your arms and sleep.
We celebrated his 6 month birthday by visiting Santa! Our church planned an outreach of having pictures with Santa in various neighborhoods. Great fun! Josiah was pretty ambivilent about Santa, but like last year, Analise didn't enjoy him very much. We did get 2 pictures, including this one of Analise just looking unhappy before she started wailing. I hope we'll enjoy laughing about this when she's older:)