16th February 2007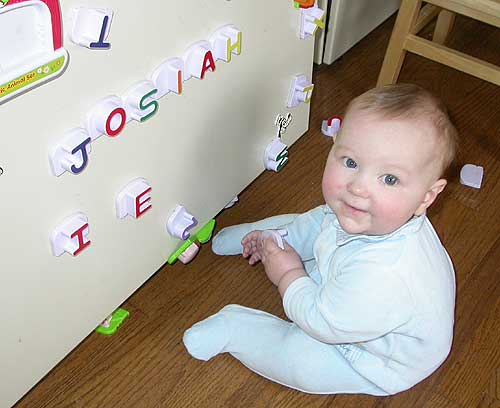 My hands have been full this week with busy little kids. Here's how it looked:
Sunday: Get kids and myself ready to go to Sunday School and church on my own, while Brian was at the Mercedes Marathon. Josiah was happily playing on the floor while I got Analise taken care of in the bathroom, when I heard him start crying. He had pulled himself up and fallen, cracking his nose on the corner of the stereo speaker. Poor boy! He had a nice little gash on his nose, and it slowly turned into a small black eye. The first marring of his handsome little face… I'm sure the first of many! (see photo below)
Monday: I met some women from church to sew. I'm tackling another smocked dress like this one for Analise's 2nd birthday. Then I frantically got my house in order for another Tastefully Simple party
at my place. Whew! It was exhausting, but it went really well.
Thanks to my sweet babysitter, Abigail, and my super husband for
keeping my kiddos relatively happy downstairs for the whole 2 hours. I've now got my own Tastefully Simple website… check it out at http://www.tastefullysimple.com/web/ktoone
Tuesday: After a terrible night's sleep due to the kiddos, we had an early appointment for an ultrasound just to check out Josiah's kidneys and some bloodwork (he was a champ – not even a whimper from him!). Then, I had to pick up Analise to drop her off at school, run to the grocery store, get back to Analise's school for registration for next year's class. Then Josiah and I visited her class for their Valentine's party. Pictures to come in the next post… Thankfully, the afternoon nap saved us all. We grabbed sandwiches at Roly-Poly for dinner, and we got caught in a severe weather evening, including hail.
Wednesday: Happy Valentine's Day! Belated pictures in the next post… We went out for dinner as a home church to a nearby Chinese restaurant. We're having a really good time discussing a book called Trolls & Truth:14 Realities About Today's Church We Don't Want To See, written by the pastor of The Church Under the Bridge in Waco, TX. It's very thought-provoking, and really gives ideas for practical theology for the church today. For Valentine's Day, I got Brian a new Tour de France DVD (his favorite thing to watch on TV!), he got me a Mad About You DVD (collection of the best episodes – I'm so excited!). Analise got a new pair of pink Crocs and a couple Dora and Backyardigans books, and Josiah got a new piece for his Fisher Price Animal Train. My big wish for the day… a good night's sleep.
Thursday: Didn't get my wish, though my sweet hubby let me sleep in a little. Brian's dad babysat in the morning, while I took Analise to her ENT doctor's appointment. He agreed she's got lots of fluid in her ears, though, thankfully, the infection is cleared up. She's going to be getting tubes on Tuesday morning at 6:30am. I dropped her off at school. Brian called to tell me he'd forgotten that he'd gotten tickets for Samford's annual Step Sing production. His parents agreed to babysit. We enjoyed ourselves until the intermission, when we both realized we were exhausted. We caught the first couple acts of the 2nd half before coming home.
Today: Again, a rough night's sleep. What a week it's been! Tonight I really was craving a night in to relax, but our church is having a Parent's Night Out, so we're going to drop Josiah off for a couple hours while I do some shopping I've wanted to do and Brian hangs at a coffee shop. Analise is going to spend the night at Brian's parent's house. Now, if only Josiah would give us a quiet night's sleep, this could be a GREAT deal…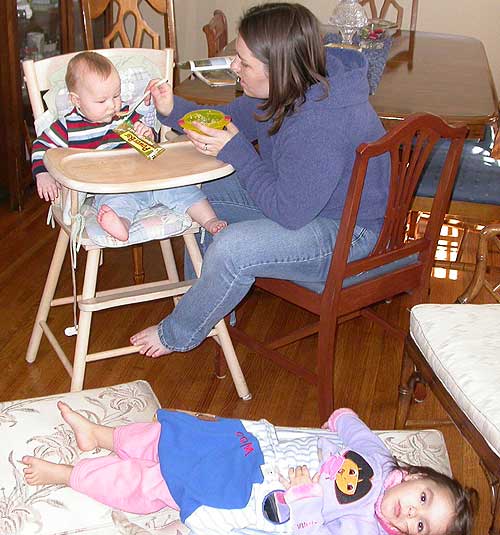 Adventures in feeding: Josiah prefers PowerBars (above) though he does like a sweet potatoes, too (below).
Analise managed to stay out of my way and yet rub his toes (below).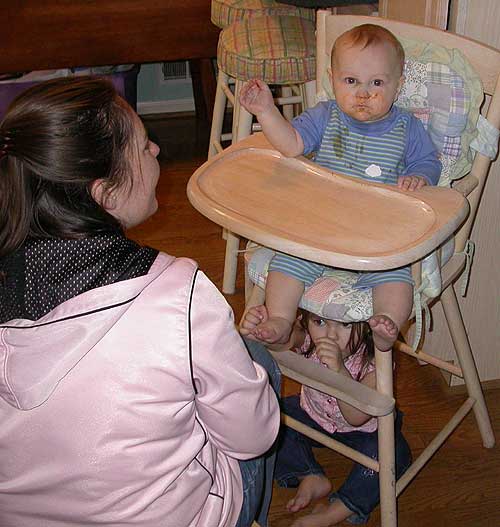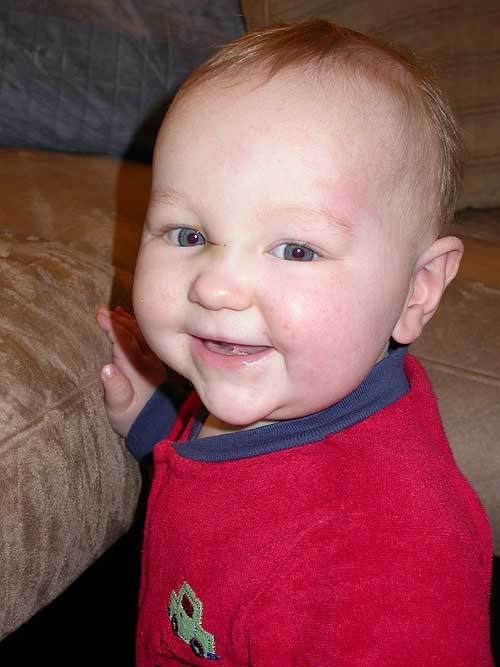 You can't quite see the black eye – it was from on side of his nose and inner eye. Analise felt worse than he did, I think.
She was telling everyone, "My baby brother fell and hurt his nose. I was sad!"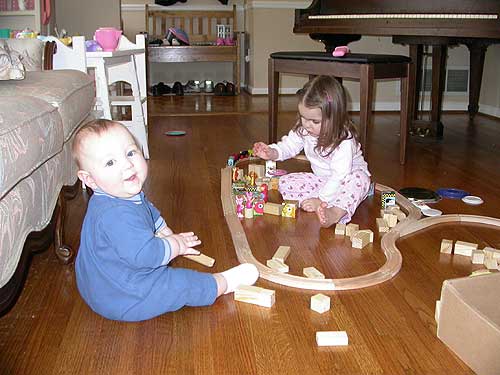 A nice moment together! It was brief… Josiah decided the block houses along the train tracks were too appealing to just look at.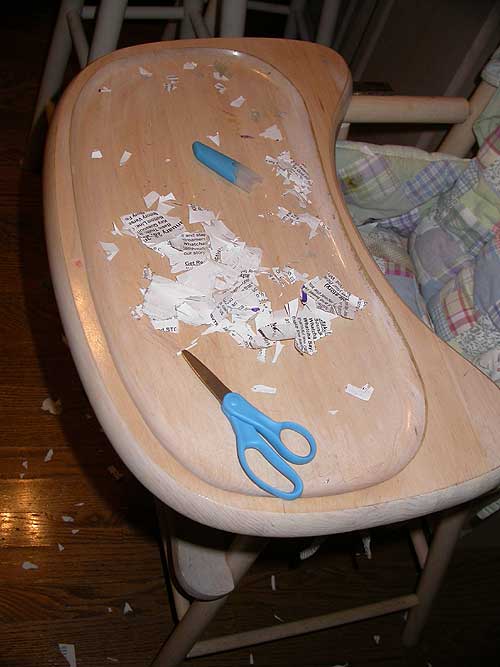 Analise had her first scissors experience! She loves them. I'll have to be careful to keep them out of reach
or I might find her practicing on important things, but she's incredibly adept at making confetti!

Josiah is all over the place and into everything. He's a serious threat to Analise, and she's struggling with his new momentum. She wants to play with him… sort of. When he starts pulling on things she's playing with, she gets frustrated, so I'm much more of a referee now. He's pulling up on everything he can get to hold him. He's learned to crawl until his head bumps into things so that he's close enough to pull up on them, as opposed to trying to pull up but finding himself too far away from things last week. He's pulling things off bookshelves and loving the fridge magnet letters. Every time I turn around, he's found a new place to pull up in the living room, when just the other day I was saying there weren't too many things for him to hold onto in here! Just today he was balancing on Analise's chair and got up to stand by his Exersaucer by himself. The quiet-sit-and-play-by-himself stage was VERY short indeed!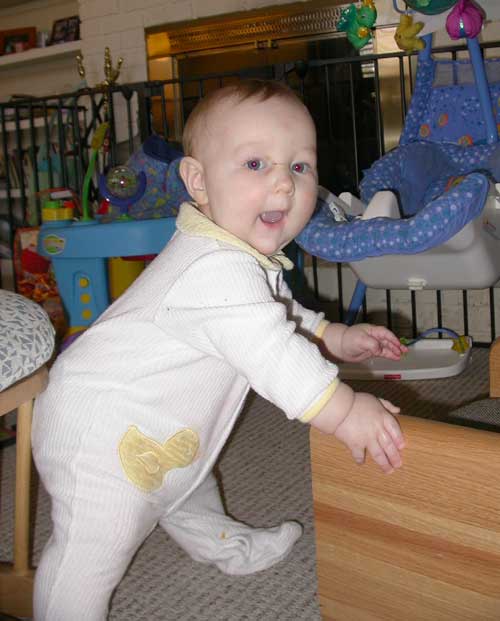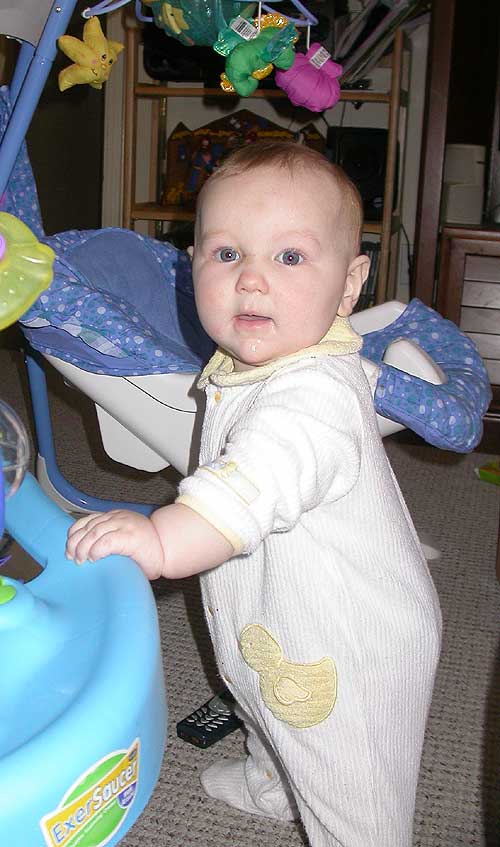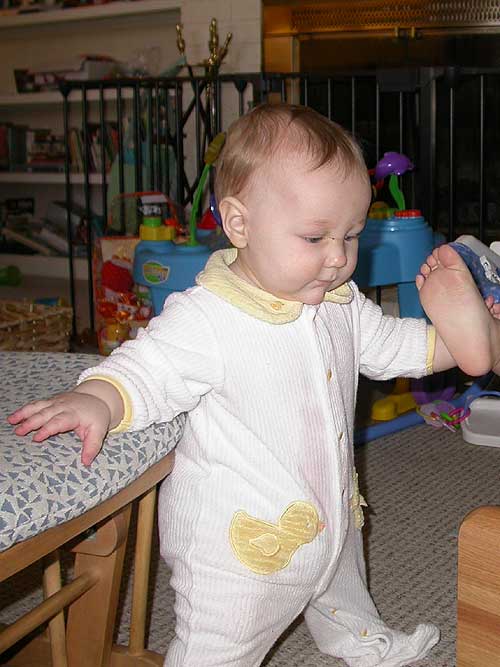 Yes, that is a random Analise foot in the picture!