29th March 2005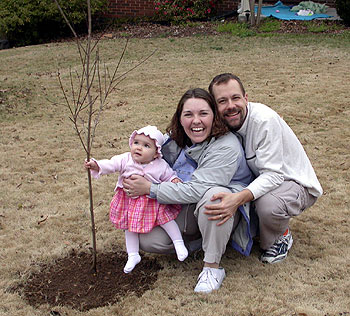 Too much fun going on = behind on everything! I'll try to catch up with fun stories and pictures this week.
Above –
We planted a dogwood tree in our front yard for Analise so she can watch it grow as she grows.
My younger (not little, bc she's taller than I am!) sister, Kat, came to visit last week during her spring break. Analise thoroughly enjoyed her time with her aunt. Every time she woke up, she was looking around to see if she was still there. She found Kat to be particularly funny, and she giggled and laughed more while she was here than I think we've ever heard! Kat made herself comfortable on the floor, and Analise quite enjoyed climbing over her like a living jungle gym.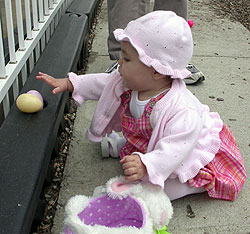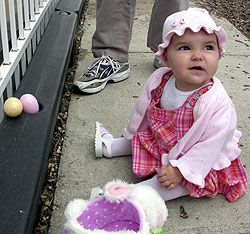 The Saturday before Easter, Analise attended her first Easter Egg Hunt at our church, Lakeside Baptist. It was held in the playground area for ages birth-3 years. There were eggs EVERYWHERE! So we sat Analise down on the sidewalk with an egg in front of her. She wasn't quite sure what to do, and she just kept reaching out and touching it, but not picking it up. We added another one, but she still just kept touching it and getting distracted by the other kids (she loves kids!). We finally set several eggs right in front of her, and she just looked at them. A 3 year old girl came over and reached down to pick them up saying, "Look! Here's a couple more!" We managed to fend her off, since she had upwards of 30 in her basket already. After all was said and done, Analise came home with 5 eggs. (The infants sleeping in their seats had more in their baskets thanks to their quick parents!>
All of us, including Kat, drove up to Indiana on Wednesday to meet up with my family. Analise sure knows how to be the center of attention:) She did catch onto the easter egg concept, though, when we put a whole bunch around her at Grandma's house!