20th August 2007
Just one last post! Here are all the random photos from this weekend… We spent the first and last evenings of our trip at my Grandma Vivian's house. She and Charlie seem to love having my lively kids romp all over their house! They've just gotten a puppy, named Susie, and Josiah loved playing with the dog.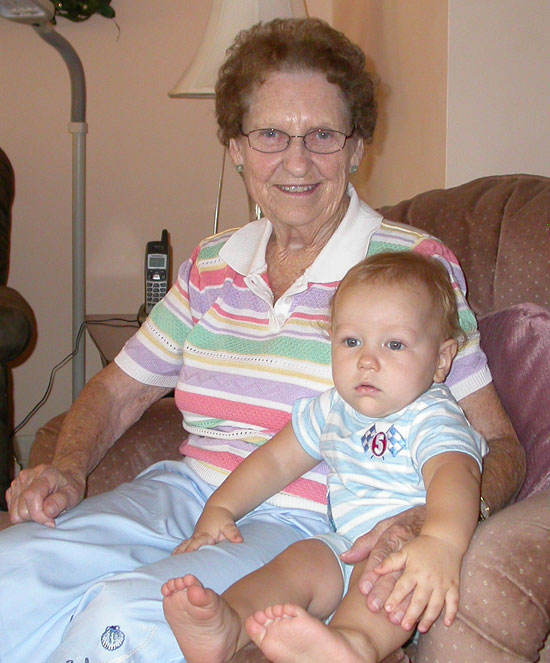 You can't see it because of the pacifier (which he really only has for nap and bedtime),
but he was giggling and laughing like crazy every time Susie ran towards him.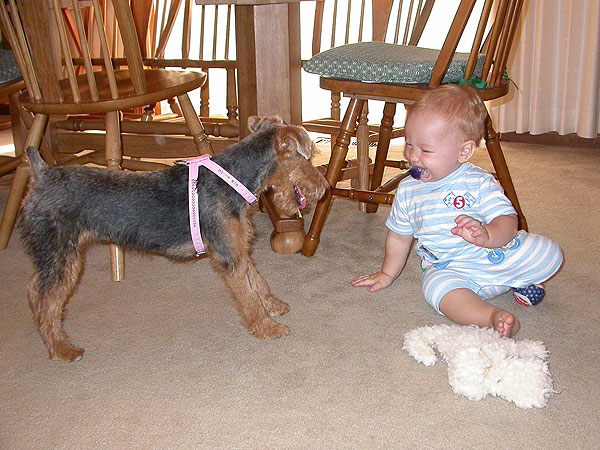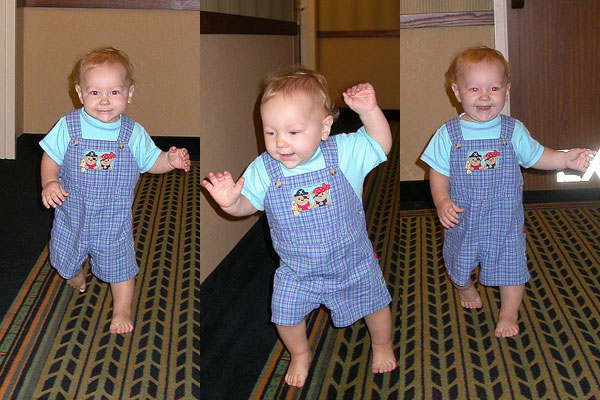 Josiah *LOVED* running up and down the halls in the hotel. He would run from one end to another, giggling with glee.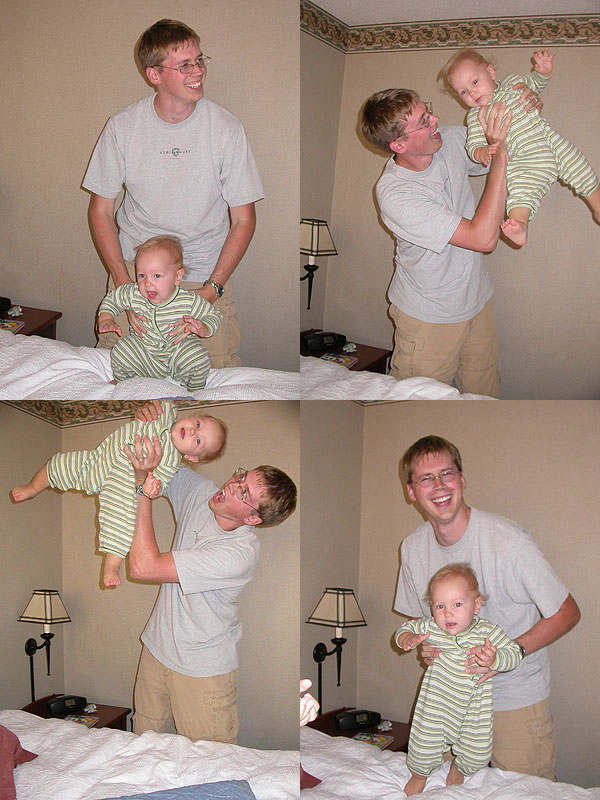 Uncle Hal bounced Josiah on the bed, and Josiah -though you can't tell in the photo- was having so much fun.
He was making an "uhhhh-uh (bounce) uhhhhh-uh" drone the whole time, mesmerized by the sound and the bouncing.
For these photos, appreciate the food, not the faces, as none of us look good, except, of course, Anna. For Brian's birthday, Friday night, my plans to go to the Cheesecake Factory and up the Hancock Building or Sears Tower didn't come together, as we didn't know that dining out in Chicago on a Friday evening involved a lot of time waiting for a table. Anna, Hal, my mom, Brian and I ventured out on the L-train… $10 for an entire 6 blocks, only to find we were still a few blocks from our destination (we looked like total tourists, not knowing how to work the turnstile and then ending up on the wrong train platform!). We enjoyed the walk, but found a long wait at the Cheesecake Factory. We headed to the
Grand Lux Cafe
. After a long wait, while my dad wandered around downtown Chicago for about an hour and finally found us, the 6 of us finally got seated around 9:15 or so. The menu is amazing, and the food was even more amazing when it arrived!
I got strawberry shortcake – wonderful. Anna had lettuce wraps – they were an amazing work of art with towering rice noodles on top. My dad's fish and chips was even piled into a tower rivaling the lettuce wraps. My mom's apple pie was voted the absolute best by everyone ('cept me… I'm partial to strawberries and my homemade apple pie). Brian and Hal both had good meals, too, though not as photo worthy as ours:). It was a really nice dinner with my family, made particularly enjoyable to be without kids for a relaxing evening of adult interaction.
The Hancock building all lit up on Friday evening.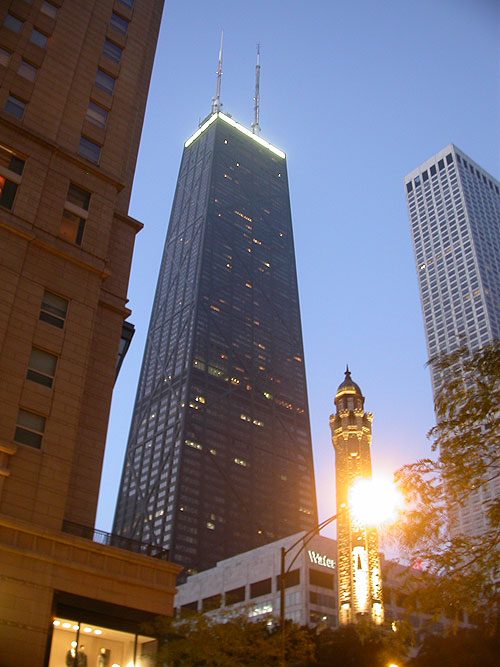 Josiah enjoying a cupcake (a treat my dad brought all the way from my favorite St. Paul coffe shop)
during our picnic before the aquarium on Sunday.
He loves his cupcakes…