15th February 2008
Brian and I have been looking forward to Valentine's Day for weeks. We had decided that we were going to use some gift cards we'd been given to us for Ruth's Chris Steakhouse. I'll give you all the extravagant details, though I'm almost embarrased to admit how much we spent. We'd gotten $150 in gift cards (!!!!). Of course, at first glance, Brian and I imagined how nice it would be to get 3 nice dinners out. Ha! Then we came to our senses and realized that we'd better not hope for that, but we were still planning on 2 dinners. Well. Friends of ours were excited to share their wonderful dinner experiences and filled us in on the prices. We decided we could get 1.5 dinners, without all the trimmings and probably pay something ourselves for the second meal or we could get one really nice meal, no holds barred. We chose the latter 🙂
Our waiter was excited that this was our first experience dining there. He proudly told us that though everything was delicious, we really needed to have steak to appreciate it fully. That was fine, as Brian had been dreaming of his steak for weeks. The waiter told us that the beef was in the top 2% in the nation (in what category, I'm not sure…um, like they've been through the ACT or SAT ranking system?). Midwestern, corn-fed, hand cut, aged in house… whatever all that means. I wasn't really sure I was going to be able to appreciate such a good steak. But I shouldn't have worried… it really was excellent.
My sister, Anna, will be proud to hear I had a cosmopolitan based on a friend's recommendation, though I have to say that I should have had a nice simple glass of wine, as the hard liqueur was a bit too strong for me. Brian and I shared the chopped salad, which was very good. I had the petite filet and he had the filet, topped with sauteed peppers. He was so impressed with his. I enjoyed mine, too. It was one of the first steaks I've ever eaten that I didn't need A-1 or worchestershire sauce. Just salt, pepper, butter, and parsley. Mmm… butter makes everything delicious. They bring the steaks out on sizzling platters, 500 degrees! So the steak is still cooking right in front of you. We shared a baked potato and creamed spinach. Everything is a la carte, and the steaks were $30 and $35 each. (The Porterhouse for Two was $80 for 40 oz!) The sides are huge, though, so we had plenty of food and some to bring home. Then Brian enjoyed a Cafe Royale coffee liqueur drink, which was very tasty. And though I loved the steak, our warm apple tart with ice cream and caramel sauce was amazing, beautiful and HUGE.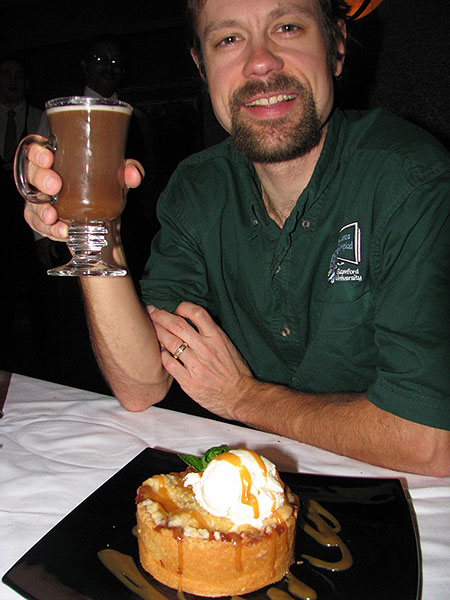 So all that, along with the tax and a generous tip took care of our gift card. It was definitely worth it, though. Quite a fun and delicious meal. I'm not one to spend $$$ on food, and there's no way we would have spent that much on our own. But the gift card was a real treat and a wonderful way to celebrate Valentine's Day together.